Y&R's Susan Walters Silences The Naysayers With Her Thoughts About Jack & Diane's Wedding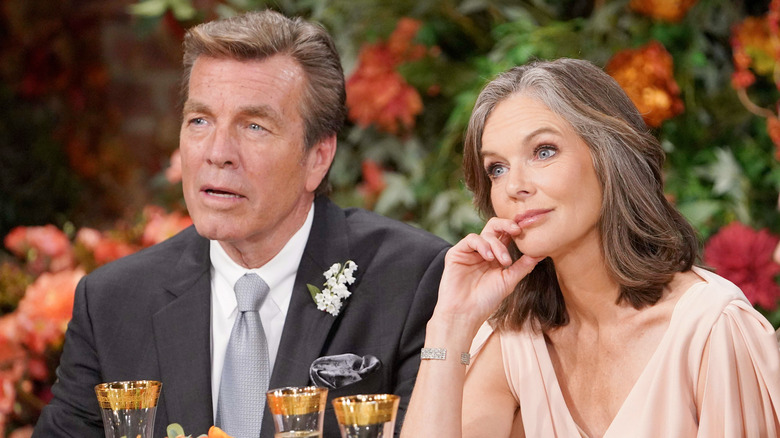 Howard Wise/JPI Studios
Bringing Diane Jenkins back from the dead on "The Young and the Restless" was a truly shocking decision, but actor Susan Walters has been a total scene-stealer ever since her return. Diane has spent the majority of the last nearly two years fending off attacks from people trying to drive her out of town. More specifically, people like Ashley Abbott (Eileen Davidson) and Phyllis Summers (Michelle Stafford) wanted her as far away from Jack Abbott (Peter Bergman) as possible. Phyllis even faked her own death in a brazen attempt to get rid of Diane, but the plot backfired, bringing Jack and Diane even closer together. 
Their love continued to blossom, and the couple was soon on a collision course with marriage, making holy matrimony between Jack and Diane an inevitability. They ultimately wed in a small courthouse ceremony with most of their family and friends absent for the momentous occasion. However, Jack and Diane decided that down the road, they wanted to share their love with everyone, having a much larger affair for their nearest and dearest to attend. 
With the world seemingly still against them, Diane and Jack finally said their vows in front of everyone close to them, while their son, Kyle Abbott (Michael Mealor), officiated. Regardless of the obstacles stacked against them, they steadied the course, never deviating from their bond, and now they're officially husband and wife. People like Ashley or Phyllis may have negative opinions, but Walters is over the moon about the marriage. In fact, the actor took to social media to gush about the event, shutting down any doubters in the process.  
The actor reckons Diane 'finally got her man'
Diane Jenkins and Jack Abbott finally cemented their love on "The Young and the Restless," with the airing of their formal wedding ceremony. Actor Susan Walters posted on Instagram to celebrate the momentous occasion, enthusing, "The only person happier than 'Diane' at her wedding was ... ME!! She finally got her man, and I continually get to work with so many amazing people on @youngandrestlesscbs #peterbergman #jackanddiane #onlytookthirtyyears."
While not everyone agrees that Jack and Diane should be together, there's no denying Jack's belief that she is truly the one for him. He's risked it all for the woman he loves, losing out on a friendship with Phyllis Summers and nearly ruining his relationships with his siblings, Ashley and Billy Abbott (Jason Thompson). When Diane first returned to town, it looked like she may be harboring some extremely dark secrets, but thus far, there's been nothing too nefarious. It looks like Genoa City will have to accept their marriage or risk alienating Jack even further. 
Some fans have taken to X, formerly known as Twitter, to express their hopes for the happy couple's future. One tweeted, "Now PLEASE keep these two together!! They have always belonged together just like Victor and Nikki!" Another echoed that sentiment, writing, "I do like these 2 together & seeing Jack finally happy!! Phyllis could never belong to just 1 man she gets bored. I love Jack & Diane ... just like Victor & Nikki."