Days Of Our Lives' Emily O'Brien Asks Fans To Keep An Open Mind After Controversial Theresa Recast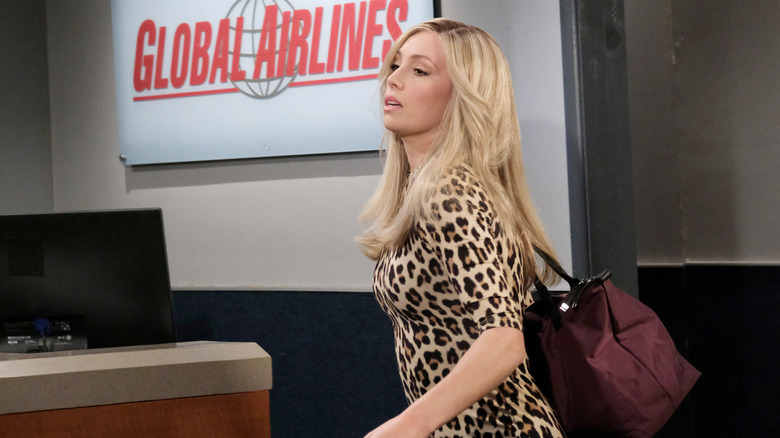 XJJohnson/JPI Studios
At the end of the October 6, 2023, "Days of Our Lives" episode we finally got a gander at Emily O'Brien in a blonde wig playing Theresa Donovan. Her recast for the role was announced after news broke about Jen Lilley's controversial exit from the sudser. Already knee-deep in a storyline involving the search for the late Victor Kiriakis' (John Aniston) will, and beginning what could be a romance with Alex Kiriakis (Robert Scott Wilson), O'Brien has hit the ground running after her previous character, Gwen Rizczech, left Salem — practically passing by Theresa at the airport in the process. 
Lilley graciously said goodbye to "Days" after 10 years on the show, and thanked everyone there in a September 19 Instagram post, where she also shouted out the fans, writing: "Thank you for supporting me on this decade-long journey." O'Brien, meanwhile, had yet to publicly comment on the bizarre actor switch. 
Then, on October 12, she finally acknowledged viewers' dismay at Gwen leaving the canvas, posting on Instagram, "Don't worry, I am sure Gwen is still smirking somewhere." Those words captioned a beautiful publicity photo of her, and she went on to address the contentious transition from Gwen to Theresa, first expressing her gratitude for being able to portray the complex character for four years.
Emily O'Brien is excited to explore a new chapter
"Days of Our Lives" star Emily O'Brien explained that her previous character, Gwen Rizczech, had "Taken me through such a delicious discovery of who she is, and what she ultimately always yearned for — despite all her pain, vengeance and deceit. To be loved. Perhaps someday, somewhere away from Salem, she can finally find it." Looking forward, the soap star continued, "Now as for me, a new page turns from a different story ... One that I am excited to explore. So, as I step into the shoes (and wig) of a very different role, I hope that you can keep an open mind, have fun with my interpretation, and enjoy the ride."
The ever-cordial Jen Lilley responded with, "YOU'RE DOING A WONDERFUL JOB," followed by several applause emojis, to which O'Brien replied, "Aw @jen_lilley thank you for your kind words." Gwen was embroiled in several storylines with bad boy Xander Cook, and actor Paul Telfer also praised his former co-star in the comments, much to her delight.  
Amid praise from several cast members, including Martha Madison (Belle Black) and Stacy Haiduk (Kristen DiMera), O'Brien's colleague Greg Rikkart (Leo Stark) lovingly wrote, "You show up, you SLAY whatever is given to [you]. You keep your focus on what's important. You are a class act and we could all learn a thing or two from you."