What We Know About Madonna's Strange Relationship With Al Pacino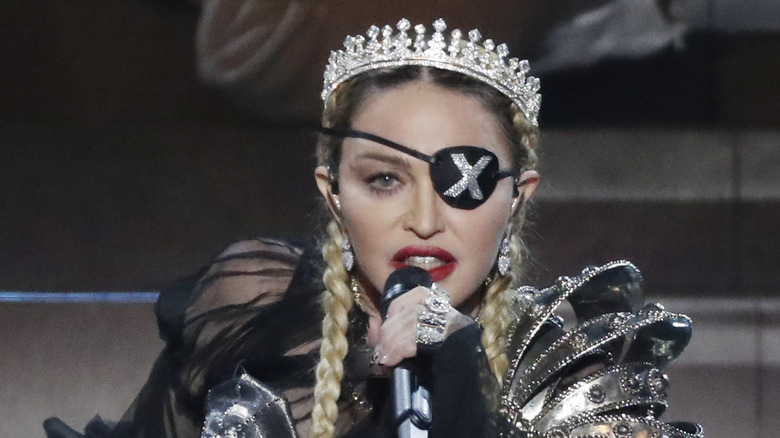 Michael Campanella/Getty Images
For decades, Madonna and Al Pacino have enjoyed major success in the entertainment industry. Both are going strong in their careers, particularly Madonna with her world records. In their personal lives, Madonna and Pacino each have extensive dating histories. Although the two have never been romantically linked, they do have a rather unusual relationship.
Even before she became a pop superstar, Madonna was making waves with her behavior. During the late 1970s, Madonna was focused on achieving her dreams of dancing professionally while working a food service job to pay her bills. At the time, she shared an apartment with Whitley Hill, the daughter of actor Ed Setrakian. One evening, Setrakian introduced Hill and Madonna to his friend and fellow actor, Pacino. Hill recounted the evening in the biography "Madonna: A Rebel Life," noting that her then-roommate made an effort to make an unforgettable first impression. According to Hill, Madonna began by chewing gum provocatively as she became acquainted with Pacino, and things only escalated from there. 
After the evening's events, Hill recalled a phone conversation with her father detailing the car ride with Pacino and Madonna. Pacino reportedly informed his friend about an unsettling incident that happened while Setrakian was behind the wheel, saying, "[Madonna] leaned over and stuck her tongue in my ear!" (via Insider)
Madonna and Pacino had an uncomfortable working relationship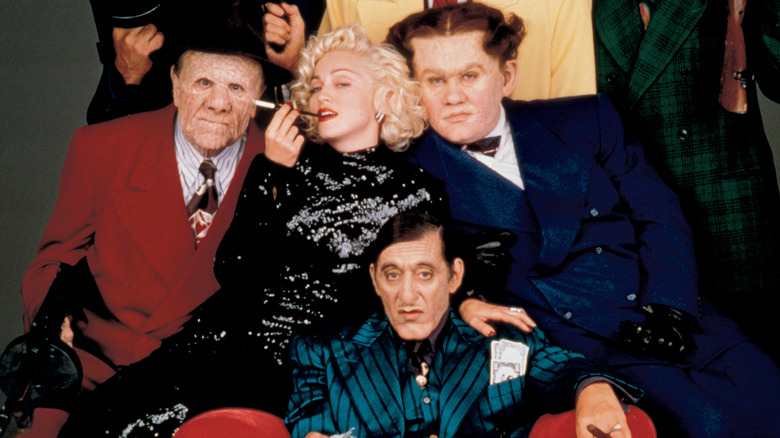 Sunset Boulevard/Getty Images
A decade after the alleged car incident, Madonna and Al Pacino worked together on the 1990 movie "Dick Tracy." By this time, the singer was a household name and also had some screen credits, like her starring role in 1985's "desperately Seeking Susan."  Madonna boldly asked Warren Beatty, who was directing and starring in "Dick Tracy," if she could portray the character Breathless Mahoney. "I saw the A list and I was on the Z list. I felt like a jerk," Madonna explained to Newsweek.
Her courage paid off, and Madonna got the role. Pacino was also part of the cast, as Big Boy, an uncouth mob boss. After donning his costume and prosthetic pieces, Pacino stayed in character the whole time he was on set, and it made Madonna's work experience with the actor awkward. As Big Boy, Pacino would hit and touch Madonna without her consent, leaving her hurt, upset, and embarrassed. These interactions took place whether or not the cameras were rolling.  
However, Madonna noted that Pacino's actual demeanor was dramatically different from his embodiment of Big Boy. "He's very gracious, and well-mannered, and gentlemanly, and sweet," she informed author Mike Bonifer (via Madonna Memories). She also contrasted her own personality with the Breathless character, noting that "She's a victim, I'm not."
Al Pacino was an unintended addition to the Dick Tracy film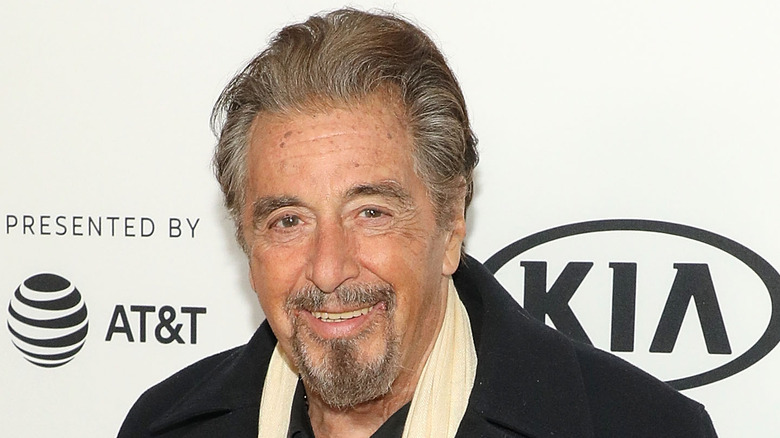 Taylor Hill/Getty Images
While Madonna actively advocated for the part of Breathless Mahoney in the film, "Dick Tracy," Al Pacino's inclusion in the film was pure happenstance. As director Warren Beatty was casting the movie, he spotted Pacino at a restaurant and asked him for his input. After a lengthy conversation, Pacino told Beatty he'd get back to him with ideas. Pacino then followed up with a phone call, and a convoluted discussion ensued. The acting legend wondered if Beatty had been hinting that there was a role in for him, and while that wasn't the director's aim originally, he jumped at Pacino's veiled offer to participate. 
Beatty's decision to include Madonna in the production was also serendipitous. Besides thinking she was ideal for the role, Beatty enjoyed working with her as an actor, and he admired her creativity. In contrast to the unpleasant interactions between Pacino and Madonna on set, Beatty's esteem for Madonna and their mutual attraction turned into romance, and the two began a 15-month relationship. 
Unlike Jackie Kennedy, who thought Beatty was "self-absorbed," Madonna found him to be a passionate person. Beatty also catalyzed her to write her iconic song "Vogue," during the course of their creative and romantic partnership. Although they ended up going their separate ways, Beatty and Madonna have remained friends.