Why Tara Reid Felt Not Having A Family Damaged Her Acting Career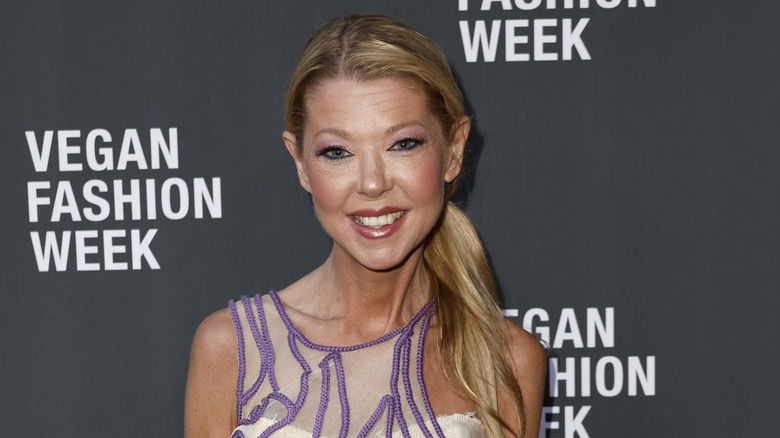 Frazer Harrison/Getty Images
Tara Reid, dubbed by some the "godmother of partying," has revealed why she believes not settling down and having kids played into her bad girl image and, as a result, damaged her acting career. After a series of smaller roles, the 1999 classic "American Pie" movie would ultimately launch Reid to Hollywood fame. Her "girl next door" persona only stuck with her for about a decade, though. Soon, the tabloids talked about Reid for not-so-glamorous reasons, including her visit to a rehabilitation center, plastic surgery gone wrong, and a failed relationship with one of the early aughts most famous faces — Carson Daly.
While the media may have been quick to cite these social faux pas as the reasons Reid's career seemingly plummeted after the early 2000s, "The Big Lebowski" actor believes her lack of a family life exacerbated her bad girl reputation. "I'm not married, I don't have kids, and I think, in Hollywood, if you don't have kids or you're not married, you're judged. So they still think you're that party girl from 40 years ago," she revealed in an interview with Mr. Warburton Magazine.
Reid also stressed that she isn't who the media portrays her as. "I never did sex tapes. I never did anything wrong — I've never even gotten a speeding ticket," she noted. However, she did admit that she occasionally partied, like other celebs in her position. Nevertheless, the lack of a family is the primary reason Reid gives for her career not being as proliferous as it should have been.
Tara Reid has considered settling down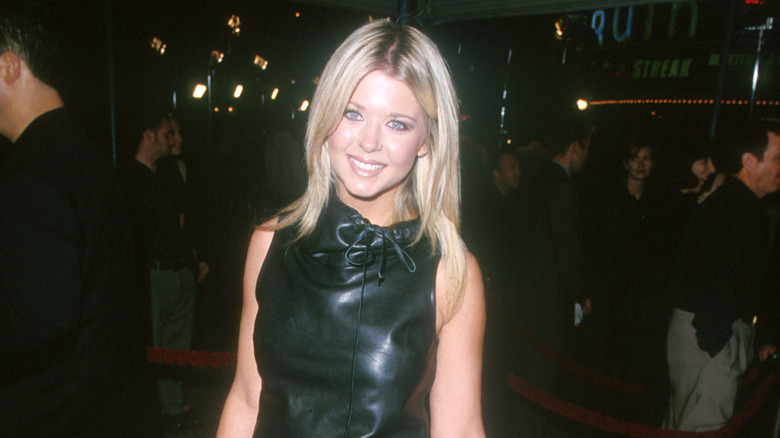 Sam Levi/Getty Images
Even though she told Mr. Warburton Magazine that it's inappropriate to base your opinion of someone on whether or not they have a family, Tara Reid isn't afraid to say that she has entertained the idea of having kids. In 2018, the "Sharknado" star told Closer, "I do see marriage happening in the future for me," and on becoming a mother, "I'd like to one day" (via Daily Mail).
Reid reflected on her past, too, divulging that she might have behaved differently had she known how long her party girl image would stick with her. It wouldn't be the last time Reid spoke candidly about her unhappiness with her career trajectory, telling Fox News that she felt like "I've been bullied a lot" because of her role in "American Pie" and wants to shed that persona. But getting married hadn't been in the cards for Reid during her previous relationships.
In 2011, news broke that Reid had wed a man named Zack Kehayov while on vacation in Greece. Sadly, it was later confirmed that Reid and Kehayov had never legally tied the knot. It was another blow to Reid's reputation after her failed engagement to Michael Axtmann in 2010. But by 2023, when Tara reflected on kids and marriage with Derek Warburton, she was in a serious relationship (though not engaged or married) to boyfriend Nathan Montpetit-Howar. So, things may be looking up.
Her professional life is getting better
Despite not having a husband and kids, Tara Reid's story has turned a page. Her career has bounced back slightly thanks to a surprising role. The comical 2013 sci-fi film "Sharknado" turned out to be a big boost for the actor even though TMZ stated she might have only earned $50,000 for the first movie, and things were a little touch and go regarding whether she would be in the sequel. But Reid was welcomed back and eventually appeared in all six of the franchise's films.
Of course, B movies are far from the blockbusters Reid probably hoped she would be in. Nevertheless, the actor has decided to roll with it, appearing in other movies like the horror film "Mummy Dearest" in 2021. The "Body Shots" actor has also embraced reality television, agreeing to push herself to the limit in the 2023 competition show "Special Forces."
More than two decades after the role that would set the tone for her girl-next-door-gone-bad persona, Reid seems to be doing much better — in her career, relationships, and reputation.