Why Alyson Hannigan Twirled Out Of Her Comfort Zone To Join DWTS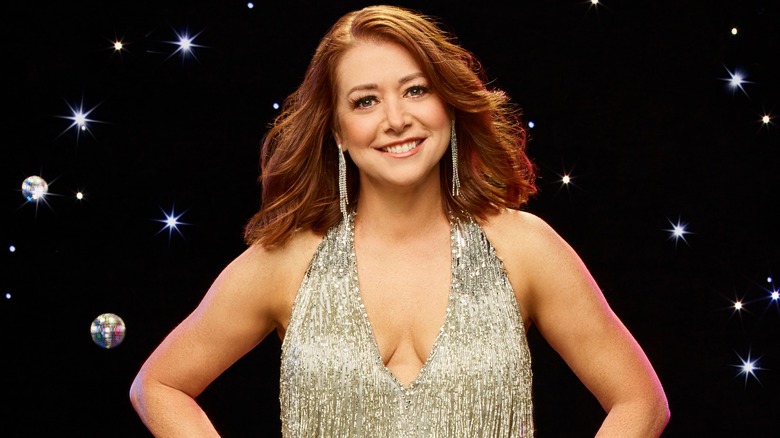 Andrew Eccles/ABC
Stepping out of your comfort zone is scary for everyone, even seasoned performers. Alyson Hannigan has been acting since she was four years old, but despite that, she was nervous about joining the newest season of "Dancing with the Stars." While some celebs turn down "DWTS" invitations, Hannigan decided not to let her fears stop her from joining the competition dancing show. She told People the heartwarming reason why: She wants to inspire her daughters.
"You shouldn't let the fear of, 'What if I'm not good enough?' hold you back," Hannigan said. "I'm doing something that terrifies me. It doesn't come naturally, but I'm going to work hard to improve every week."
In the premiere episode for Season 32, Hannigan also mentioned she was participating to honor her younger self, who quit dancing because of a nasty instructor (via People). Although it's not an easy gig by any means, Hannigan also told People that being on "Dancing with the Stars" is a really enjoyable experience and that she has the support of her husband, actor Alexis Denisof, and their children during this new experience.
Alyson Hannigan's scores steadily improved over the season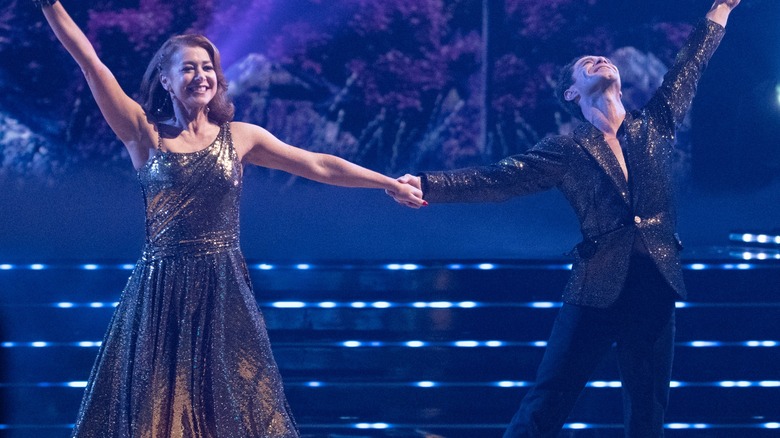 Eric McCandless/Disney
Alyson Hannigan got better and better each week in "Dancing with the Stars" Season 32. She and her dance partner Sasha Farber earned 13 points the first week and received 19 points the next week. After the second week of the season, Hannigan told CinemaBlend her strategy for success: Take constructive criticism from the judges and really try to implement it in the rehearsals prior to the live performance.
She also took a page from Charli D'Amelio's book and took notes on everything, including Farber's pointers. "Working with a script is very comfortable for me," Hannigan told the outlet, "so that and then watching tons of videos, and I just kind of basically ate, drank, and slept with tango in my brain. ... That I think really helped build my confidence of knowing where I was so that if I lost the count, I still knew the dance."
Despite feeling very nauseous the day of her and Farber's foxtrot for the October 10, 2023 episode, Hannigan was able to perform and their foxtrot earned them a whopping 24 points. She has expressed a desire to keep succeeding each week, and she also has a specific musical artist in mind to whom she wants to dance.
Hannigan is a major Swiftie and hopes to dance on Taylor Swift Night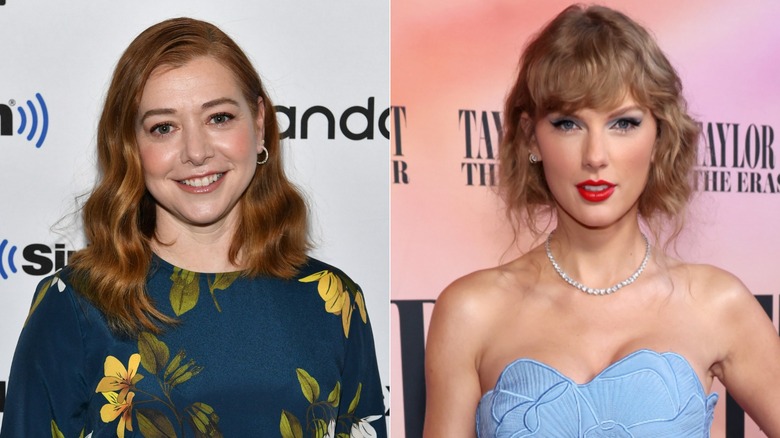 Slaven Vlasic & John Shearer/Getty
As a contestant on "Dancing with the Stars," Alyson Hannigan's goal is to continue making progress each week. In another CinemaBlend interview prior to her and Sasha Farber's successful foxtrot, Hannigan said, "I want to just be most improved from my most improved, because then maybe I'll finally look like I belong on the show." Although each week is a new dance style and that takes some getting used to, Hannigan expressed that it's not as difficult to jump into a new dance the more she learns.
As for whose music Hannigan wants to "Shake It Off" to on "DWTS," she's got her fingers crossed for a night themed around Taylor Swift. There hasn't been an official confirmation of a Taylor Swift Night on Season 32, but Peta Murgatroyd — one of the professional dancers on the show — told Billboard it was happening.
Hannigan told CinemaBlend she hopes to make it to the rumored Taylor Swift Night, but even if she gets eliminated before then, she'll be in the audience to watch. "That's my mirrorball," Hannigan said, perhaps referencing both the "DWTS" Len Goodman Mirrorball Trophy that winners receive and the Swift song of the same name. "Just getting to Taylor Night. I don't need the trophy. I just need to be at Taylor Swift Night."