Inside Alyson Hannigan's Marriage To Actor Alexis Denisof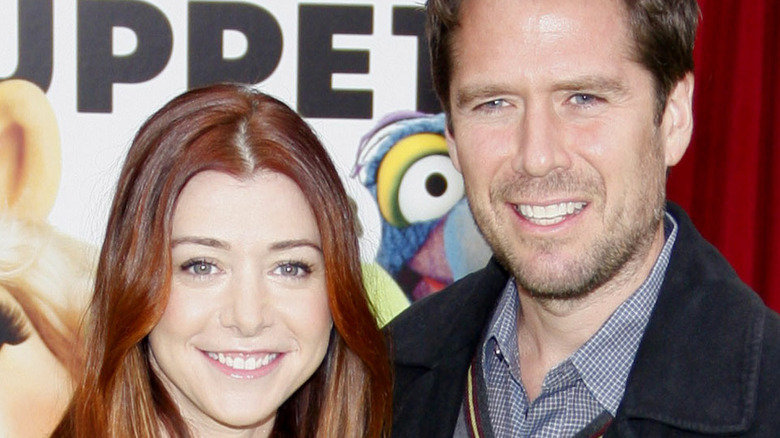 Shutterstock
Alyson Hannigan has been a fixture on TV and movie screens for more than 20 years. The star has starred in movies such as "American Pie" and "My Stepmother is an Alien," but is probably best known for her roles in the long-running TV shows "Buffy the Vampire Slayer" and "How I Met Your Mother" (as per IMDb). In fact, her time on "Buffy" impacted her life both personally and professionally.
For seven seasons, Hannigan played Willow Rosenberg on "Buffy." During the popular show's third season, British actor Alexis Denisof was brought on for the recurring role of Wesley Wyndam-Pryce – and Hannigan was immediately smitten. "I was trying to pursue him, but he said he didn't want to date somebody he was working with. But we developed a great friendship," Hannigan told The Sun in 2012. "When my new relationship ran its course, the whole thing suddenly changed and Alex and I started to really care about each other. It was two years before we started seeing each other and that was back in 1999."
The couple eventually wed in 2003 in Palm Springs and now share two daughters, Satyana, born in 2009, and Keeva, born in 2012. Hannigan and Denisof celebrated their 10-year wedding anniversary by renewing their wedding vows. "It's the best thing ever! It was so lovely," she told US Weekly. "He's the most romantic husband and he did even more than I could ever ask for. Like every detail, he thought about. It was so wonderful."
Alyson and Alexis make their relationship a priority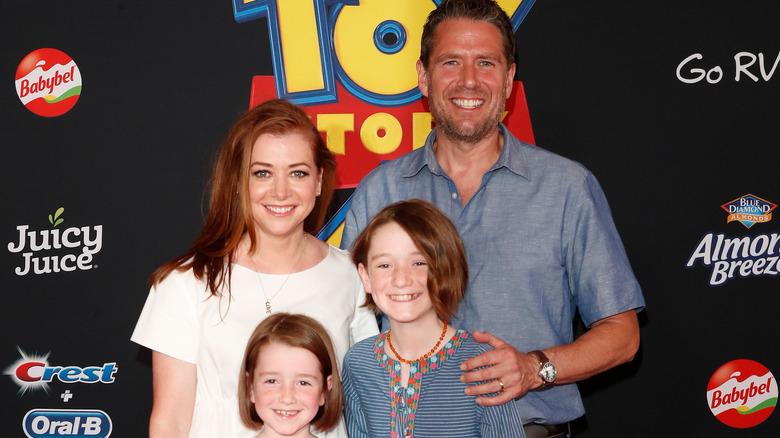 Shutterstock
Since tying the knot, Alyson Hannigan and Alexis Denisof have stayed busy with work. She most recently starred in "Flora and Ulysses," while Denisof has appeared in "The Avengers" and "Guardians of the Galaxy" (as per IMDb). Despite packed schedules, the couple always finds time for their relationship. According to Us Weekly, Hannigan, who has an impressive net worth, said, "We love being together and it just feels like part of my heart is gone when he's gone."
Hannigan has also revealed that the couple never spends more than three weeks apart. She calls it "the best love advice" she's received and one of the secrets to keeping their relationship strong. "We're best friends," she told YourTango. "He's my partner and I wouldn't want to do it with anybody else." In fact, she would love to work with her husband again. As fans may recall, Denisof had a brief stint on "How I Met Your Mother" as quirky-yet-confident newscaster Sandy Rivers. 
"Oh, that'd be so much fun and honestly, the kids are at such a great age now too where, it's OK [to do that]," she told US Weekly. "Like, in Vancouver, when we were up there, he did go to Atlanta for a little spell and it was hard because you're navigating in a different country, but we worked it out and stuff. So it's less like, 'Oh, well, if you're going to work, then I can't work.' They get it now."