Why Aaron Taylor-Johnson Was Subject To False Cheating Rumors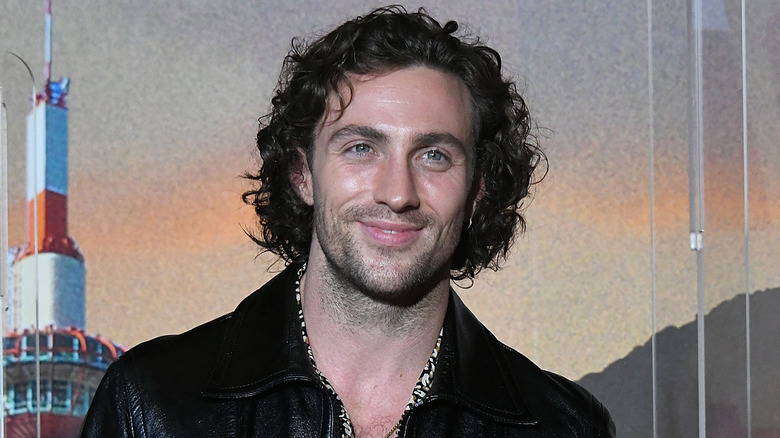 Jun Sato/Getty Images
The following article includes allegations of grooming.
It's important to take celebrity gossip with a grain of salt. Sometimes, completely made-up rumors are touted as bible, sparking an uproar of excitement or outrage over nothing. An instance of this happened when actor Aaron-Taylor Johnson was accused of cheating on his wife (director Sam Taylor-Johnson) with actor Joey King while promoting their film "Bullet Train." King shared her happy relationship news in 2022, announcing her engagement to director Steven Piet, but that didn't stop the gossip about a potential affair exploding in January 2023.
HITC reported that the accusation came from a blind item read aloud in a TikTok by Kyle Marisa Roth — the first of multiple blind items about Aaron and King that Roth has shared on her account. Blind items are not confirmed nor do they have peoples' names connected to them, but the details of it matched Aaron and King's situations. When people caught wind of the potential affair, they were quick to believe it and root for it, due to controversy surrounding Aaron and Sam's massive age gap and alleged grooming that people speculate took place.
However, it seems highly unlikely that the alleged affair is anything more than a false rumor. According to Cosmopolitan, Aaron and King were at the Paris "Bullet Train" premiere with their respective partners and acted very affectionately toward them.
Aaron and Sam's relationship is often under scrutiny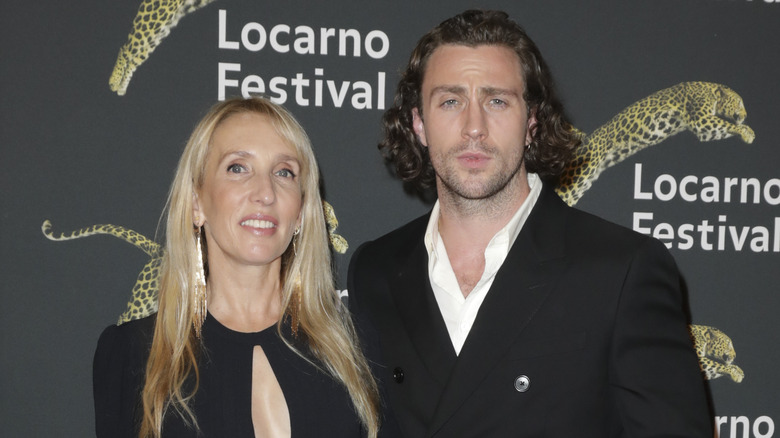 Rosdiana Ciaravolo/Getty Images
Aaron Taylor-Johnson met his wife Sam Taylor-Johnson while working on her film "Nowhere Boy," a biopic on John Lennon. One thing that raised red flags for potential grooming is their age difference when they met — Sam was in her early forties and getting divorced from her first husband, and Aaron was 18, or perhaps even a few months younger. It's not confirmed how old he actually was when he auditioned for the film. Another flag that burns crimson is that due to scheduling issues, Aaron did his audition for "Nowhere Boy" at Sam's house, according to her interview with The Sunday Times UK (via Insider).
After the filming of the movie ended, Aaron swore they'd get married although they had remained completely professional up until that point. In the couples' interview with Harper's Bazaar, they said how Aaron proposed to her one year after they met and she accepted, and she got pregnant shortly after. The engagement was made public at the premiere of their movie, and now the couple have four children (two from Sam's ex-husband).
Another thing that has people wondering if their relationship is based on grooming is that in Sam's interview with The Sunday Times UK and their joint interview with The Telegraph UK, the couple made comments about how Aaron is more mature than other people his age or an "old soul" (via Insider).
Aaron and King did not respond to the rumors
Kyle Marisa Roth's initial TikTok speculating about the blind item and the affair caused a stir in the comments section. Many people were excited about the thought of Aaron Taylor-Johnson breaking things off with Sam Taylor-Johnson. One TikToker commented, "CMON AARON. YOURE SO CLOSE." Another said, "This was the day nobody was upset about someone cheating."
Roth also shared a TikTok of Aaron and Joey King standing close to each other for a group cast photo at the "Bullet Train" Paris premiere and Aaron touching King's arm. Roth gave the camera a knowing look, but the action is not evidence of anything more than costars standing close for a picture. Even without proof of the blind item's subjects (or proof that the blind item was even true), fans couldn't resist expressing gratitude and respect toward King. One X (formerly known as Twitter) user shared a clip of Jake Gyllenhaal blowing a kiss and walking into the fog with the caption, "Joey King after involving herself with Aaron Taylor-Johnson and freeing him."
Neither Aaron nor King has said anything about the rumors, and it will likely stay that way, considering that King and Steven Piet got married in September 2023. Although King and her new husband have an age gap as well, it is only about eight years and not as significant as the age difference between Aaron and Sam.