How Zooey Deschanel & Jonathan Scott Felt About Social Media Trolls Early In Their Relationship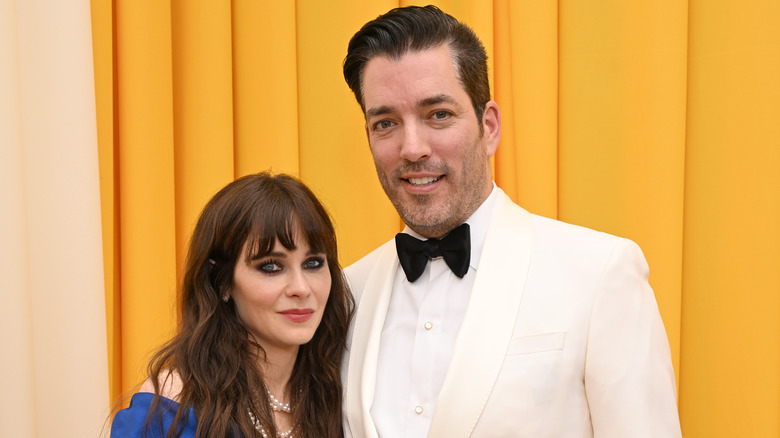 Michael Kovac/Getty Images
HGTV's Jonathan Scott was instantly obsessed with Zooey Deschanel when he met her, and let's be real: Who wouldn't be? The "Property Brothers" star and the singer/actor met in 2019 while they were featured in an episode of the Apple TV+ series "Carpool Karaoke" together. The rest is history. In August 2023, the pair got engaged after being in a relationship for four years.
It seems that this duo is an unexpected match made in Hollywood heaven. In fact, an expert even says that their body language cements them as the new "it couple." But, even the new "it couple" isn't safe from the wrath of internet trolls. Far from it, in fact; despite how cute these two seemed even early on, they had their fair share of backlash. 
A few months after telling the world about their engagement via Instagram with the caption, "Forever starts now!!!" the happy bride and groom-to-be were People's October 2023 cover story. In their interview, they opened up about their romance and the unexpected social media response it received. "When we first started dating, Zooey posted a picture of us together. It might've been the very first time we ever posted anything on social media," Scott recalled. "And I remember I looked at it and I saw the first comment right below was, 'Why the hell is she with a Property Brother?!' I was like, 'Excuse me — rude!'" he joked.
The public response surprised Deschanel and Scott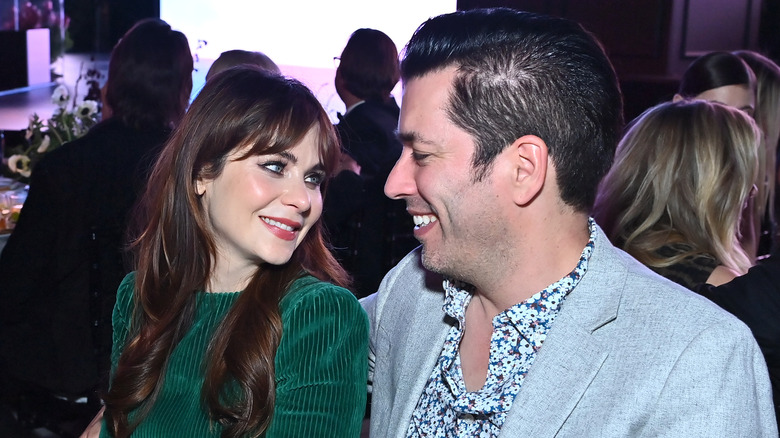 Stefanie Keenan/Getty Images
These days, it's clear to just about everyone that Jonathan Scott and Zooey Deschanel make a perfect pair. Still, when they first announced their romance to the world, plenty of folks were surprised to see this coupling of two stars who we all knew so well but seemed so different. 
Deschanel, however, doesn't understand the confusion; she can't think of anyone who'd be a better other half for her. "Why wouldn't I be with you?" Deschanel directed to Scott, per People. "Our personalities are so compatible. It's just that we're from different worlds," she explained.
Ultimately, Deschanel didn't agree with the backlash, and Scott wasn't quite sure why their relationship was news, at all. Back in 2020, Scott appeared on the Today Show, and he was asked about his new girlfriend and told that the public was invested in the details, per E! News. "[Do] people have nothing better to talk about?" Scott jokingly asked. 
Despite his surprise that other people were all abuzz with news of his new relationship, he was happy to talk about it himself. "People keep saying to me, like, 'Jonathan, you feel so alive.' I'm like, 'Was I a dud before? What happened?'" he said, adding. "I will admit she brings out the best in me and she makes me want to be the best version of myself." 
Social media commenters supported Deschanel and Scott's engagement
Zooey Deschanel and Jonathan Scott may have had a rough start when it came to the social media reception of their relationship. When Scott proposed, however, the internet was much more on board. 
On August 14, 2023, Zooey posted a photo on Instagram featuring her showing off her beautiful engagement ring alongside her new fiancé. The joyful, congratulatory comments flooded in, not only from fans but also from plenty of stars, proving that this is one beloved couple in Hollywood.
Deschanel's "New Girl" costar Jake Johnson commented "CONGRATS!!!!" while her onscreen BFF Hannah Simone added, "I LOVE YOU!! This is so wonderful." Plenty of other stars from Mindy Kaling and Billy Eichner to Rosanna Arquette and Jasmine Roth, Scott's fellow HGTV star, shared their warm wishes. 
And, if all of that joy wasn't enough, the post garnered over two million likes. Talk about one popular couple. It seems that these two lovebirds are both the best versions of themselves these days, and everybody's excited about this happily ever after.