Prince George May Be A Royal But His Take On Exams Is Positively Common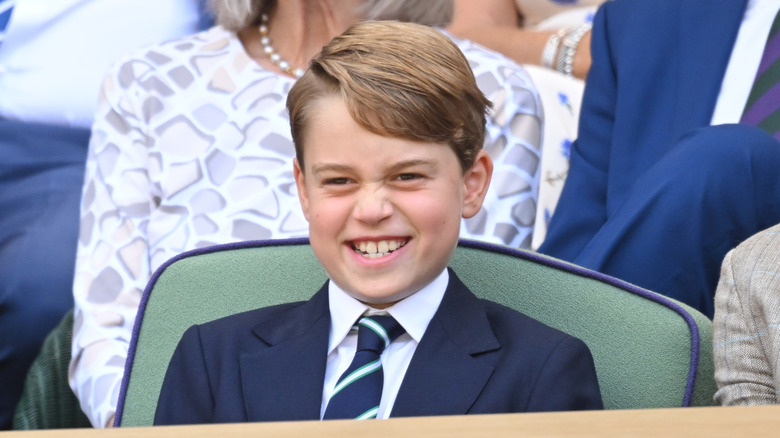 Karwai Tang/Getty Images
Prince George may be one of the most famous kids in the world, and he may have a very important job in his future — King of England. Despite all of this, though, he's still a kid, and his responsibilities these days are just like every other kid's. Royal editor for The Sun, Matt Wilkinson, shared a video on TikTok of Kate, Princess of Wales, in which she talks a bit about George's views on school. In October 2023, Kate visited Fitzalan High School in Cardiff, Wales, where she talked to a group of students who can surely relate to George's plight regarding taking tests. 
"George is just at the beginning of being tested," Kate explained of her 10-year-old son. "He says, 'Mummy, I keep getting tested all the time.' But when it gets to A-levels you feel like you're on it." She added that then "it just gets harder." A-levels are tests based on specific subjects that students in the U.K. take to get into college: They're similar to Advanced Placement testing in the United States. Students don't typically take A-levels until they're at least 16 years old, so while George may not like the tests he's taking now, he has some time before he reaches those even tougher tests. If you can remember how many tests you had to take when you were in fifth grade, then surely you can agree with George's relatable sentiment, and we can all agree with Kate's assessment of what's to come, too. 
Prince William and Princess Kate's three children have a normal school experience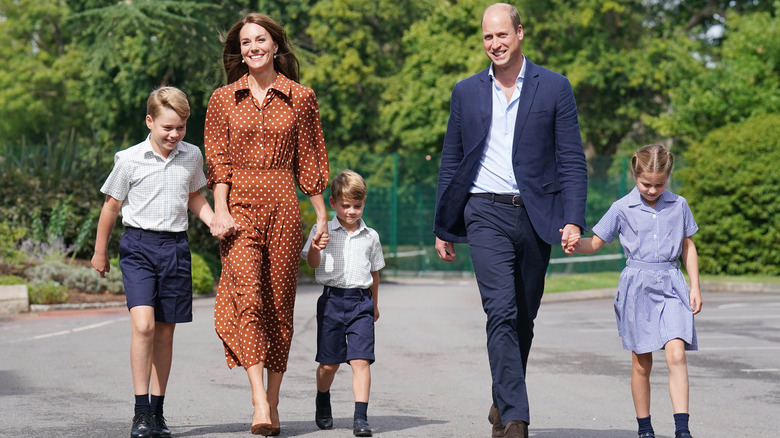 Pool/Getty Images
Even though Prince George is a royal with a uniquely important role, his childhood differs greatly from his grandfather, King Charles III's. Much of this is because William and Kate, Prince and Princess of Wales, want George to live as close to a normal childhood as possible for the person who's second in line to the British throne. Consequently, George knows about as much about the typical school experience as the next 10-year-old. 
Alongside his two younger siblings, 8-year-old Princess Charlotte and 5-year-old Prince Louis, George attends Lambrook School. They started after their move from London to Windsor to live in Adelaide Cottage — which is just 10 minutes from school — in the fall of 2022. The royal kids take the same classes as their fellow schoolmates. However, Lambrook School is slightly different from other schools in that the students' grades and classes correspond with their own skill levels, rather than their age group. At age 13, students graduate and continue on elsewhere, and what that means for George's education three years from now seems to already be in the works.
Prince George's school career is just getting started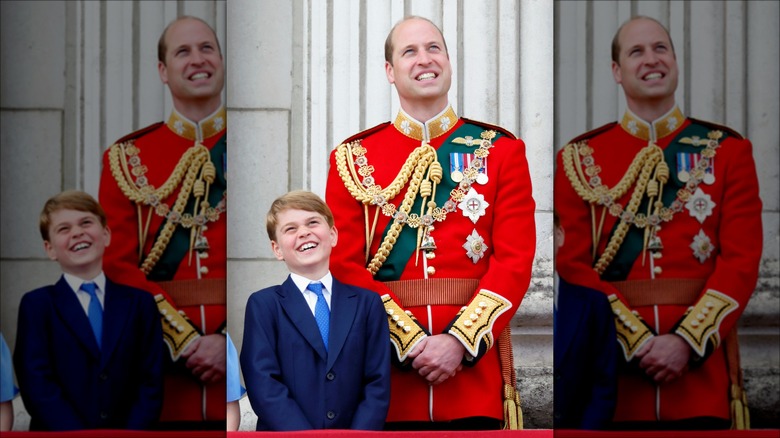 Max Mumby/indigo
As for where the young prince will be headed after his graduation from Lambrook School, this may have already been decided. Prince George's visit to Prince William's old school looks like a possible new royal family tradition. William attended Eton College when he was a teenager in 1995. This broke tradition at the time, since both King Charles III and his father, Prince Philip, had attended Gordonstoun, a different boarding school in Scotland. Instead of attending his father and grandfather's alma mater, however, William borrowed his educational path from his mother's side of the family. Both Princess Diana's father and brother went to Eton College.  
The school takes students between the ages of 13 and 18, which would be a perfect next step when George graduates from Lambrook School when he turns thirteen in a few years. Students must register at Eton before the end of June in the summer ahead of their tenth birthday. Interestingly, George visited Eton alongside William and Kate last June. So, George may follow in his dad's footsteps in more ways than one. Unfortunately, though, this means he'll have to keep studying for all those tests in the meantime.