Miley Cyrus Reportedly Didn't Want Dad Billy Ray To Tie The Knot With Firerose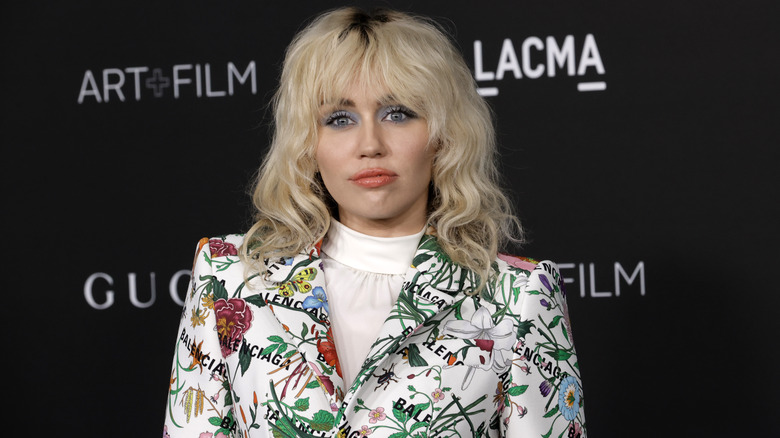 Frazer Harrison/Getty Images
Not everyone is a fan of new power couple Billy Ray Cyrus and his new wife Firerose. Among those who don't consider themselves a fan is reportedly Billy Ray's own daughter, singer Miley Cyrus. The popstar is apparently not too happy with the fact her father is settling down with Firerose.
Firerose and Billy Ray's romance has been a decade in the making. In an episode of "Live With Kelly and Ryan," the Australian songstress revealed that she first met Billy Ray on the set of "Hannah Montana," the Disney Channel show that catapulted his daughter into stardom. She went on to say that the "Achy Breaky Heart" singer has been a "phenomenal supporter" of her music career since then. That mentorship would become romantic after Billy Ray and ex-wife Tish Cyrus finalized their divorce in 2022 following two years of living separately.
Their budding relationship moved quickly from there. Billy Ray and Firerose tied the knot in a dreamlike church wedding on October 10, 2023. But, it's a move Miley most likely won't approve of. According to sources close to the singer, Miley thought her father would be "foolish" to marry Firerose.
Miley is 'freaked out' by her dad's new relationship
Miley Cyrus, who is four years younger than Billy Ray's new flame Firerose, was reportedly worried her dad would be rushing things if he remarried. "It freaks Miley out to see her dad acting like a besotted old fool with this girl," the Radar Online source claimed. "Word is he doesn't want a prenup, so everything he's earned is going to be split with her 50-50. They're also trying to get pregnant as soon as possible."
Those same sources reported that Miley would like to have a word with her dad about his new relationship. "Miley wants to sit him down — preferably with a couple of her siblings — and see if she can work a miracle or, at the least, convince him to protect himself financially," the source further elaborated.
Having a discussion might prove a difficult task for the dad and daughter, seeing as they're currently in the midst of a feud. Divorce is never a pretty thing. Unfortunately, it's put Miley and Billy Ray at odds with one another. The Sun reported that the former "Voice" coach took issue with how her dad treated the divorce with Tish. The spat culminated in Miley and Billy Ray unfollowing each other on social media in 2022.
She's okay with her mom's new husband, though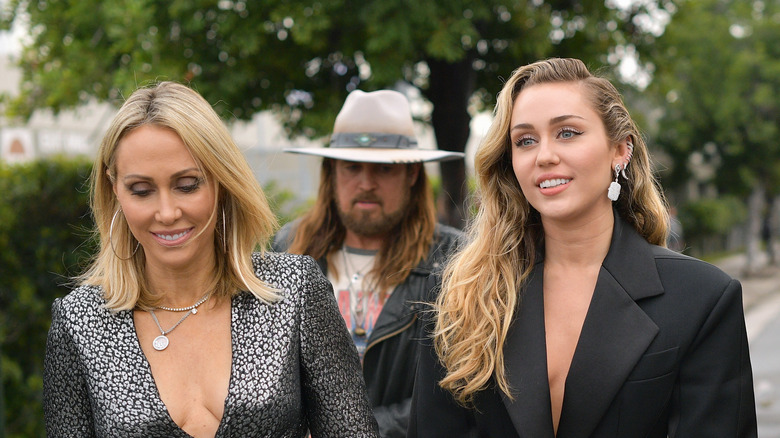 Matt Winkelmeyer/Getty Images
Actions speak louder than words, and Miley Cyrus' actions say she's got her mom's back versus her dad's at the moment. Miley and her mom Tish have always had an adorably close relationship with one another, a fact that was never more clear than during Tish's wedding to "Prison Break" actor Dominic Purcell in 2023. The "Flowers" singer was all hands on deck for her mom's lavish ceremony. Her beautiful Malibu home served as the wedding venue, and Miley, who was also the maid of honor, walked Tish down the aisle. "She was always the one getting me ready for big days, starting with cheerleading competitions, then eventually on sets or backstage before a performance," Miley told Vogue France. "She has never stopped celebrating me and has been so supportive of my decisions. I feel honored to be that person for her, now that I'm older."
Miley has been a huge cheerleader of her mother's new marriage, but it doesn't seem like her father is receiving that same level of enthusiasm. "Miley supports Tish because her mom acts like a grown-up," an insider with Radar Online explained. "Clearly, she feels Billy Ray doesn't." It has yet to be confirmed if Miley was in attendance at Billy Ray and Firerose's wedding. Despite this, Miley "hopes he is happy," per E! News.