Who Is Suzanne Somers' Only Son, Bruce Jr.?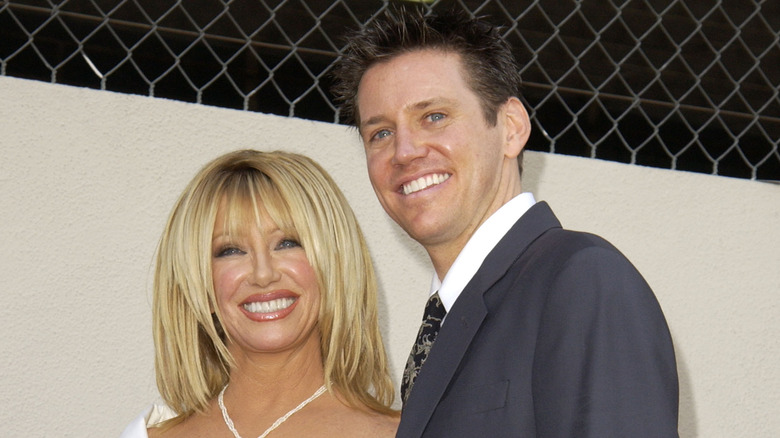 Steve Granitz/Getty Images
Among the many loved ones mourning TV legend Suzanne Somers on her death at age 76 is her son, Bruce Somers Jr. Her only child was at her side when she passed peacefully on October 15, per Variety and other sources. It was a full-circle moment to a relationship that began under shaky circumstances. In 1965, an 18-year-old Somers became pregnant by her boyfriend Bruce Somers; after dropping out of her Catholic college, she married Bruce and became both a teen wife and mom. 
Somers once candidly told Closer Weekly how unprepared she felt for motherhood. "When he was born and they pulled him from my body, he looked at me like, 'Oh, God, you're my mom?'" she said. But Somers vowed then and there to give Bruce Jr. "a good life," and she devoted herself to doing just that. She and Bruce Sr. divorced after three years, and Somers supported herself and her son by selling her baking and sewing creations. Her second marriage to Alan Hamel helped ease her money woes, as did her blossoming performing career. Blending the two families — Hamel has two children from a previous marriage — was rocky at first, but over time, they became a strong parenting team whose family still remains close.
Today, Bruce Jr. is a successful businessman, husband, and father who more than fulfilled his mother's hopes for him. In turn, he loved and supported his mom right up to the moment of her passing.
Bruce Somers Jr. shares his mother's passion for health
As the son of a popular TV star, it was only natural that Bruce Somers Jr. began his career in show business. He majored in dramatic arts at UC Berkeley and earned a master's degree in film in UCLA. Bruce Jr. began his career with the production company Lost Kitty Productions before moving on to commercial producing. His career then took a turn to direct response marketing — helping companies strengthen their brands by encouraging consumers to take actions such as signing up for newsletters or sharing an ad on social media. In 1999, Bruce Jr. launched his own direct response company, Sincbox Media, Inc. 
A longtime health and fitness promoter, Suzanne Somers became passionate about healthy organic eating after her initial diagnosis of breast cancer. Fittingly, then, her son has also aligned himself with a health product. Bruce Jr. is the CEO of WellisAir, a high-tech air purifier effective against viruses such as COVID. The more important similarity between this mother and son is their devotion to family. Bruce Jr. has been married for 32 years to his wife, Caroline Somers, and together they have two adult daughters with nature-inspired names: Camelia and Violet Somers. Following in her grandmother's footsteps, Camelia was a star on "The Bold and the Beautiful" for several years. Violet's creative nature is directed toward clothing design, which she showcases on her Instagram account. Violet also posted a touching tribute to her "Zannie" on Suzanne's birthday in 2022. 
Bruce Jr. and Suzanne Somers loved and admired each other
To her fans, Suzanne Somers was the Thighmaster Queen, the lovable ditz Chrissy Snow on "Three's Company," and the passionate advocate for natural treatments for cancer and menopause. To her son, she was an inspiration — and the feeling was mutual. In 2018, the star wrote a birthday tribute to Bruce Somers Jr. on Facebook: "When I look at the fine person he has become I feel fulfilled as a person, as a mother, to have given life to one of the finest people I have ever had the privilege of knowing and the profound privilege of loving him with all my heart."
In turn, Bruce Jr. never failed to honor his mother on her birthday and other occasions. On her 75th birthday, he posted an Instagram message praising her as a warrior: "Because of her fierce strength, women are paid more in the entertainment world, people are more conscious about the food that goes into their bodies, and people get better healthcare because they learn the questions to ask their doctors." The following year, he once again shared his love on social media: "Today I am once again reminded of how blessed and lucky I am to have chosen my mother in this lifetime."
Suzanne Somers died on October 15, 2023, just one day before her 77th birthday. Bruce Jr. and other family members had been planning to celebrate together; instead, per People and other sources, they will now gather to commemorate her life and her love.