Suzanne Somers' Granddaughter Camelia Is A Bold And The Beautiful Star
The acting genes are strong in the Somers family. The late "Three's Company" star Suzanne Somers' granddaughter Camelia made her debut as Charlotte on "The Bold and the Beautiful" back in 2015. After the casting was announced, Suzanne took to Facebook to share her excitement for her granddaughter. The actor shared a photo of Camelia with her co-star Pierson Fode with the caption, "Congrats to my granddaughter Camelia Somers on her debut in 'The Bold and The Beautiful!!'" According to SoapHub, comparisons between grandmother and granddaughter have been made, noting the younger Somers is "fresh, sexy, and smart" like her grandmother.
Camelia's character Charlotte arrived in Los Angeles as a Forrester Creations intern who got herself wrapped up in some scandal pretty quickly — she started a relationship with a non-intern, going against company policy. The man in question was none other than Thomas Forrester (Peirson Fode). The pair began a secret relationship after he was persistent in pursuing her. Eventually, they were caught by his father, Ridge Forrester (Thorsten Kaye), and the father and son got into a physical fight; this caused their relationship to continue to decline. At the time, Thomas was also dealing with the aftermath of a one-night stand with another woman. After a couple of years on the sudser, Charlotte packed her bags, though she has returned a couple of times since her departure for short guest appearances. 
Camelia is staying busy and spending lots of time with family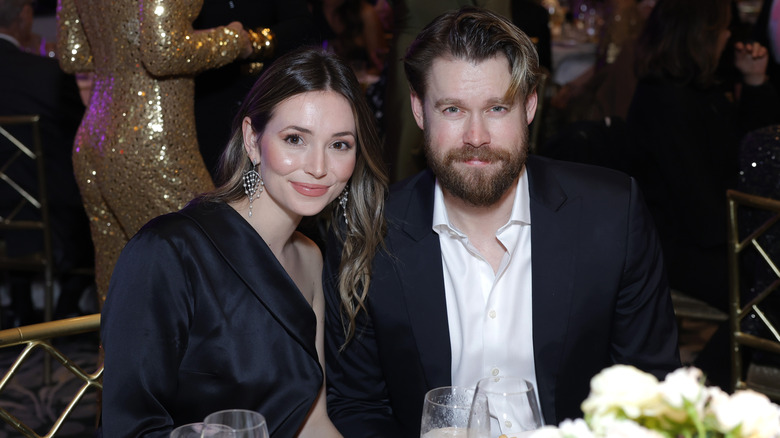 Stefanie Keenan/Getty Images
Despite not being a series regular on "The Bold and the Beautiful," Camelia Somers has kept a full schedule. She's been romantically linked to "Glee" actor Chord Overstreet since 2020. The pair are relatively quiet about their relationship, but he can be seen in some of her Instagram posts over the past few years. Somers even had a small part in Overstreet's 2022 holiday film, "Falling for Christmas," which also starred Lindsay Lohan. In 2020, the actor made an appearance in the short "The Tampon," which told the story of a young woman learning about the challenges surrounding consent in her sorority. 
Outside of her acting career, Somers spends a lot of time with her family. Her sister, father, and mother are seen throughout her Instagram page, and she posted a tribute to her grandmother, Suzanne Somers, for Mother's Day back in 2017. She captioned the photo, "And to my fabulous grandmother, you inspire me constantly. Happy Mother's Day."
Camelia's close bond with her grandmother remained evident. In 2022, she partnered with Suzanne and her sister to launch a smoothie formula. The trio posed for an ad campaign for the launch where you can see the love. At the time, Fox News reported Camelia was working for Lionsgate. 
Camelia Somers is well-rounded
At the tender age of two, Camelia Somers' acting career began when she appeared in a TV commercial for an advertising agency owned by her parents. As she grew older, she would segue into dance as well as performing in several children's musical theater plays. By her teens, she attended Harvard Westlake where she dominated as the captain of the cheering squad, forming her own dance team, and even appeared in such plays as "Grease" and "Hairspray." 
Somers' "Bold and the Beautiful" character Charlotte has only appeared on a recurring basis since her initial storyline because the performer is so busy traveling the world. In 2019, she explained to Voyage LA that she had mastered the Mandarin language at UCLA, and traveled not only to Shanghai but also worked with Lionsgate in their distribution and television sales department in Beijing. "My goal is to combine my acting, producing, and business skills to become a creative executive," the well-rounded actor said. "It won't happen overnight, but I am learning every aspect of the business and could not be more excited about the future!" 
Somers' last appearance on "B&B" was on the January 30 episode, and she has been known to appear whenever there's a major fashion crisis. Now that Eric Forrester (John McCook) and Ridge Forrester (Thorsten Kaye) are headed for a showdown on the runway, can Charlotte be far behind?