The Rocky Relationship Timeline That Led To Billy Ray & Tish Cyrus's Divorce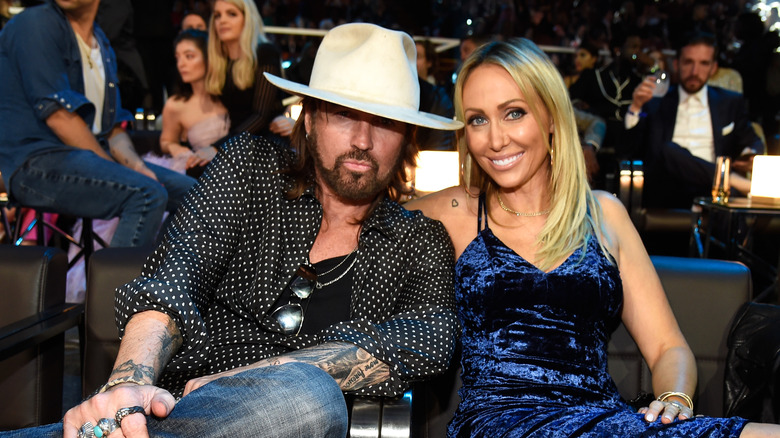 Kevin Mazur/Getty Images
Billy Ray and Tish Cyrus' love story began in 1991 when the singer was fresh out of his five-year marriage to Cindy Smith. Their paths crossed at a club, and in a 2017 People interview, she recalled how he approached her by saying, "I've never seen you drink, ever, and I think that's so cool." Tish acknowledged that she stood out amongst her friends who weren't afraid to live it up. At the time, Billy Ray was on the brink of stardom, so he, too, led a pretty wild life. After the two began dating, Tish briefly dabbled but she ultimately settled down and helped her man do the same. 
In 1992, Billy Ray got his big break in the music industry with the release of his debut album, "Some Gave All," and, in particular, the chart-topping single "Achy Breaky Heart." While his career thrived, Billy Ray's personal life suffered. Speaking to ABC News, in 2004, Tish detailed how his newfound fame turned her life upside down: "I absolutely felt my butt strapped to a rocket and was going around the world, catching airplanes, you know, going from one spot to another, and doing all these crazy things." She elaborated, "1992 was one of the hardest years of my life just because of that change." 
Tish also expressed that she had difficulty dealing with all the female attention Billy Ray got. Things got even more complicated when the country star admitted that he had a child on the way from a fling. 
The couple made it work for years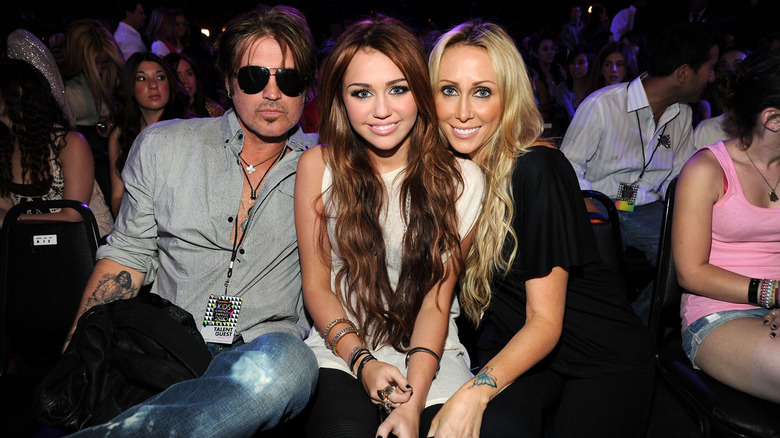 Kevin Mazur/kca2010/Getty Images
In her ABC News interview, Tish Cyrus recollected her reaction when Billy Ray Cyrus told her he was expecting a child with Kristin Luckey: "He came to me and just, you know, said that we needed to talk and he immediately thought that I would leave." But she stayed, explaining how the experience helped Billy Ray to rethink his life choices and priorities. In April 1992, Christopher, Luckey's son with the country star, arrived and in November, Tish and Billy Ray's first child, Miley, followed. The couple tied the knot in 1993 in a simple ceremony in their living room. 
At the time, Tish was pregnant with their second child, Braison, who was born in May 1994. Later, Billy Ray also adopted Brandi and Trace, Tish's kids from her first marriage. Their union grew stronger, and in 2000, the couple's youngest, Noah, was born. But, in 2010, Billy Ray shockingly filed for divorce amidst speculation that Tish had cheated on him with Poison singer Bret Michaels. In a "Fox & Friends" interview, Michaels clarified that he was simply a family friend.
During a subsequent chat with GQ, Billy Ray confirmed that "Hannah Montana" had to go on despite the problems at home: "I was going to work every single day knowing that my family had fallen apart, but yet I had to sit in front of that camera." He joked that his acting skills must've been better than he imagined. But, just a few months later, Billy Ray revealed the split was off. 
Billy Ray and Tish called it quits twice more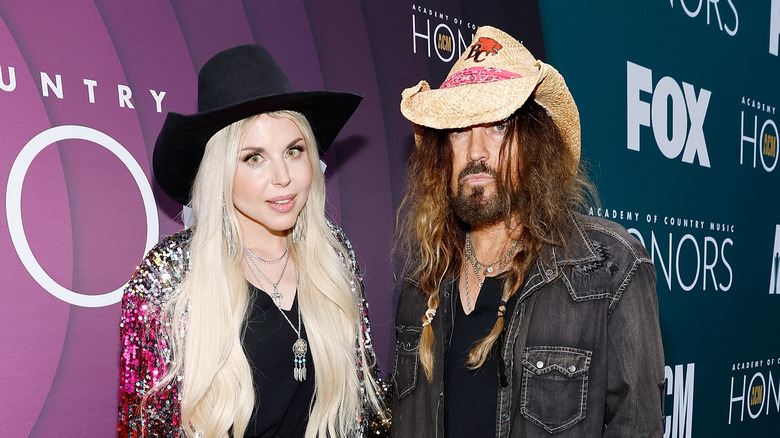 Jason Kempin/Getty Images
In June 2013, Tish Cyrus filed for divorce from Billy Ray Cyrus, which was voided just a month later. In a joint statement, the couple asserted that going to therapy for the first time in their lengthy marriage made all the difference. Tish also told The Daily Dish that she hopes their children learn from their marital struggles and nurture their relationships instead of giving up at the first sign of trouble. For a while, it seemed like the couple had finally figured everything out.
Five days prior to Tish and Billy Ray's 25th wedding anniversary, Miley Cyrus tied the knot with Liam Hemsworth. To celebrate both occasions, Tish posted a photo of the proud parents with their daughter in her bridal gown. In the caption, Tish gushed that she wouldn't change a thing about her perfectly imperfect marriage. But alas, it all ended in April 2022, when Tish and Billy Ray shared the sad news of their divorce. 
Although everyone else was surprised by the announcement, the Cyrus children were not. An insider told Hollywood Life, "Miley and her siblings have been expecting this for over a year now, as their parents have not been living together for several years and they have not been happy together for as long as anyone can remember." In fact, "This is a relief to everyone." In October 2023, Billy Ray married Australian singer Firerose. Meanwhile, Tish had a fast-moving relationship with Dominic Purcell, and they wed a couple of months prior.