What The Final Days Of Suzanne Somers' Life Were Really Like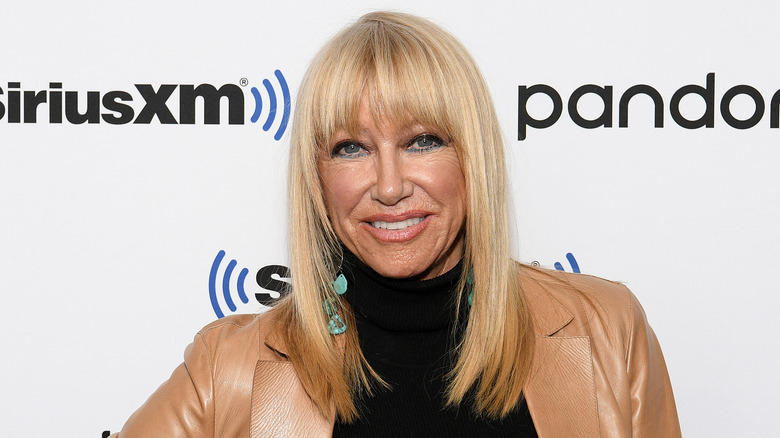 Dia Dipasupil/Getty Images
Suzanne Somers' tragic death was announced on October 15, 2023, a day before the actor's 77th birthday. Prior to her passing, Somers made her mark on the world through her role as Chrissy Snow in the iconic sitcom "Three's Company" and as Carol Lambert in the sitcom "Step By Step." Other than that, Somers was a model, entrepreneur, and bestselling author, but she was also a loving wife, mother, and grandmother. In the end, it was her family that stood by her side until the end. 
As her publicist R. Couri Hay shared in a statement, "Suzanne Somers passed away peacefully at home in the early morning hours of October 15th. She survived an aggressive form of breast cancer for over 23 years" (per Variety). In the days leading up to her death, the sitcom star was undergoing treatment while looking forward to a celebratory birthday dinner with her family.
The celeb was originally diagnosed with breast cancer in 2000, announcing that she was cancer-free in 2007 after receiving a lumpectomy, radiation, and alternative medical treatments. In July 2023, Somers took to Instagram to announce that her breast cancer had returned, with the condition ultimately leading to her death. 
Somers was surrounded by family during her final days
While the death of Suzanne Somers is heartbreaking, it's comforting to know that the celebrity wasn't alone throughout her final days. The "She's the Sheriff" star was joined by her husband Alan Hamel — whom she married in 1977 — as well as their three children Leslie, Stephen, Bruce, and her daughter-in-law Caroline. She was also surrounded by her six grandchildren, including Camelia of "Bold and the Beautiful" fame. 
Somers talked with People about her family-oriented birthday plans prior to her death, providing some insight into the joy and anticipation that made up her final days. "I heard Caroline is making her famous short rib tacos and I have asked for copious amounts of cake," the actor shared. "I really love cake."
While we don't know if Somers was able to enjoy a final piece of birthday dessert before her death, we do know that she received a handwritten love letter wrapped in pink peonies from her husband. She read the poem before she passed away peacefully in her sleep, with the early birthday gift serving as a reminder of how much she was loved. 
The actor was treating her breast cancer prior to her death
Up until her death, sitcom star Suzanne Somers was continually seeking treatment for her recently re-diagnosed breast cancer. "Suzanne and I just returned home from the Midwest where Suzanne had six weeks of intensive physical therapy," her husband Alan Hamel shared with People just before the celeb's death. "Even after our five decades together, I still marvel at Suzanne's amazing determination and commitment."
At the time of her re-diagnosis, Hamel explained to Page Six that the couple decided to take a step back from their professional ventures, which included Somers' beauty and wellness company and her weekly Facebook and Instagram livestreams, to focus on treating the actor's health struggles. In an Instagram post from July 2023, the celeb opened up about the return of her cancer and the continual support provided by her family.
"Alan has been by my side every step of the way. I can't even explain how much he has done for me. If it's even possible, we are even closer than ever," she captioned a photo of her and her husband. "My incredible family has been so supportive, and have helped so much by keeping the business running so you can still have access to all the wonderful products. Thank you for the continued love and support." Through her health struggles and cancer treatment, the star obviously found comfort in her family's ongoing support.