Suzanne Somers Once Had An Experimental Cosmetic Surgery That Raised Eyebrows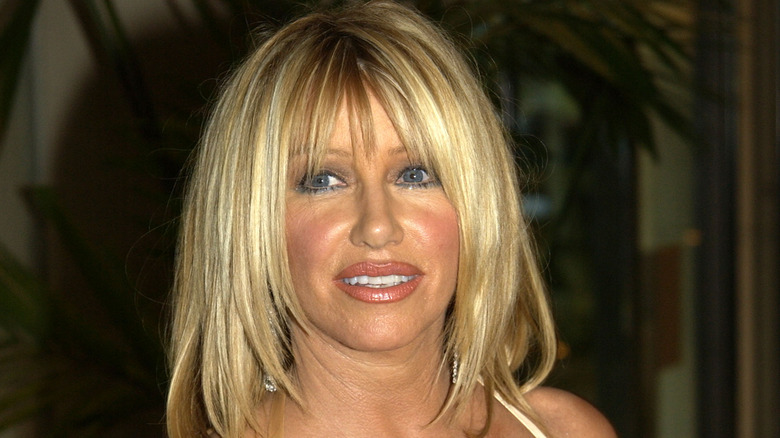 Ray Mickshaw/Getty Images
The late Suzanne Somers, best known for playing Chrissy in "Three's Company," was an inspiration in so many ways. Not only was the plucky actress the face of many iconic roles from our favorite sitcoms, but she was also a fitness beast, a hilarious TV host, and, perhaps most importantly, an outspoken advocate for breast cancer awareness.
In 2001, Somers revealed on "Larry King Live" that she had been diagnosed with breast cancer. In late July 2023, two decades after receiving her initial diagnosis and seemingly beating her cancer, the "Step by Step" star shared some heartbreaking news with fans: her breast cancer was back. Somers' Instagram announcement was accompanied by a photo of the actor seeming at peace with the news as she was wrapped lovingly in the arms of her husband, Alan Hamel. News of Somers' tragic death was later announced on October 15, 2023.
As her courageous photo will forever capture, Somers never once backed down from her cancer. To beat it and live the life she desired, Somers actually became one of the first people to try out an admittedly questionable cosmetic surgery. Not only was it unorthodox, the procedure was deemed risky by several medical professionals. 
This experimental surgery supposedly regrew her breast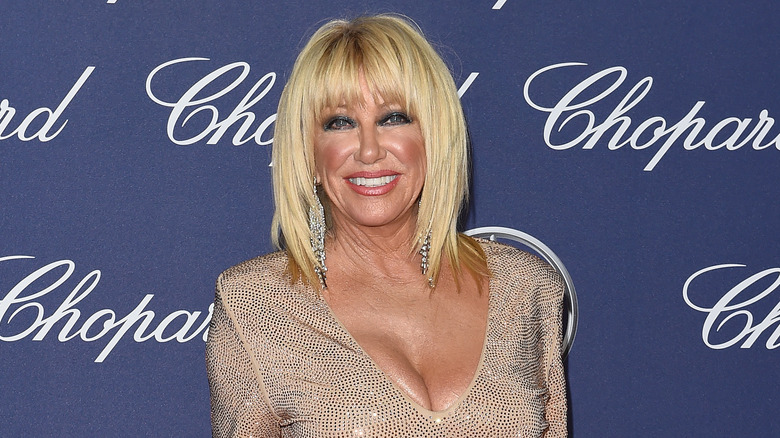 Axelle/bauer-griffin/Getty Images
Suzanne Somers tried many alternative and conventional treatments to stop her cancer growth. Among the more conventional was a lumpectomy, also known as breast-conserving surgery. Per the Mayo Clinic, a lumpectomy involves the removal of cancerous breast tissue and some of the surrounding healthy tissue to halt breast cancer in its tracks. One of the side effects of having a lumpectomy is a change in the size and appearance of the breast. 
To rebuild her breast anew, Somers told Us Weekly in 2018 that she sought out a medical professional specializing in regenerative techniques using stem cells. Loving what she saw, she decided to undergo a procedure known as cell-assisted lipotransfer (CAL). In her interview with Us Weekly, Somers broke down exactly what the term means. "They took fat from my stomach, spun out the stem cells, discarded the weak ones, took the strong ones, injected them into this breast with, like, a turkey baster," she explained. For the next year, Somers said she felt the sensation of "electrical zippers" within her regrowing breast. Somers was thrilled with the results. "The first two weeks after I had it done, I was showing everybody," she divulged. "I'd whip it out — 'cause I was so used to not having it. And then after two weeks, my husband said to me, 'You gotta stop showing people your breast!'"
Doctors cast doubt on Somers' claims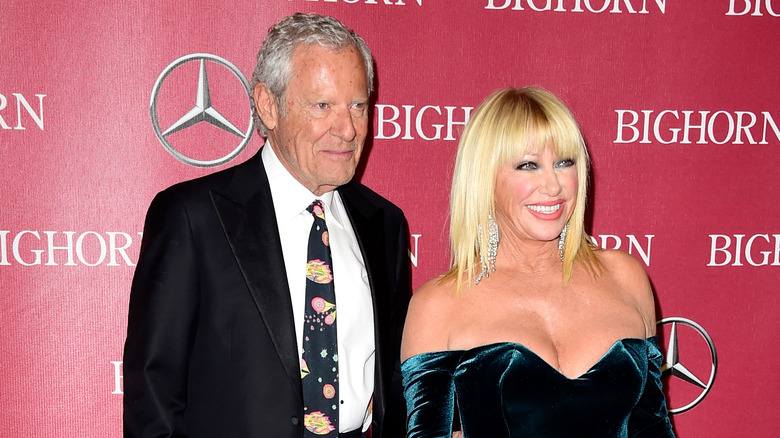 Frazer Harrison/Getty Images
The news that Suzanne Somers miraculously regrew her breast obviously grabbed the attention of many medical professionals. After all, the highly experimental procedure had rarely been undergone, with Somers being among the first to try it out. As insistent as she was that her breast actually sprang anew, there were some in the medical field who weren't convinced by her claims.
In an interview with Healthline, Dr. Oren Lerman, director of breast reconstruction at Lenox Hill Hospital, called Somers' claims an "exaggeration." Lerman stressed that regrowing a breast, with all its intricacies, is simply not possible. "I'm sure there are cells that are growing, but she didn't regrow her breast," the professional concluded. Dr. Rod Rohrich, a professor at the Department of Plastic Surgery at the University of Texas Southwestern Medical Center, added that the procedure was little more than a glorified breast augmentation, one that came with more risks. "There's a chance that the potential for malignancy could increase by using concentrated stem cells for fat grafting," he told the New York Post.
So, maybe it wasn't the magical treatment Somers' believed it to be. Still, it brings us joy to know that the treatment succeeded in boosting the late star's confidence during a difficult time.