How Life For Michelle Obama Changed Since Leaving The White House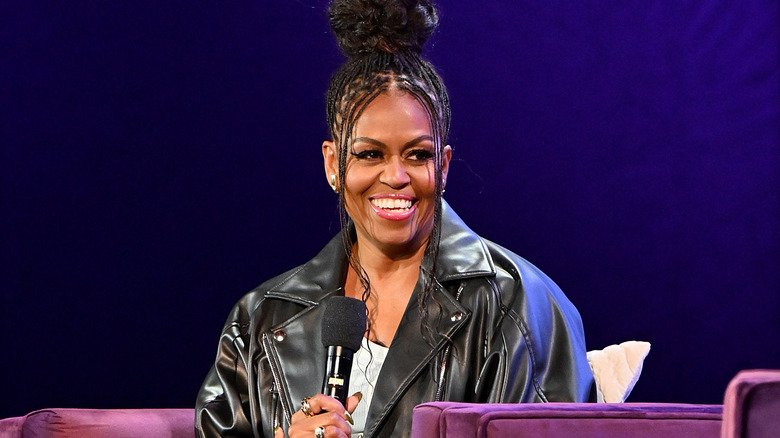 Derek White/Getty Images
Michelle Obama is arguably one of the world's favorite first ladies. Born January 17, 1964, as Michelle LaVaughn Robinson, she was raised in the South Side of Chicago. She graduated from both Princeton University and Harvard Law School and pursued a career in law and public service. In 1992, she married Barack Obama and in 2008, she made history as the first African-American to become the first lady of the United States. Her tenure was marked by grace, sophistication, and a fierce dedication to her position. She led powerful initiatives focused on providing accessible education, empowering young girls, promoting healthy living, and assisting military families.
Obama gave us a number of memorable moments, like her iconic speech at the 2016 Democratic National Convention. "When someone is cruel or acts like a bully, you don't stoop to their level," she said (via PBS NewsHour). "No, our motto is, 'When they go low, we go high.'"
Since leaving the White House, Michelle Obama's life has changed drastically. But she's not sitting with her feet up. The former first lady continues to use her platform to make a positive impact on the world and is shaping her legacy through philanthropy, literature, and advocacy. So what has she been up to since leaving the most famous address in the world? We've broken it down for you.
Michelle Obama has regained some aspects of normal life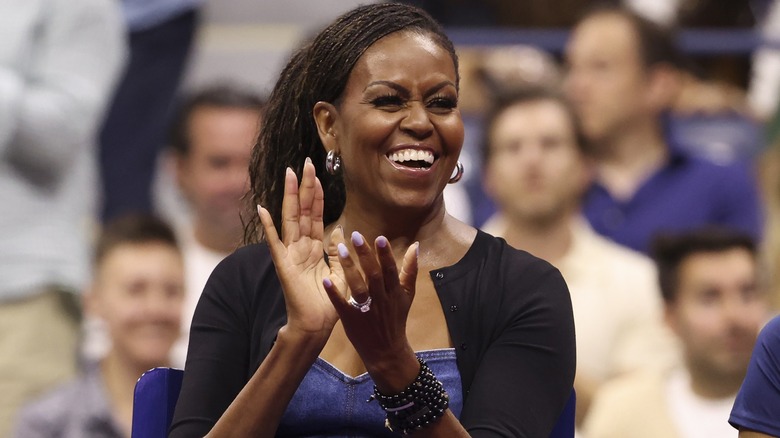 Jean Catuffe/Getty Images
For Michelle Obama, life will never go back to normal after leaving the White House. She still requires security. She still can't drive herself around. But she's finding joy in the few aspects of normal life that she's regained. "A lot of what makes you feel different is the security. And we still have security. ... But we live in a regular house. I have a doorbell. ... I answer my door," she said on an episode of "The Ellen DeGeneres Show." "So we're living a normal life, but we still live in kind of a bubble."
It's the small things that Obama could never do as first lady that she appreciates most today. "It's opening up my door and walking out and enjoying the weather and sitting on my patio," she said on NBC's "Today Show." "It's going to my girls' game and just really being a mom." According to Obama, being a former first lady means having the ability to attend a Soul Cycle class and assemble her own lunch, as noted in People. Even something as simple as going for a walk in the park or out to dinner on a Saturday night is easier, as it no longer requires teams of people and hours of notice in advance.
The former first lady is leaning into her own personal style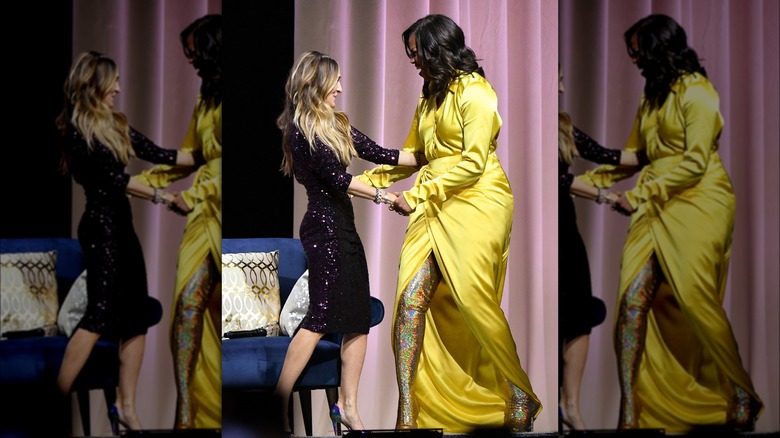 Dia Dipasupil/Getty Images
"Fashion for a woman predominates how people view you," said Michelle Obama in her Netflix documentary "Becoming." "That's not right, but it's true." While women have always been judged for the clothes they wear, the first lady is held to an even higher standard. First ladies often use fashion as a tool to foster positive relationships with other countries, a concept called "fashion diplomacy." From Melania Trump's infamous "I don't really care" jacket to Hillary Clinton's pantsuits, the outfits of first ladies symbolize the attitudes and messages of the current administration, which is why a lot of thought has to go into every item of clothing.
Since Michelle Obama is no longer the first lady, she can finally express herself through fashion and experiment with her style. Case in point: those jaw-dropping, sparkly thigh-high Balenciaga boots she wore on her "Becoming" book tour. Her style evolution has graced us with some iconic looks, like a head-to-toe leather ensemble and a crystal-embellished cape.
Obama has always been a style icon, but since leaving the White House, her fashion choices are no longer limited by the potential message they could be sending. We can all agree her style is better for it — Obama herself included. "Now that we're out of the White House, not to be viewed, judged, and parceled by every other person on the planet, yeah it is — it's better," she said on "Becoming." "It's absolutely freeing."
She picked up knitting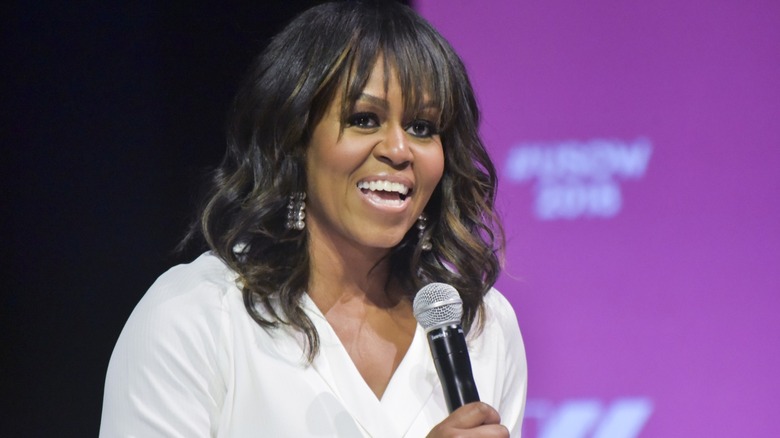 Rodin Eckenroth/Getty Images
Like the rest of us, Michelle Obama took up new hobbies during the COVID-19 lockdown and discovered a passion for knitting. After teaching herself to knit over YouTube, she finished her first sweater in a week. Now her husband Barack Obama is the proud owner of several knitted hats, and she's crafting everything from baby shower gifts to halter tops for her daughter. Her quick mastery of the skill is no surprise because it runs in the family. In her book "The Light We Carry," she notes that every woman on her mother's side of the family learned how to work a needle.
These days, Obama can't seem to put the needles down, whether she's on the phone with her mom or having a meeting over Zoom. While knitting may have started out as a way to pass the time, it's become a powerful way to ease her stress and anxiety. We underestimate the importance of sitting quietly and using our hands," she told AARP. "We are overscheduled, moving and pushing and trying to make a big impact. But the truth is that our minds need a break."
Obama often references "the power of the small," which is about the value of accomplishing small tasks. "These days, my small task is knitting — jumpers, shirts, scarves, you name it. And while it might sound insignificant, knitting helps me to slow down and ground myself in something concrete," she told Harper's Bazaar.
Michelle Obama authored two best-selling books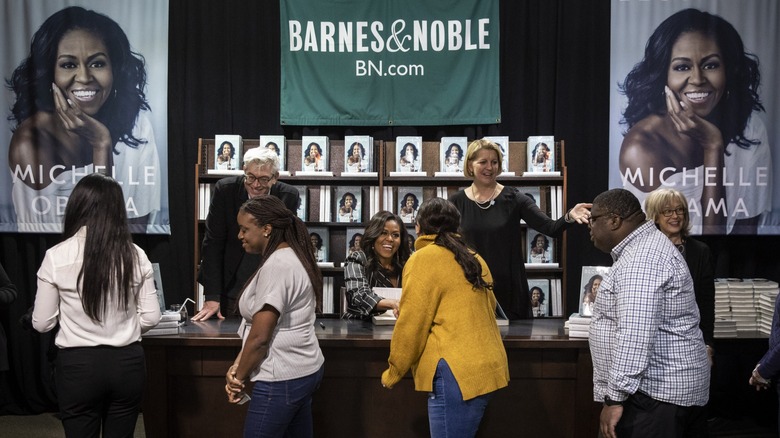 Drew Angerer/Getty Images
Michelle Obama's memoir, "Becoming," was released in 2018 and offers readers an up-close and personal look at her life. It quickly became the highest-selling book of 2018, with over 2 million copies sold within its first 15 days of publication. Obama also embarked on a 10-city book tour in the U.S., with tickets to the arenas selling out in minutes. The demand was so high that she added two more dates to her tour. "Can confirm that getting Michelle Obama tickets was more difficult than getting Beyoncè tickets," tweeted one fan. Today, it's a worldwide best-seller in countries like South Africa, Greece, Korea, Australia, and more, and it's been translated into 31 languages around the world.
In 2022, Obama released "The Light We Carry: Overcoming in Uncertain Times," a follow-up to her wildly successful autobiography. In the book, Obama shares strategies to overcome adversity and stay hopeful in today's unpredictable world. The book also became a No. 1 best-seller and received its own Netflix special, showcasing an insightful conversation between Obama and Oprah Winfrey that occurred on the last day of her book tour.
"I never thought I would be the author of one book, let alone two. But I've found that writing this has been a way for me to gather my thoughts and find more clarity during this time. So, I hope this book means as much to you as it does to me," she wrote on Instagram.
She released a Netflix documentary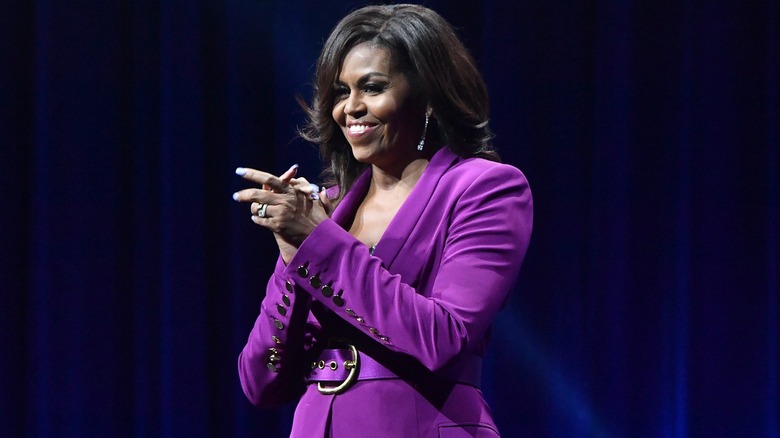 Paras Griffin/Getty Images
Michelle Obama may no longer be the first lady of the United States, but she's still as busy as ever. Following the success of her best-selling memoir "Becoming" and her sold-out book tour, she released the Netflix documentary of the same name in 2020. Directed by Nadia Hallgren, the film follows the first lady during her 2019 book tour and gives viewers an intimate look at one of the most influential women of our time.
The film is made up of footage from the tour, excerpts from her memoir, and interviews with her friends, family, and colleagues. It offers a candid look at Obama's life, from her childhood in Chicago to her role as the first lady, and the struggles she's overcome along the way. What is apparent immediately is the genuine connection Obama forms with everyone she meets, whether she's having a one-on-one conversation or speaking on stage in front of thousands. The documentary explores themes of personal growth, race, social justice, and the power of community.
The underlying message of "Becoming" is to empower people to find their voice and inspire a new generation of leaders. "I am coming down from the mountaintop to tell every young person that is poor and working-class and has been told, regardless of the color of your skin, that you don't belong, don't listen to them," she says in the documentary.
She produced a kids cooking show, Waffles + Mochi
Health and nutrition have always been important to Michelle Obama, who as first lady led the Let's Move! campaign to combat childhood obesity and provide healthy food in schools. It's a cause she continues to champion after leaving the White House but in a different way. In 2021, Obama partnered with Netflix to produce Waffles + Mochi, a TV program that aims to get children excited about food and diverse ingredients from around the world. The show isn't about healthy food; rather, it's about fostering a love of food and cooking, which overall is healthier than reheating frozen meals and ordering fast food.
The show follows Waffles (a half-yeti, half-frozen waffle) and Mochi (a mochi ice cream ball), two aspiring chefs who escape the Land of Frozen Food and go on a series of culinary adventures. The puppets fly around in a magical shopping cart, sourcing ingredients and meeting chefs from around the world.
"If you want to help kids build good habits, you can't lecture them about eating healthy or harp on them about eating their veggies. You have to meet kids where they are — don't expect them to come to you," she told Entertainment Weekly. "That means giving them something to have fun with, something full of jokes, wonder, and characters to interact with. That's where Waffles and Mochi come in."
Michelle Obama launched The Light Podcast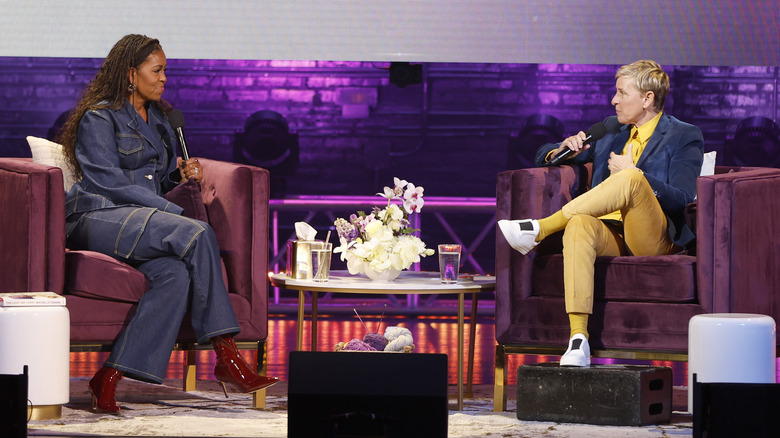 Tasos Katopodis/Getty Images
In 2023, Michelle Obama released "The Light Podcast," —an ode to her memoir "The Light We Carry." She explained the name choice on Instagram. "This idea of light ... is not just the title of this podcast and my book — it's fundamental to how I see the world. I believe that everyone has a light inside them. Sometimes it's a steady flame, while other times, it's a tiny little glimmer. And at other moments, it's a raging fire," she wrote. 
Based on the same topics discussed in her book, the podcast aims to help listeners navigate the challenges of today's unpredictable world. She invited friends, family, and colleagues onto the show to share personal stories, including her husband Barack Obama, Oprah Winfrey, Ellen DeGeneres, Tyler Perry, Hoda Kotb, and more.
"These conversations touch on so many of the issues we're all dealing with — navigating relationships, building good friendships, understanding ourselves, overcoming fear, and so much more. I hope The Light Podcast inspires each of you to find and share your light with others," she wrote on Instagram.
She went through a bout of depression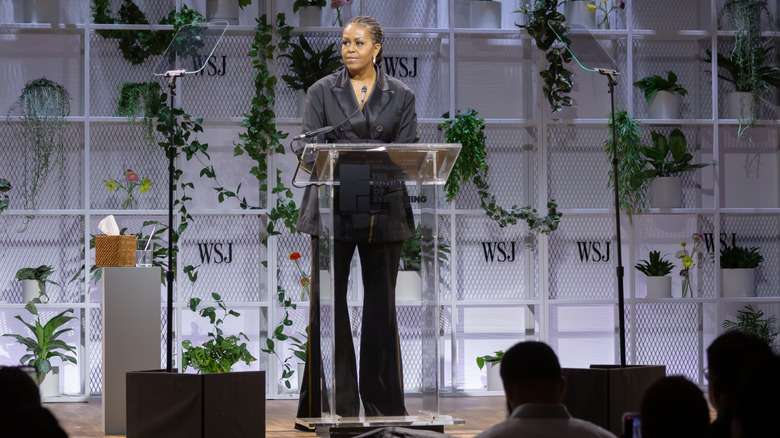 Joy Malone/Getty Images
2020 was a difficult year for a lot of people — Michelle Obama included. On an episode of her show "The Light Podcast," Obama opened up about her mental health. "Spiritually, these are not fulfilling times. So I know that I am dealing with some form of low-grade depression," she said. "Not just because of the quarantine, but because of the racial strife, and just seeing this administration, watching the hypocrisy of it, day in and day out, is dispiriting."
Obama spoke about the heavy impact the murder of George Floyd had on her, as well as the continued police brutality and racial discrimination, which was only exacerbated by the lockdown. "Depression is understandable during these times," she said. "I needed to acknowledge what I was going through, because a lot of times we feel like we have to cover that part of ourselves up, that we always have to rise above and look as if we're not paddling hard underneath the water."
To manage her depression, Obama would try "staying in a routine, getting a workout in and trying to get outside." She also gave herself grace when she wasn't up for it and spent time with her family instead. Experiencing these feelings herself helped Obama better understand her grandmother, who was often accused of being "tired" or "snobby." "Now, looking back and knowing my grandmother, I was like, my grandmother was depressed," she said.
Her marriage is getting stronger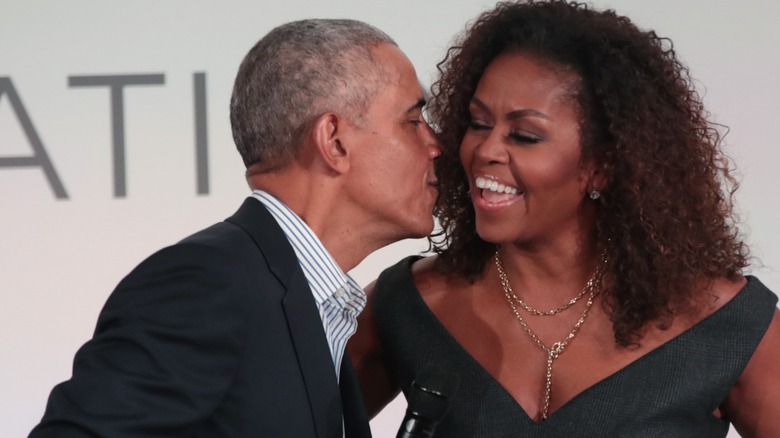 Scott Olson/Getty Images
Michelle and Barack Obama's relationship has been through a lot. After the couple was candid about their marriage struggles, Barack Obama was asked how the couple resolved their issues. "Let me just say this: It sure helps to be out of the White House and to have a little more time with her," he said on "CBS Mornings."
According to the former president, his time at the White House put an enormous strain on their marriage. In his book "A Promised Land," he writes about "lying next to Michelle in the dark, I'd think about those days when everything between us felt lighter, when her smile was more constant and our love less encumbered, and my heart would suddenly tighten at the thought that those days might not return" (via CNN).
Today, the Obamas are rekindling their love. "We are finding each other again," Michelle Obama told People. "We have dinners alone and chunks of time where it's just us — what we were when we started this thing: no kids, no publicity, no nothing. Just us and our dreams." The couple also spent some time together in Palm Springs, which she noted was "the first time in a long time it was just the two of us ... And it was good. We swam, we sat, and he wrote because he's still writing his book. So he's a little resentful."
Her parenting style has evolved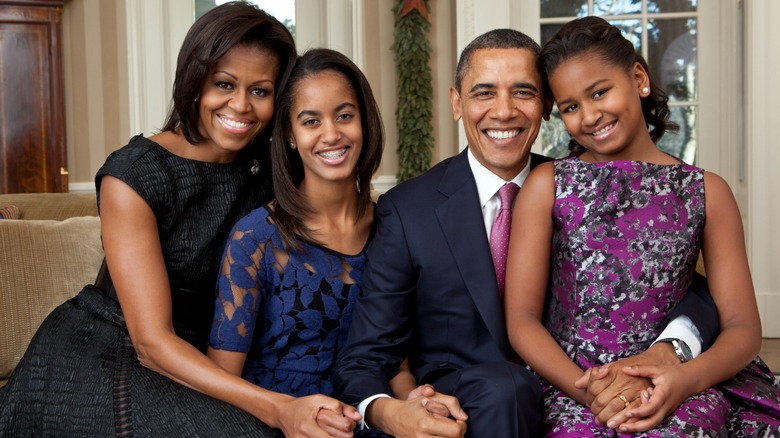 Handout/Getty Images
Since leaving the White House, Michelle Obama's relationship with her daughters, Malia and Sasha Obama, has changed. "As your kids get older, your parenting style naturally evolves. Of course, no longer living under a spotlight at the most famous address in the world makes a difference, too," she told Harper's Bazaar. "There were plenty of times in the eight years we were at the White House when I wondered if my kids would be messed up. But when I look at them today and see how strong and powerful and wonderful they are, I am proud of the way they kindled their own light despite it all."
Back then, they were all living under the same roof, and Obama often worried how growing up in the White House would affect her daughters. Malia and Sasha have since moved out and are living together in LA. "I miss my girls now that they are away from home, but I am so proud of them," she said. "They really found a way to thrive, find themselves, and it's really beautiful to see."
While she doesn't see her daughters as often as she used to, they still make time for each other. On an episode on "The Tonight Show," Obama recounted a time she and her husband were invited over to their daughters' apartment for cocktails. "That was a bad martini," she laughed. "It was very weak, in a tumbling glass. ... It was mostly vermouth and ice."
She is planning her retirement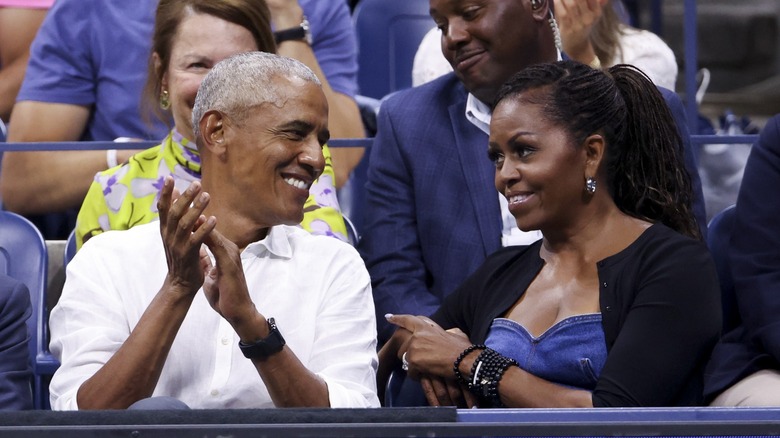 Jean Catuffe/Getty Images
After a successful stint as first lady, and her continued efforts in advocacy, entertainment, and literature since leaving the White House, we can all agree that Michelle Obama deserves a break. And it looks like she agrees, too.
"I've been telling my daughters I'm moving toward retirement right now, [selectively] picking projects and chasing summer," she told People. "Barack and I never want to experience winter again. We're building the foundation for somebody else to continue the work so we can retire and be with each other — and Barack can golf too much, and I can tease him about golfing too much because he's got nothing else to do."
When asked by People about Donald Trump's defeat in the 2020 election, she said, "We breathe for a moment, but there's still work to be done. That's why Barack and I are focused on developing the next generation of leaders through the Obama Foundation ... so that each year we step further out of the spotlight and make room for them."