Hallmark's Sun, Sand & Romance Wasn't Tricia Helfer And Paul Campbell's First Onscreen Collab
Paul Campbell is a well-known actor among Hallmark fans, starring in films such as "The Last Bridesmaid," "Holiday Hearts," and "Three Wise Men and a Baby." Throughout his career on the channel, he's had the honor of working alongside actors like Rachel Boston and Ashley Williams. We love seeing the celeb collaborate with some of our favorite Hallmark leading ladies, but the feel-good star has also had the opportunity to work with a notable actor from his past.
While Campbell starred alongside Tricia Helfer in the 2017 romance "Sun, Sand & Romance," he also worked with the celeb on the 2004 rendition of "Battlestar Galactica." On the sci-fi adventure show, Helfer played Number Six, a humanoid Cylon model, throughout the entire series. Meanwhile, Campbell appeared on the show for 25 episodes as Billy Keikeya, eventually leaving to pursue other acting projects.
Though the science-fiction show is a far cry from their vacation-based Hallmark love story, we can't help but attribute some of their on-screen chemistry to their longstanding friendship. With this in mind, here are all the details about Paul Campbell and Tricia Helfer's connected past and newfound Hallmark relationship.
Campbell and Helfer play love interests in their Hallmark movie
Hallmark's "Sun, Sand & Romance" marked an on-screen reunion for former "Battlestar Galactica" stars Paul Campbell and Tricia Helfer, but one that is very different from their sci-fi roots. In lieu of space battles and sentient machine beings, "Sun, Sand & Romance" follows publishing executive Kate, played by Helfer, as she unexpectedly crosses paths with her old high school friend Shep, played by Campbell, during her luxury resort vacation.
Campbell, who wears dual hats at Hallmark, first experimented with scriptwriting while working on the film. The actor was already credited as a producer after selling the idea to Hallmark, but also contributed to some of the dialogue alongside primary writers Jennifer Barrow, Rich Tabach, Gregg Rossen, and Brian Sawyer. It's unclear if Campbell's behind-the-scenes pull is what led to him working with Helfer again, but he definitely thinks highly of their on-screen chemistry either way.
"Tricia Helfer and I, we've been friends since back during the 'Battlestar' days," he said to My Devotional Thoughts, discussing the possibility of a Hallmark sequel. "So when you find someone who you have a good connection with and that you can have fun with ... I don't know. You don't always find that, but it's sort of a nice treat when you find that with somebody, so why not do it again?"
Campbell and Helfer are both thankful for their Battlestar experiences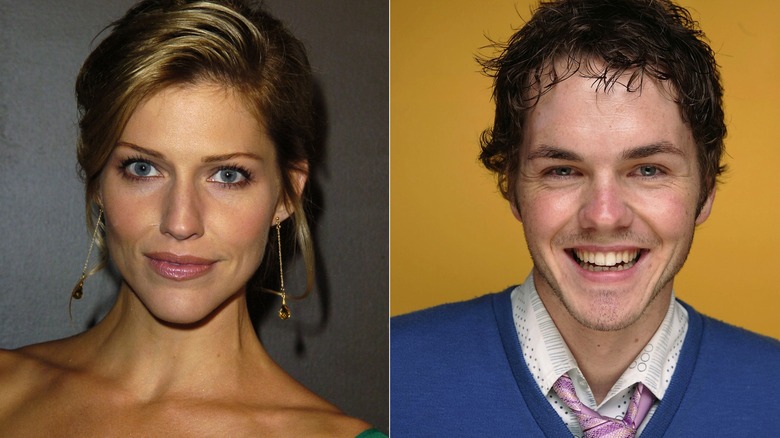 Steve Granitz & Carlo Allegri/Getty
Paul Campbell and Tricia Helfer have moved on to other projects since working on "Battlestar Galactica," but they both look back on the cult-classic sci-fi series with an acute fondness. In an interview with That's 4 Entertainment, Paul Campbell reflected on the opportunity, expressing his thankfulness for the longstanding friendship with Helfer that the show spawned.
"It was a phenomenal experience," he shared during the virtual interview, explaining that he worked with some of the best actors during his two-and-half-season stint on the show. "Trish and I are friends to this day. I mean, if I just take that one thing away from [working on the show], I feel like that's a big win."
Helfer similarly looks back on the sci-fi show and the connections she's made with affection, telling The AU Review in 2019 that it remains one of her favorite projects. As for her longstanding friendships, she added, "My closest friends are the 'Battlestar' group. I moved to L.A. a year before and I didn't know anyone. When I got 'Battlestar,' we became a family."