Patrick Duffy Once Called Suzanne Somers His 'Best Friend'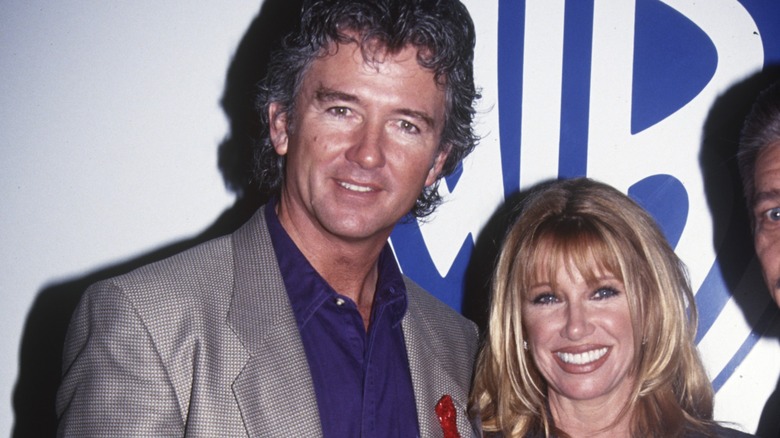 Walter Mcbride/Getty
Many of Suzanne Somers' friends and former collaborators are expressing their grief after her passing. One of Somers' "Three's Company" co-stars, Joyce DeWitt, shared a sweet tribute that proved their feud is water under the bridge. Another co-star of Somers — Patrick Duffy from "Step by Step" — expressed his own grief at the loss, two years after saying he and Somers were close from the very beginning of their professional relationship.
In 2021, Duffy was interviewed by Entertainment Tonight as part of their "Iconic Leading Men of '90s TV" series. Referencing another co-star he was close with, Larry Hagman from "Dallas," Duffy said, "Suzanne became my Larry. Best friends first day."
He also complimented Somers' comedic talents and called her "a mentor." Duffy continued to say, "And then we found our footing and it was, again, the best job I ever had." He also raved about Somers' writing abilities and how wonderful of a friend she was, declaring that she was always there to help and support if he needed it.
Duffy said Somers 'made quite a ripple' in his life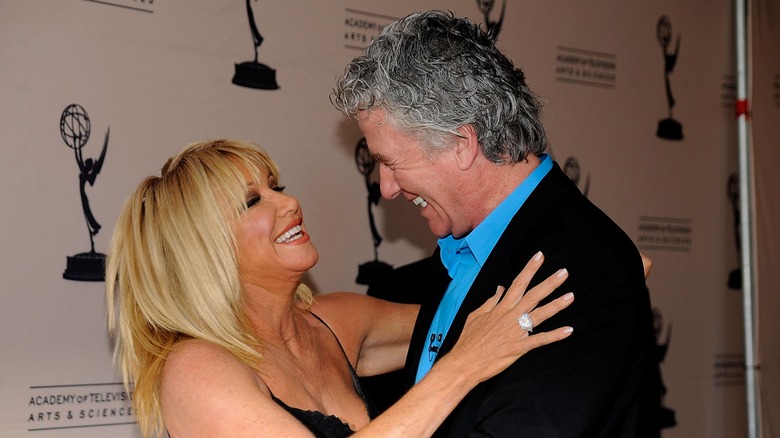 Frazer Harrison/Getty
Patrick Duffy expressed that admiration for Suzanne Somers again after she passed away. He shared a tribute to Somers on his Instagram account and also to People. In it, Duffy said he was surprised to hear about Somers' death. "She beautifully passed through my life on this leg of her endless journey," Duffy continued. "My task now is to remain on the roadside as she continues on."
He added that he will continue talking to Somers " ... solely through my daily Buddhist practice," and how, like many who grieve, he wished he could have met up with her and her husband Alan Hamel one last time. Duffy sent well-wishes to Somers' family and included one last message meant for Somers: "When the stone of your life dropped in this pond you made quite a ripple my friend. Thank you."
The comments section of Duffy's Instagram post included well-wishes from fans, many of whom also expressed their grief at the loss of Somers.
Somers once said she and Duffy 'will always be dear friends'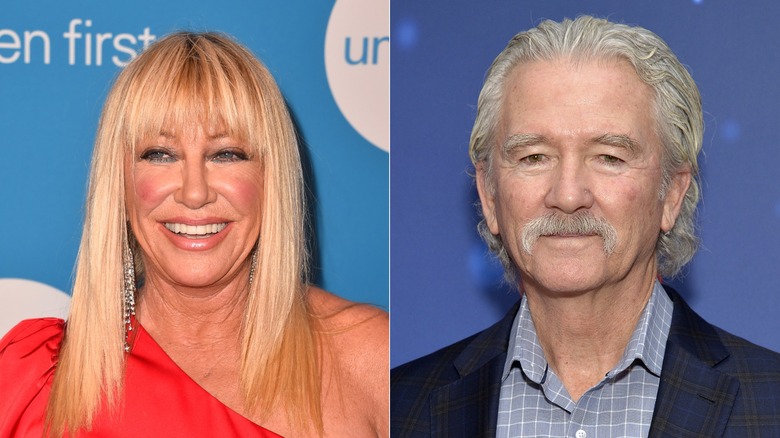 Alberto E. Rodriguez & Michael Tullberg/Getty
Suzanne Somers had lovely things to say about Patrick Duffy as well, speaking with Yahoo Entertainment in 2021 around the 30-year anniversary of "Step by Step."
"We will always be dear friends," Somers said. "I usually get in touch with him on his birthday — he was born on St. Patrick's Day, so it's really easy to remember! We always have a virtual drink together." In the interview, Somers also expressed her joy at working on "Step by Step." Opposite of her experience being fired from "Three's Company," the executive producers of "Step by Step" started paying Somers the same as Duffy during the show's second season.
Christine Lakin, another "Step by Step" cast member who played one of Somers and Duffy's children, spoke about her TV parents' friendship during her own tribute to the late actor. "She had the best relationship with Patrick Duffy," Lakin said on Instagram, "and the two of them set the tone for what was an idyllic set experience."