Christie Brinkley's Daughter Sailor's Move To Australia Got Off To A Rough Start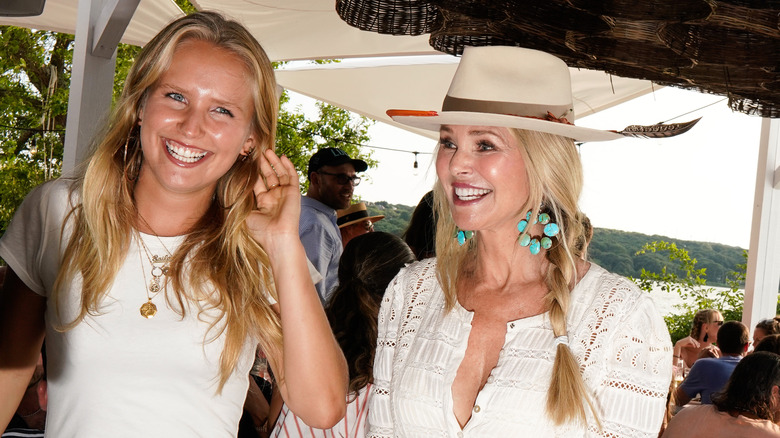 Rebecca Smeyne/Getty Images
Regardless of how old you are, moving to a new place can be quite a daunting experience. As a model, Sailor Brinkley-Cook, the youngest daughter of Christie Brinkley and ex-husband Peter Cook, isn't a stranger to traveling. But when she decided to take the plunge and move to a foreign country full-time in 2019, it wasn't as smooth of a transition as she hoped. Christie revealed to Extra that she received an alarming phone call from Sailor not long after her move.
"'Mom, Mom, there's two guys in my door, one is shirtless with a ski mask over his head and they're banging on the neighbor's door!'" the "National Lampoon's Vacation" star recalled Sailor saying. We can't imagine how panic-inducing it must have been for the mom of three, but she talked her daughter through it. Then, she advised Sailor to find a new, less dangerous residence, which she reportedly did.
However, the aspiring model's troubles Down Under didn't end there. Christie divulged that the second phone call from Sailor was nearly as concerning as the first, "She got the flu, and I was like, 'We are off to a bumpy start.'" Fortunately, Christie Brinkley noted that daughter Sailor eventually found her feet in her new Australian life.
Work and play have taken Sailor all over the world
In 2018, Sailor Brinkley-Cook told Page Six that the move to Australia largely had to do with her career, "I've always wanted to go. I want to expand out of New York and meet new people." Indeed, we saw her take on various projects while she was there. Such as when she was the ambassador for the Queen Elizabeth Stakes, a prominent horse race, and attended an event at the Royal Randwick Racecourse in Sydney, Australia. Before the move, Brinkley-Cook had been to Turks and Caicos as well as Aruba to shoot on location for Sports Illustrated Swimsuit Edition.
But, it isn't all work and no play for the brand owner. Brinkley-Cook has posted snaps of herself on vacation in Italy, sunbathing on the island of Ischia with friends in 2022, and floating in the crystal clear waters off the Croatian coast the same summer. By the spring of 2023, Sailor was back in the States, uploading a handful of pictures from her time in Los Angeles.
Sometimes, though, there is truly no place like home. For Brinkley-Cook, that's Sag Harbor, a picturesque village in the Hamptons. While her late 2023 Instagram posts didn't have the geolocation tag of her hometown, the idyllic waves, and charming wood shake houses in the background certainly made it seem like she was visiting her old stomping grounds.
Are her days traveling for photoshoots over?
Sailor Brinkley-Cook hasn't exactly given up modeling just yet. In 2023, she was spotted posing on a beach for the brand Tropic of C, wearing items from their swimsuit line. However, the former "Dancing with the Stars" contestant has also branched into a jewelry and home goods line. The collection, named Sacred + Divine, actually stemmed, in part, from her experiences as a model.
Sailor sat down with Hoda Kotb and Jenna Bush Hager on "Today" in 2022 and admitted, "I really did not even want to model." The daughter of famous supermodel Christie Brinkley initially had other career aspirations. This dream, combined with a realization ushered in by her therapist, led to her brand. Brinkley-Cook continued to tell the "Today" hosts that during the pandemic, her therapist asked her to "take these walks, put your phone down, and be completely aware and observant" whenever she felt overcome with anxiety. During these mental health reprieves, she stumbled upon angel numbers, which, by Numerology definition, are numbers that repeat and are believed to be sent by a person's guardian angels. Sacred + Divine's candles, sprays, and jewelry pieces feature a different triple angel number designed to bring guidance and inspiration.
Sailor seems to have found a peaceful balance between her modeling career and her brand, leading us to believe that future photoshoot trips aren't entirely off the table, but she's also just as happy with quiet moments at home.