Where Shania Twain Stands With Ex-Husband Robert Lange Years After Their Bitter Divorce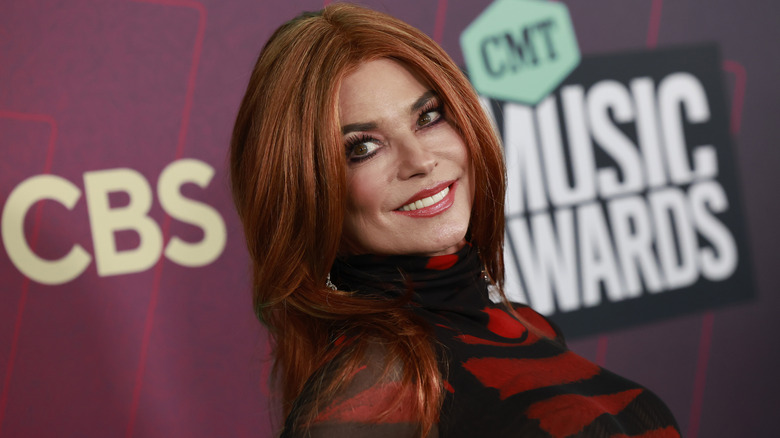 Emma Mcintyre/Getty Images
In the 1990s, the hottest press around country-pop star Shania Twain involved her navel, leopard-clad music videos, and soaring musical career. But in the late 2000s, the focus abruptly shifted to Twain's love life as she began her messy, dramatic, and highly publicized separation from her long-time husband and producer Robert "Mutt" Lange in 2008.
Per CBS News, Twain and Lange's divorce was finalized in 2010 and was caused by an affair between the music producer and Twain's secretary and close friend, Marie-Anne Thiébaud. In the 2022 Netflix documentary "Not Just A Girl," Twain said the affair was devastating. "It was like a death," the singer recalled. "It was a permanent end to so many facets of my life. It took a long time to be ready to write and record again" (via Grazia Magazine).
Similarly, Twain's acceptance and forgiveness of Lange didn't occur overnight. While on an episode of Dax Shepard's "Armchair Expert" podcast, Twain revealed that she and Lange only communicate when it pertains to their one son, Eja.
Shania Twain has forgiven Robert Mutt Lange but still keeps her distance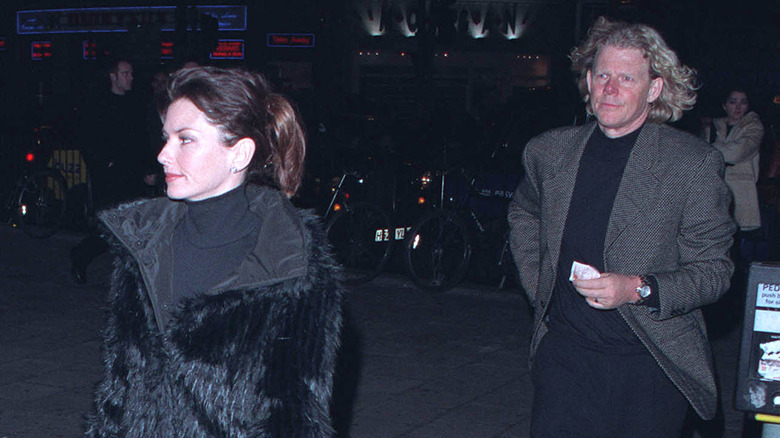 Gareth Davies/Getty Images
Despite their contentious divorce, musical icon Shania Twain says that she and her ex-husband, Robert "Mutt" Lange, have an amicable co-parenting relationship. "Mutt and I parent well together — for people who don't talk to each other," Twain told People. "We'll just text. We both love our son so much, so we don't play games like that. We have the same priority. We share spaces for him — no nonsense there."
Twain and Lange welcomed Eja Lange into the world on August 12, 2001, per CMT — seven years before they would eventually split over Lange's affair with Marie-Anne Thiébaud. Although Twain struggled under the weight of her divorce from Lange, she would later cite Eja as motivation for moving forward in her memoir "From This Moment On" (via Us Magazine). "Fortunately, when you're a mom, the responsibility of caring for your child can keep you going," the "Don't Impress Me Much" singer wrote.
Overall, the pop star seems to be in a far more positive place than she was during her breakup. She told People that she "found peace a long time ago, and maybe peace is forgiveness, you know?" Twain reflected on how hindsight allowed her to appreciate the good things from her marriage to Lange, including her son.
Shania Twain married Marie-Anne Thiébaud's ex husband, Frédéric Thiébaud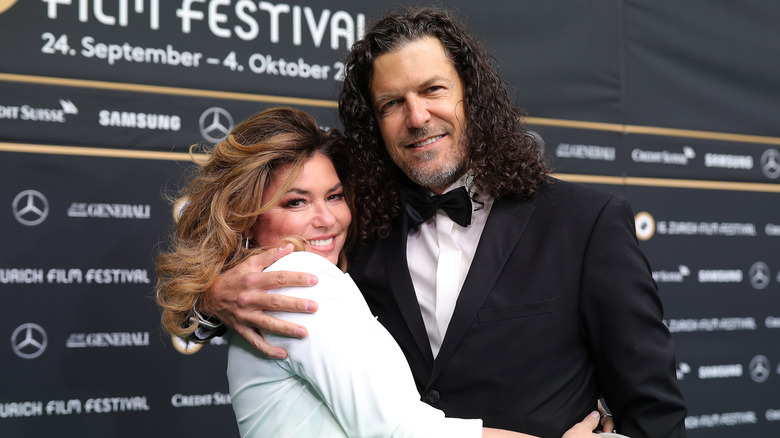 Andreas Rentz/Getty Images
"Any Man of Mine" singer Shania Twain told People that she had no intentions of remarrying after finalizing her divorce from producer Robert "Mutt" Lange, who cheated on Twain with her long-time secretary and close friend, Marie-Anne Thiébaud. However, hardship proved to connect Twain with Thiébaud's ex-husband, Frédéric Thiébaud. On New Year's Day 2011, Shania married Frédéric, and they've been together ever since.
"That is a really strong bond that builds over time, that is rare, that you don't have in every relationship if you don't have those deep scars in common," Twain told People. "We were a big part of each other's healing." The country singer told AARP that her relationship with her husband was "beautifully twisted" in that she and Frédéric were able to heal from their heartache and found a new, unexpected relationship in the process. Shania Twain's ex-husband is still in a relationship with Marie-Anne Thiébaud.
The country singer told People that in addition to co-parenting their son, Eja, Twain still uses Lange's recording studio, despite their professional collaboration being over. "That's kind of our crossroads area, which is, I think, really appropriate. It feels really good to say that. We share engineers, and so we have this music creative zone that we all go to on our own time."