Jimmy Carter's Grandson Gave Insight Into The Former President's Friendship With Joe Biden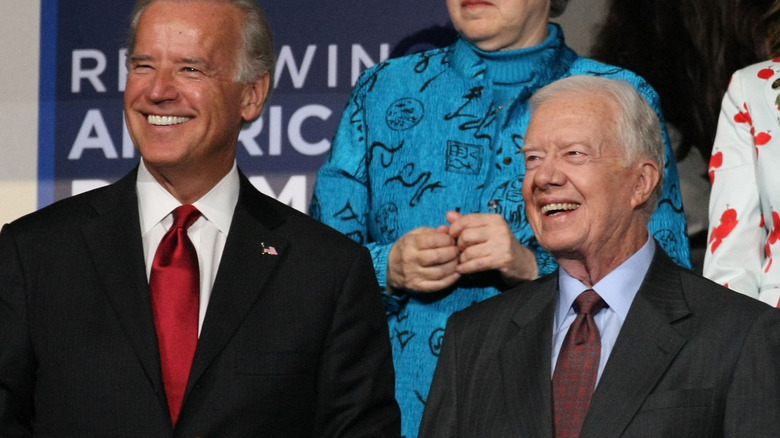 Justin Sullivan/Getty Images
Former President Jimmy Carter, the longest-living U.S. president, was moved to hospice care in February 2023, and Rosalynn Carter, his wife of over 75 years, was diagnosed with dementia in May 2023. But the two are still as in love as ever and living together in their home in Plains, Georgia — they've lived there together ever since the 1960s, other than their four years in the White House.
Carter being put on hospice care means doing whatever is possible to maintain his quality of life at the end of his life, and he and those around him seem aware that the end is likely coming soon. He's got funeral and burial plans figured out; he'll be buried near his home in Georgia,and President Joe Biden has reportedly been asked to deliver the eulogy.
It's more than just the fact that Biden is likely to be the president when Carter dies that he'll be delivering the eulogy. The two men have a friendship that goes back decades. Jason Carter — one of Jimmy's many grandchildren — told USA Today that he thinks the secret to their enduring relationship comes down to their similarities as being more than just politicians, saying, "Their ability to stay grounded in who they are, despite all of the things that they've done in their life, is remarkable."
Joe Biden was Jimmy Carter's first senatorial endorsement for president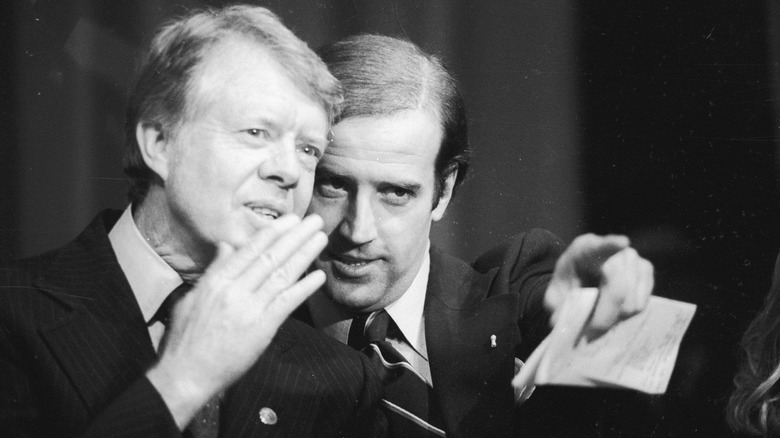 Bettmann/Getty Images
Jason Carter told USA Today his grandfather, Jimmy Carter, "has lived in Plains, Georgia, in the same house that he built in the 1950s." He explained that he believes this makes him similar to President Joe Biden, saying, "I think, frankly, [Joe] Biden has that same kind of connection to who he was in, like simpler and more humble times despite having spent his entire life in Washington." Even though Carter wasn't an elected official after the 1980s and Biden continued in politics, the two had formed a friendship that went beyond their jobs in Washington, and they have stayed in touch over the years. Jason revealed that Biden recently wrote to his grandfather, "just to let him know that he's continuing to think about my grandfather, pray for him."
Biden and Carter's relationship started in the 1970s. Biden was first elected U.S. Senator for Delaware in 1972 and Carter was a year into his Georgia governorship. Four years later, Carter was running for president, and Biden gave him his first presidential endorsement from a non-Georgia politician. In remarks in 2021 for the premiere of the "Carterland" documentary, Biden said that his endorsement of Carter was considered by some to "in the Senate thought it was youthful exuberance," which Biden agreed with, but with a caveat: "Jimmy's not just a bright smile. He can win and he can appeal to more segments of the population than any other person," per Facebook. And indeed, Carter did beat incumbent Gerald Ford in 1976.
Jimmy Carter in turn endorsed Joe Biden for president in 2020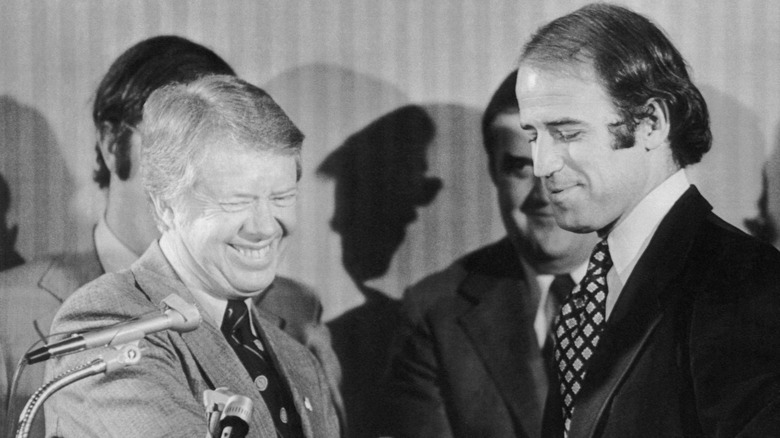 Bettmann/Getty Images
Joe Biden and Jimmy Carter were of a similar political disposition, which surely helped their bond. Gerald Rafshoon, a former Carter advisor, told Axios: "You can't pigeonhole either one of them as being conservative or liberal. They're moderates, at least in my opinion. They see eye-to-eye on things."
Nearly four and a half decades after Biden's endorsement of Carter for president, Carter endorsed Biden during the 2020 election. In a video by Jimmy and Rosalynn Carter played during the 2020 Democratic National Convention, Carter said, "For decades, [Biden] has been my loyal and dedicated friend," via NBC News. A year later, Biden recorded a special message for his friend, reaffirming the ongoing respect they have for each other, "He showed us throughout his entire life what it means to be a public servant," Biden said of Carter, per Facebook. Biden also said that Carter had called him the night before his inauguration, which Carter was unable to attend in person, to give Biden his best.
With the Carters unable to easily travel, Biden fulfilled a promise to visit his old friend after the inauguration. He did so on his 100th day as president; clearly, their friendship is still going strong after all of these years.