What To Know About Days Of Our Lives' New Tate, Jamie Martin Mann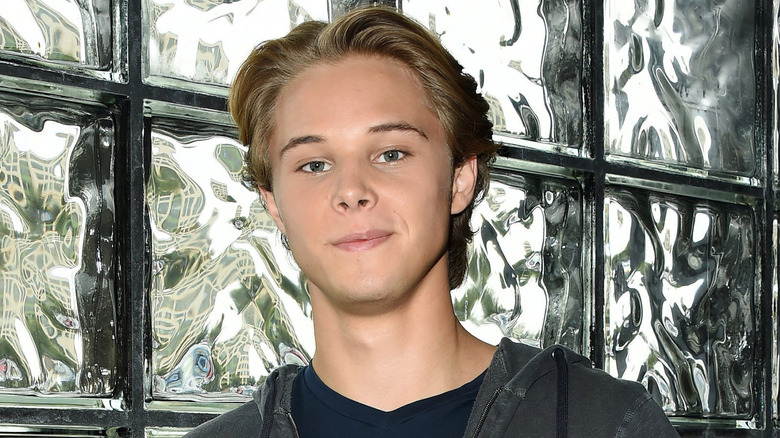 XJJohnson/jpistudios.com
There's a fresh face in Salem on "Days of Our Lives," and it belongs to Tate Black, now portrayed by soap opera newcomer Jamie Martin Mann. The actor made his first appearance on the October 9 episode, returning to town after being expelled from his school in California for damaging school property. Tate has been causing trouble for his parents, Theresa Donovan (Emily O'Brien) and Brady Black (Eric Martsolf), by throwing a fit about having to get a job to pay back the money he owes to his old school and pursuing a romance with Nicole Walker's (Arianne Zucker) daughter, Holly Jonas (Ashley Puzemis).
Tate's portrayer, Jamie Martin Mann, grew up in Westport, Connecticut, and started his career in the entertainment industry as a dancer. Mann attended the Alvin Ailey Athletic Boys Dance Program and the School of American Ballet, earning recognition for his talent at a young age. As he grew up, Mann pursued a career in musical theater, attending the University of Michigan for a Bachelor in Fine Arts degree. Now, he's entered the world of soaps, opening up a whole new world of possibilities for the up-and-coming actor.
Mann starred in Country Comfort prior to Days
Prior to breaking into the world of daytime soap operas, Jamie Martin Mann was featured in another TV series: Netflix's "Country Comfort." Mann played Brody, the second-oldest child in a family who hires ex-country star Bailey (Katherine McPhee) as their new nanny. It seemed soaps were always in his future, though, as Mann's on-screen dad was played by former "Young and the Restless" star Eddie Cibrian. 
In an interview with Digital Journal, Mann talked about his experience on the show and why he was so drawn to the character he played. "Brody has some insecurities, and he's a little self-conscious, and it's fun to play that into his character since it allows him to grow," he told the outlet. "I can compare to Brody since I had some of the same insecurities, and I have learned how to cope with those and find myself as a person. That was my favorite part of playing him."
Mann has found a home in soap operas
Jamie Martin Mann has made his soap opera debut as Tate Black, and the transition hasn't been as difficult as one might think. In an interview with Soap Opera Digest, Mann explained that coming from a background in musical theater, the time crunch that soap opera actors are under wasn't so scary to him. He added that the less time to rehearse was actually better for him, saying, "The added time pressure component ironically took a layer of stress away because I didn't have time to freak out."
The new opportunity has been a welcome surprise for Mann, who has been brought into the "Days" family with open arms. Mann explained in the interview that coming in at the same time as Ashley Puzemis made both newcomers feel more at ease with each other. As for the rest of the cast, he said, "What's so amazing about the 'Days' environment is that everyone on set is so committed to the main goal — getting everything done in as fast a time span as necessary. It's a really supportive group of people, and everybody really cares about each other."