Why Katie Holmes Tapped Daughter Suri For Projects She Directed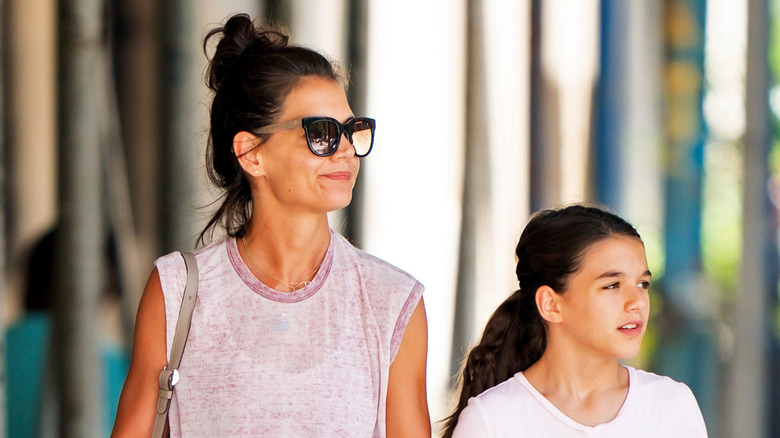 Gotham/Getty Images
From their matching signature smiles to their heartwarmingly close relationship, actress Katie Holmes and her only daughter, Suri Cruise, take the phrase "like mother, like daughter" to a whole new level. But this dynamic duo isn't just family — they're also professional collaborators who have worked together on more than one of Holmes' directorial projects.
According to Holmes, the decision to work with her daughter isn't a byproduct of the "nepotism baby" trend, as some might suggest. For the "Dawson's Creek" alum, it's about finding the appropriate talent, and Suri happens to have it. While speaking to Yahoo Entertainment, Holmes explained her choice to work with her young daughter on their first collaboration, the 2022 film "Alone Together."
"I always want the highest level of talent, so I asked her," Holmes said. "She's very talented. She said she would do it, and she recorded it, and I let her do her thing. That's the way I direct in general. It's like, 'This is what I think we all want, and then go do your thing.'"
Suri has sung on more than one of her mother's films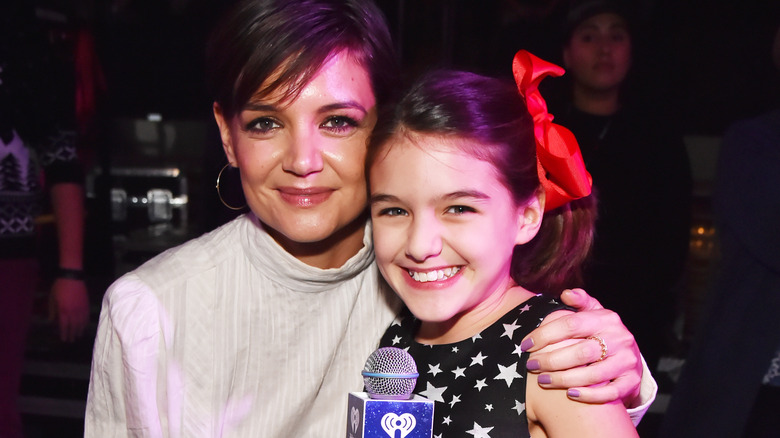 Kevin Mazur/Getty Images
Katie Holmes wrote, directed, and starred in "Alone Together," which features "Across the Universe" leading man Jim Sturgess. Suri Cruse can be heard over the opening credits of the romantic drama, singing a swinging version of the jazz standard "Blue Moon." 
The young singer's vocal interpretation of the classic song is both retro and modern, thanks to the intimate jazz trio backing band and Suri's mix of traditional vibrato and contemporary vocal bends and lyrical delivery. Suri's performance is made even more impressive when one considers she was only 15 years old at the time of the recording.
Cruise showed off her prowess in multiple musical styles on Holmes' subsequent film, "Rare Objects," released in April 2023. Despite being the director and leading actress' daughter, Suri's musical contributions are subtly embedded in the film, with the ending musical credits mentioning her with the simple line: "Vocals: Suri," per ShowBiz 411.
Katie and Suri have always worked together as a team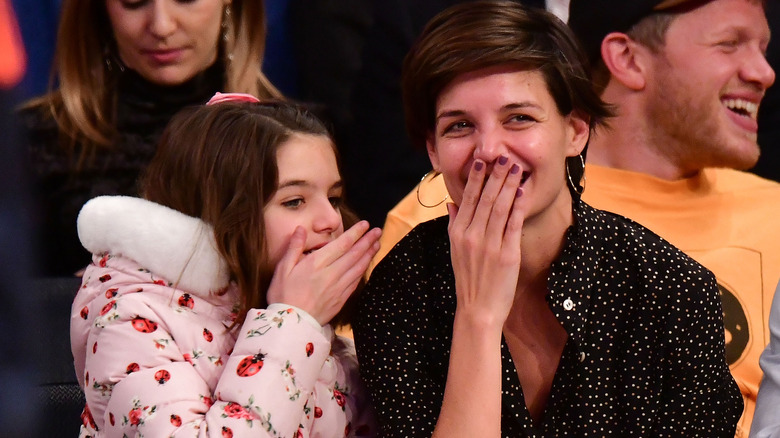 James Devaney/Getty Images
Suri Cruise was 6 years old when her mom and dad, Katie Holmes and Tom Cruise, underwent their highly publicized and contentious split. While life changed for Suri Cruise after her parents' divorce — "Mission Impossible" star Tom Cruise became estranged from Suri following the breakup — Katie and Suri seem to be thriving in their home of New York City.
As an inside source told US Weekly: "You'd struggle to find a mom-daughter duo who are more in sync with each other. They're a real team. Their connection is a beautiful thing to witness." The insider gushed about the pair's symbiotic relationship, explaining that Suri can level out her mother's more stressful moments with her compassion and loving personality. "It's no exaggeration to say that Suri and Katie have saved each other," the source told the magazine. 
Katie Holmes' strong relationship with her daughter Suri has turned into a beautiful professional collaboration that we will likely see more of in years to come. In a 2023 cover story for Glamour, Holmes confessed: "I hope she always does something on my films. I always ask her. It comes out of love for me to include someone who I love dearly. That's how I like to work. I like to have that kind of feeling. It was very meaningful to me to have her there because she's my heart."