Hoda Kotb Is Under A Ton Of 'Pressure' In Her Nightly Routine With Daughter Hope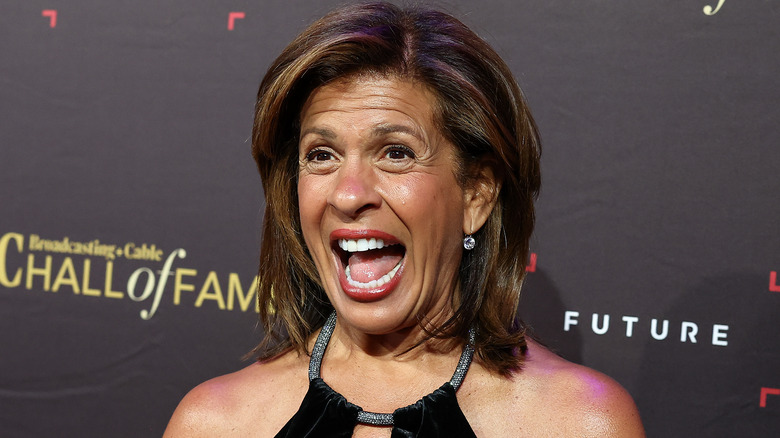 Arturo Holmes/Getty Images
Amidst the pressures of fulfilling a child's physical and emotional needs, there also exists an unspoken obligation to keep the magical whimsy of childhood alive for as long as possible. And as "Today with Hoda & Jenna" star Hoda Kotb learned the hard way, that's no small task — especially considering the nighttime ritual Kotb created with her youngest daughter, Hope.
The TV personality shared her daily dilemma with her co-host, Jenna Bush Hager, on an episode of the daytime news program. "Hope has this thing where she likes 'something special' before she goes to sleep," Kotb told Hager. "She's in bed, I leave, I go to my room. I literally rummage around, I find an old bracelet. I go, 'Here, something special'" (via Today).
The nightly routine is certainly cute, but Kotb quickly learned that Hope wasn't happy with just one "something special," causing her mother to scramble every night for a brand new item to surprise Hope with that she hadn't seen before. No pressure, right?
Hoda says she wished she never started the cute bedtime routine
While the dilemma the "Today Show" host Hoda Kotb got herself into might not be readily apparent to those who have never raised a small child, Kotb's co-host Jenna Bush Hager, who has three children of her own, identified the problem immediately. "Oh, no. You've started a terrible thing. This is not good!" Hager joked while offering up mugs, cue cards, and even a piece of gum from the hosts' table for Kotb to give her daughter.
Kotb laughed and continued that the night before, she had repurposed an old zip-up earbud case as a container for "special" coins and a plastic ring. When Hager asked if she regretted creating the nighttime routine, Kotb quickly said, "Yes! Yes! Every night, it's a lot of pressure. They never forget. And look at me. I'm foraging around my apartment trying to find something."
The NBC co-hosts discussed whether a personal mantra would be an acceptable substitute for a new item every night, but both quickly dismissed the idea. "She's going to want the things," Jenna conceded before offering her hilarious solution. "Just go into any of your drawers, and they're bottomless pits filled with paper clips and hummus and stale chips, and all of that can be special if you make it special," Hager said as Kotb laughed along.
The TV personality became a mom for the first time at 52 years old
"Today Show" host Hoda Kotb has never been afraid to share intimate details of her life, even when it's difficult. Kotb opened up to Good Housekeeping about struggling with infertility following her 2007 breast cancer diagnosis, saying that her oncologist had advised her to freeze her eggs due to her age and health post-cancer treatment. "I just pushed it away because the reality seemed impossible to bear," Kotb told the magazine.
Instead, Kotb chose to adopt her two kids, Haley and Hope, with her then-fiancé Joel Schiffman. Haley entered Kotb and Schiffman's life in 2017, and Hope joined Kotb and Schiffman's family in 2019. Kotb became a mother later in life at 52 years old, and she told Good Housekeeping that was ultimately a blessing, saying, "I find myself being so much more patient and calm than I ever would have been at a younger age."
On an episode of the "Me Becoming Mom" podcast, Kotb opened up about telling her daughters they were adopted, saying that she tells her young girls, "You didn't come from Mommy's tummy. You came from my heart." In that way, one could argue that Kotb's two daughters don't need a special item to take with them to bed — they are something special themselves. (And who knows, maybe that would take some much-needed pressure off Hoda, too.)