Rumored Reasons Why Harry And Meghan Stay Together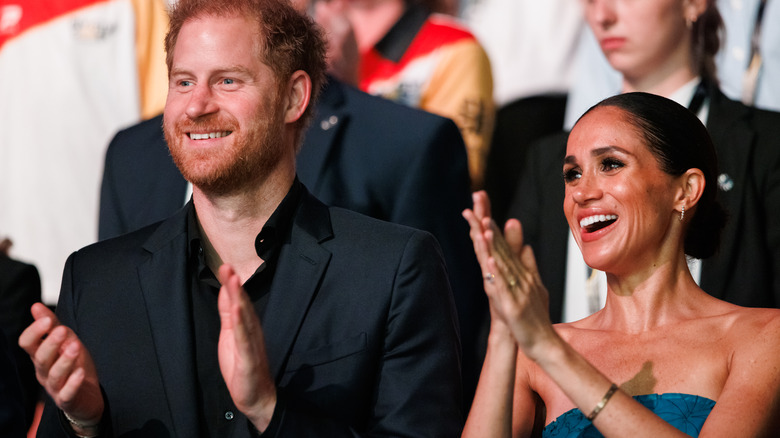 Joshua Sammer/Getty Images
It's no secret that Prince Harry, Duke of Sussex and Meghan Markle, Duchess of Sussex are one controversial couple. After leaving the U.K. and taking a step back from royal duties in 2020, the pair left many royal fans wondering if they truly respected the crown. Later, when they released a tell-all Netflix documentary series titled, "Harry & Meghan," they stirred up even more drama. While some commentators supported the couple's decision to speak out about the monarchy, others alleged that they were essentially trading palace secrets in a $100 million dollar deal, according to Forbes. 
In 2023, things didn't settle down for Harry and Meghan. The dynamic duo started off the year with the much-contended publication of Harry's personal memoir, "Spare," which revealed less-than-flattering details about the prince's family. Soon after, the controversy surrounding Harry and Meghan took another turn, as rumors of a split abounded. By June, the commentator, Megyn Kelly, announced her belief that Harry was looking into divorce lawyers (via Showbiz CheatSheet). And, just a few weeks later, Marca published a piece alleging that Meghan was on the hunt for a $80 million divorce settlement.
However, within months, it was clear that these rumors were nothing more than, well, rumors. During the September 2023 Invictus Games, Harry and Meghan were remarkably handsy with each other. At the time, Harper's Bazaar even called them "so in love." From their shared hatred of the tabloids to their philosophy on marriage, there are many factors that could possibly keep Harry and Meghan together.
Harry and Meghan don't want to let the tabloids win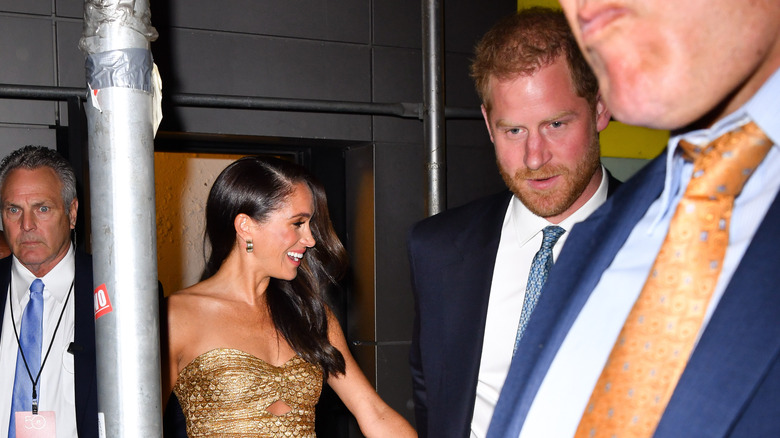 James Devaney/Getty Images
It has been rumored that Prince Harry, Duke of Sussex and Meghan Markle, Duchess of Sussex's marriage is on the rocks. However, even as this negative gossip has taken over the European tabloid press, Harry and Meghan have shown signs of sticking things out. One of the possible reasons why the couple stays together could actually pertain to their personal view of these news stories. In the past, Harry has gone on the record, claiming that these articles are published with the specific intention of ruining his love life. And, it is possible that he does not want to let the press succeed.
In a written statement that Harry submitted to the British court system during a lawsuit against the Mirror Group Newspapers, the prince described his belief that the media has intentionally tried to sabotage his romantic relationships (via The New York Times). Harry explained, "I always felt as if the tabloids wanted me to be single, as I was much more interesting to them and sole more newspapers. Whenever I got into a relationship, they were very keen to report all the details but would then, very quickly, seek to try and break it up by putting as much strain on it and creating as much distrust as humanly possible." In that sense, it is possible that Harry and Meghan have remained together so as not to succumb to the pressures of the press. 
Separating would only draw more media attention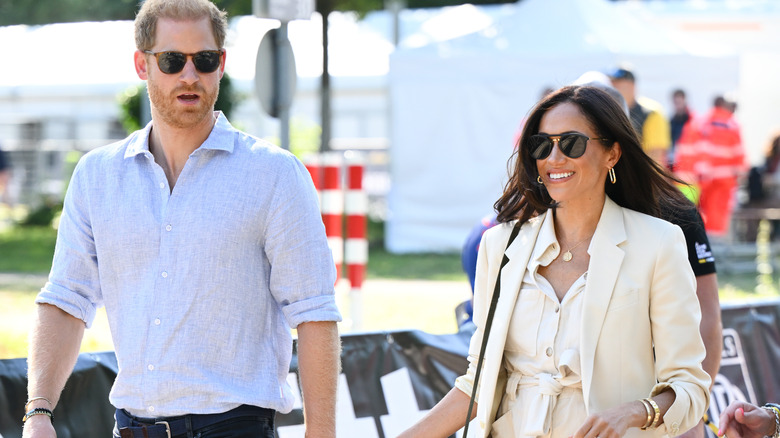 Karwai Tang/Getty Images
As royals, Prince Harry and Meghan Markle, Duchess of Sussex attract quite a bit of media attention. However, over the years, the couple has been outspoken about the challenges of dealing with the tabloids. In their Netflix documentary series, "Harry & Meghan," the duo opened up about the impact of this harassment on their daily lives. At one point, Meghan recalled, "It felt like all of the UK media descended upon Toronto ... Then my neighbors texted me saying, 'They're knocking on everyone's door, they are trying to find you.' They had paid certain neighbors to put a live stream camera into my backyard." All in all, this invasion of privacy left Meghan feeling terrified. The duchess shared, "All the curtains were pulled and the blinds were pulled. It was scary."
Unfortunately, if Harry and Meghan were ever to part ways, they could expect to face media stalking like never before. Historically speaking, divorced royals have faced massive amounts of press interest — and the Sussexes know it. In "Harry & Meghan," Harry reflected on the way that his parents' divorce seemed to egg on the paparazzi. Harry revealed, "My mom was harassed throughout her life with my dad ... But after they separated, the harassment went to new levels." With this history in mind, it is likely that the Sussexes want to avoid a divorce — and all the press attention that goes along with it.
The couple does not want to expose their kids to marital conflicts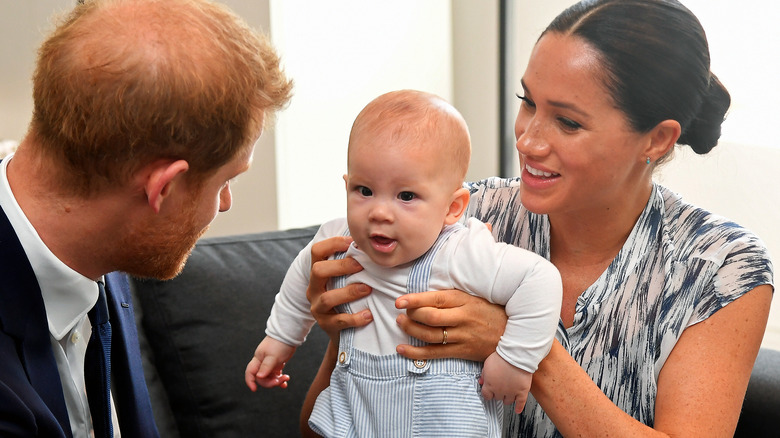 Pool/Getty Images
At its core, divorce is all about conflict – conflicting goals, conflicting world views, and conflicting lifestyles. However, Prince Harry and Meghan Markle are intent on protecting their children, Prince Archie and Princess Lilibet, from any sort of marital conflict whatsoever. And, perhaps, this goal has helped the couple stick together.
Indeed, as reported by the Daily Mail, Harry opened up about this dynamic in a public conversation with the Canadian author, Dr. Gabor Maté. Per the outlet, Harry claimed that he and Meghan do everything in their power to keep their disagreements separate from Archie and Lilibet, stating, "Do not have those disagreements, arguments, whatever it is [in front of your children] ... Luckily my wife and I don't have those." The redheaded prince went on to say that this parenting philosophy stems from the trauma that he himself once experienced while his parents were arguing. "The idea of having those in front of the kids? I assume that my parents probably had a lot of those [rows] in front of me, maybe that's where it comes from ... That's not a good idea."
Because of this mentality, it is likely that Harry and Meghan would remain married as a way to protect their children from that sort of conflict. As Harry reportedly told Maté, "We do the best we can as parents — learning from our own past."
The Sussexes don't want Archie and Lilibet to go between two homes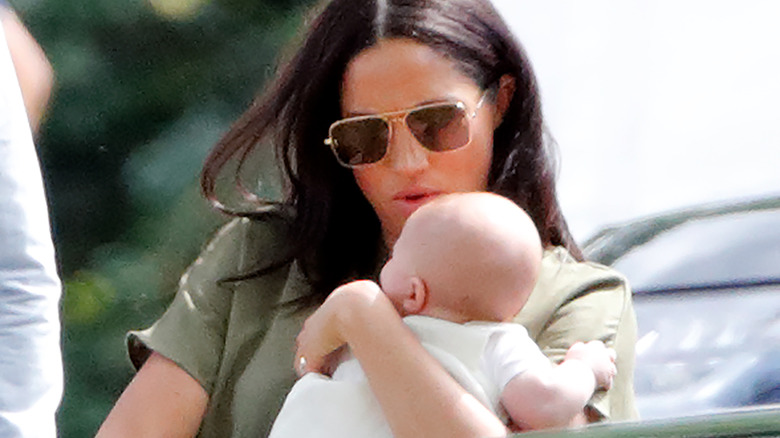 Max Mumby/indigo/Getty Images
Marital conflict is not the only thing that the Sussexes want to protect their children from. Harry and Meghan have also been said to dislike the logistical element of divorce — especially when it comes to raising Prince Archie and Princess Lilibet in two separate homes. This stance could very well be a product of the Sussexes' childhood memories. After all, both Harry and Meghan struggled immensely when their own parents parted ways, respectively. As royal expert Lara Asprey relayed in an interview with OK! (via Express), "They've both had this traumatic experience, which they don't want to repeat for their own children's sake ... I do think for now they'll fight tooth and nail to stay together. They want their kids to have stability and not come from a broken home themselves."
Interestingly, Harry expressed a similar sentiment in the Netflix documentary series, "Harry & Meghan." As the prince told filmmakers, "I think most kids who are the product of divorced parents have a lot in common, no matter what your background is ... Being pulled from one place to another, or maybe your parents are competitive, or you're in one place longer than you want to be, or another place less than you want to be." Because of these negative past experiences, it is likely that Harry and Meghan will do everything possible to keep their kids in one household.
Harry might be afraid to lose another woman in his life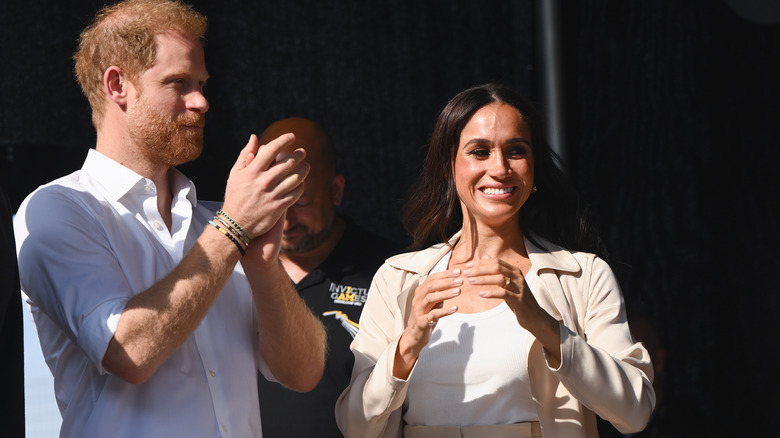 Karwai Tang/Getty Images
Prince Archie and Princess Lilibet might not the only people who the Duke and Duchess of Sussex want to protect from a divorce. It is also pretty likely that Prince Harry and Meghan Markle also want to avoid a divorce for their own emotional well-being. This may be especially true for Harry, who has famously struggled with loss over the years. According to at least one relationship expert, it would be difficult for the redheaded prince to part ways with his wife, as he probably does not want to lose yet another woman that he loves.
In an interview with the Mirror, Kate Mansfield analyzed this aspect of Harry's relationship patterns. According to her professional opinion, the prince continues to feel the impact of his mother, Princess Diana's, tragic death. Mansfield explained, "For Harry, having lost his mother at a young age, there is likely to be a significant abandonment wound that might keep him in even an unhappy marriage." She went on to add, "The loss of a parent causes most people to develop an attachment anxiety that unless treated can create the tendency to stay in relationships, regardless of how they actually feel."
Of course, it is important to clarify that Mansfield did not think that Harry seemed particularly unhappy in his marriage. On the contrary, she described his relationship with Meghan as both "functional" and "healthy," stating, "I don't see divorce on the cards."
Meghan gave Harry a life outside of royal circles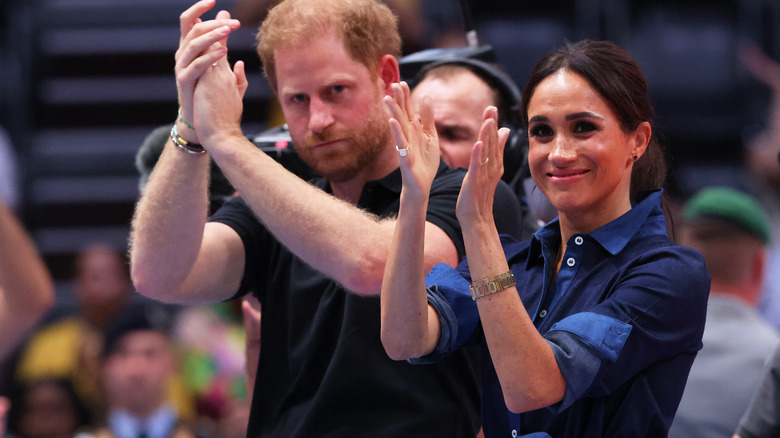 Joern Pollex/Getty Images
Many couples choose to stay married because they are happy with the life they have built together. And, from what we can tell, it is very possible that this is true for Prince Harry and Meghan Markle, Duchess of Sussex, as well. Over the years, the pair has hinted at how much they love their life in Montecito, California. As they revealed in the Netflix documentary, "Harry & Meghan," the pair revels in the simple things, like playing with their children in their garden or spending the day at the beach. Their family friend, Serena Williams, even told filmmakers, "They're creating their own family ... They can start something fresh and new and hope that, one day ... family on both ends will be able to understand that this is truly love."
Fascinatingly, Harry seems particularly taken with his new life — and he credits Meghan for showing him all that the world beyond palace walls has to offer. According to a report in the Daily Mail, the prince opened up about this dynamic in a public conversation with Dr. Gabor Maté. Harry shared, "People have said that my wife saved me, I was stuck in this world and she was from a different world and helped draw me out of that." He then added, "But none of the elements of my life would have been possible without me seeing [life away from the royal family] for myself."
Royals don't traditionally divorce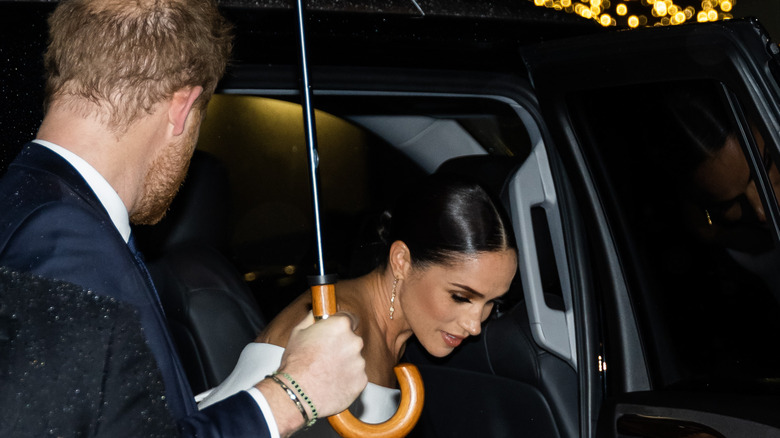 Gotham/Getty Images
Although Prince Harry has recently turned his back on royal life, the redheaded rebel comes from a more traditional background. This is especially evident in that he continues to appear at royal events, such as his father's coronation. What's more, the prince has also made waves by insisting that his children, Prince Archie and Princess Lilibet, both get titles. In that sense, it is possible that protocol is still important to Harry. And, maybe, that also means respecting the royal tradition of avoiding divorce.
Speaking on this matter to the Mirror, relationship expert Kate Mansfield opined that Harry will likely try to avoid divorce at all costs. She explained, "It's very unlikely that Harry would ever divorce Meghan. Divorce in royal circles very much frowned upon, although it happens of course." 
Indeed, it is understood that Harry's late grandmother, Queen Elizabeth II, took the divorces of her three children quite poorly. Via People, as revealed in the book, "Queen of Our Times: The Life of Queen Elizabeth II," by royal commentator Robert Hardman, she was heartbroken by the scandal of these splits. Hardman even quoted one of her former staffers, who recalled, "It distressed her much more than she let on." At one point, she apparently bemoaned, "Three out of four!" Since Harry grew up in this anti-divorce environment, it is possible that he absorbed some of his grandmother's opinions and beliefs.
Harry and Meghan are tied financially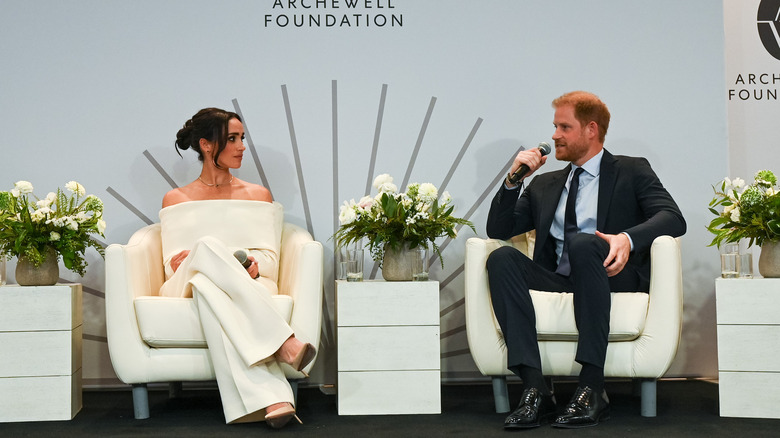 Bryan Bedder/Getty Images
Prince Harry and Meghan Markle aren't just linked by romance — or even their titles. The pair are also believed to share a number of financial obligations, which would make a divorce all the more challenging. As explained by Forbes, the Sussexes signed a $100 million contract with Netflix. Apparently, this agreement requires the duo to collaborate with the streaming giant for five years. In practice, this means participating in the production of content ranging from documentary series, like "Harry & Meghan" and "Live to Lead," to less common formats, such as children's programming.
On top of Harry and Meghan's agreement with Netflix, the husband/wife team have made millions of dollars together on their investments. Chief among these is the couple's Montecito home, which they purchased for $14.7 million, according to Forbes. As reported by The Sun, the Sussexes stand to make an astounding amount of money on the property, as its value has since skyrocketed to close to $30 million. And, while it is believed that the couple purchased the house using the fortune that Princess Diana left to Harry, Meghan is said to have played a vital role in choosing which part of California to invest in. 
As a result of these complex financial dynamics, it would be extraordinarily challenging to determine who was owed what in a divorce. Considering the strength of these financial ties, it would not necessarily be advisable for Harry and Meghan to part ways.
They are focused on doing their jobs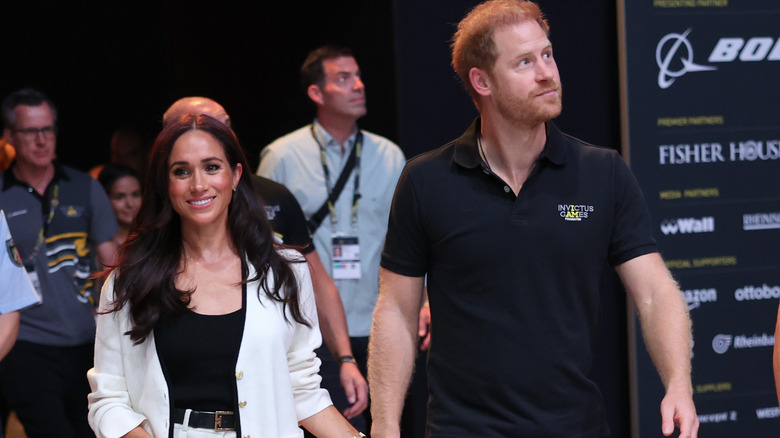 Chris Jackson/Getty Images
Of course, one of the biggest possible reasons why Prince Harry and Meghan Markle, Duchess of Sussex aren't getting a divorce is that they were never planning on splitting to begin with. While it is, ultimately, impossible to know what has been going on in their marriage, the truth is that many of the rumors about their so-called "break up" have been based on their work trips. As royal commentator, Lara Asprey noted in an interview with OK! (via Express), "There are signs that their paths are splitting. Harry's got projects in Botswana and Meghan's eyeing up her own career, pulling them in different directions."
At the end of the day, though, work trips are just work trips. And perhaps Harry and Meghan have to occasionally spend some time apart so that they can both do their jobs — like many other married couples out there. To this point, it is believed that the Duke of Sussex is planning a new Netflix documentary that will be filmed somewhere in Africa. According to Page Six, Netflix has confirmed that this is an idea that Harry has long hoped to pursue. As one of the prince's friends also told the outlet, "Obviously, Harry has a lot of roots in Africa and he feels at home there." It did, however, remain unclear which country Harry might have chosen for filming.
Harry and Meghan might actually be in love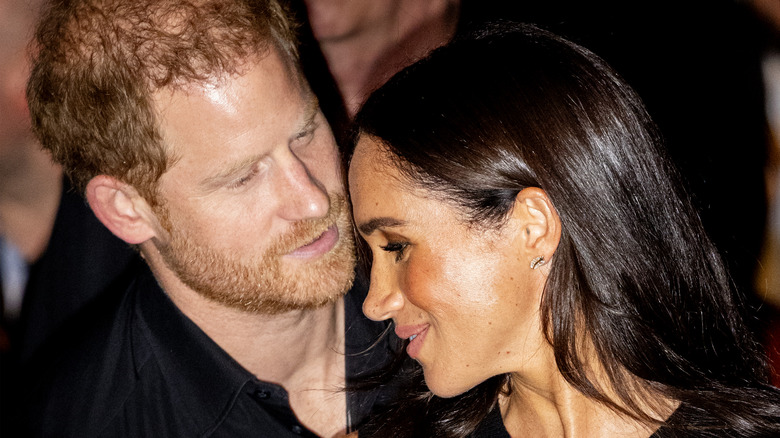 Patrick Van Katwijk/Getty Images
At the end of the day, one of the most common reasons that married couples stay together is love. And, it is very possible that Prince Harry, Duke of Sussex, and Meghan Markle, Duchess of Sussex are no exception. Even as the European tabloid press claimed that the pair was on the brink of separation, Harry and Meghan continued to demonstrate affection in public. At the September 2023 Invictus Games, the pair were photographed holding hands. They also looked cozy in the stands — with Harry's arm draped over his wife's shoulders.
Ultimately, these small signs of unity back up a slew of anonymous insiders who have long gone to the press in defense of Harry and Meghan's marriage. As one source close to the couple told Us Weekly, "They're a united front. As far as they're concerned, it's Harry and Meghan against the world." And speaking to People, a family friend shared, "They seemed really happy together. Harry seems to be embracing this life he has with Meghan and knows it's a very different one than he had before, of course."