The Most Tragic Moments Of Britney Spears & Justin Timberlake's Relationship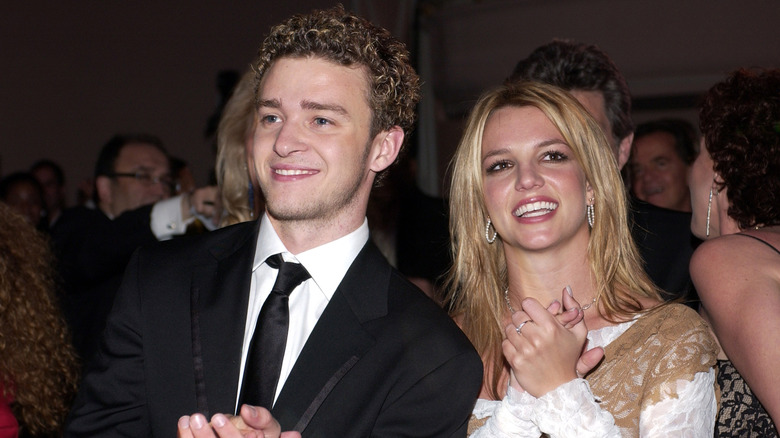 L. Cohen/Getty Images
Britney Spears and Justin Timberlake are undoubtedly one of the most iconic couples of all time. The future lovebirds were only 11 when they met on the set of "The All-New Mickey Mouse Club." In Spears' tell-all memoir, "The Woman In Me," she reminisced about how they shared their first kiss during a sleepover after a friend dared Timberlake to do it. The couple went public with their romance in 1999 and gave us a lot to love throughout their relationship. Although they wore their matching denim outfits over two decades ago, we can still picture them perfectly. 
In 2001, when she was 19 years old, Spears told The Guardian that Timberlake lived with her whenever they were in the same place, noting, "I'm not ashamed at all to say that I love him from the bottom of my heart. As far as love is concerned, with him, too much is not enough. He's everything." The pop star added, "We've gone through so much together and we've known each other since we were 12 years old. We know each other inside and out."
But it's true that the stars that burn the brightest often burn out the fastest too. The couple called it quits in 2002. After the breakup, things got increasingly messy as they went through a rough patch, often answering scathing questions about their high-profile relationship. Timberlake even called Spears out in a music video and took several public jabs at her. 
Timberlake heavily implied that Spears cheated on him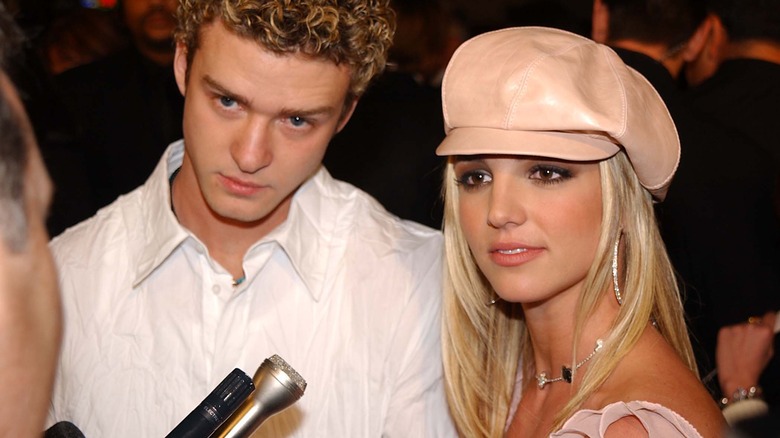 Jeff Kravitz/Getty Images
In November 2002, Justin Timberlake released the music video for "Cry Me A River," featuring a Britney Spears lookalike wearing her signature hat. The song tells the story of a cheating girlfriend who clings to the man she wronged, so naturally, people put two and two together. His 2018 memoir, "Hindsight," revealed that Timberlake wrote the song in two hours to express his complicated feelings following heartbreak. The pop star claimed he wasn't trying to bring anyone down with his music but simply to create something that people could relate to.
In August of the following year, Spears shared her thoughts on the video with Elle. "It was hard for me that he was so exploitative," she admitted. "Every interview that he did, he was just talking about us in such an open way and I just felt, 'Is nothing sacred anymore?' It was weird. It was ... disappointing," (via CBS News). When Spears spoke to Diane Sawyer for ABC's "Primetime," the host pressed her for answers about what really went down in their relationship. 
Initially, the "Toxic" singer dodged the question by acknowledging how devastated she felt after their romance ended, confirming it would always hold a special place in her heart. Spears also gave a rather vague response in relation to whether Timberlake's cheating accusations were true: "I think everyone has a side of their story to make them feel a certain way," she said. "I'm not technically saying he's wrong, but I'm not technically saying he's right either."
Spears had an abortion at Timberlake's request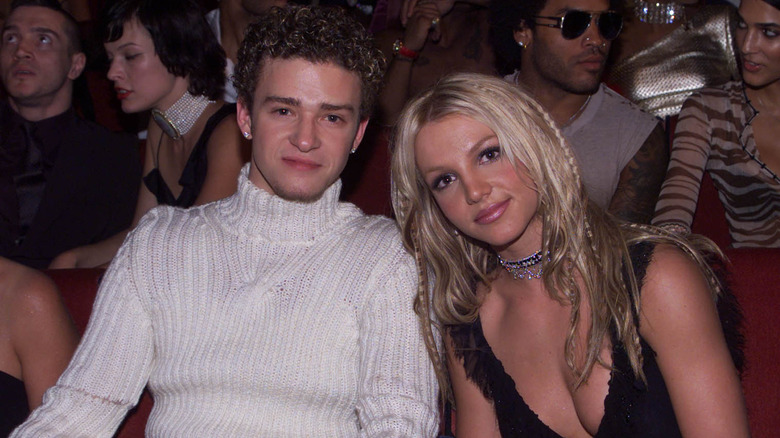 Dave Hogan/Getty Images
For a while, everything seemed to be going well between Justin Timberlake and Britney Spears. The "SexyBack" singer voiced his support for his ex amidst her conservatorship battle and even publicly apologized to her. Spears, too, cleared the air by revealing how she really feels about Timberlake today, clarifying there are no hard feelings. However, everything looks set to change with the release of Spears' highly-anticipated tell-all memoir, "The Woman In Me." 
While there are several burning questions we hope the memoir answers, an insider told Us Weekly, "Justin's not going to be happy" because Spears reportedly "goes after him hard." And that definitely seems to be the case based on an excerpt revealing that Spears got an abortion during her relationship with Timberlake — at his request. The "Womanizer" hitmaker recalled her conflicted feelings from the time: "It was a surprise, but for me, it wasn't a tragedy. I loved Justin so much. I always expected us to have a family together one day. This would just be much earlier than I'd anticipated," (via People). 
But Timberlake apparently didn't share the sentiment because he believed they were too young to bear the responsibility of a child. Although Spears felt ready for it, she had the abortion to honor Timberlake's wishes. Fans were also quick to point out that Spears might've subtly referenced their unborn child in the music video for "Everytime," which featured a woman in a hospital giving birth.