A Look At Princess Charlene's Health Issues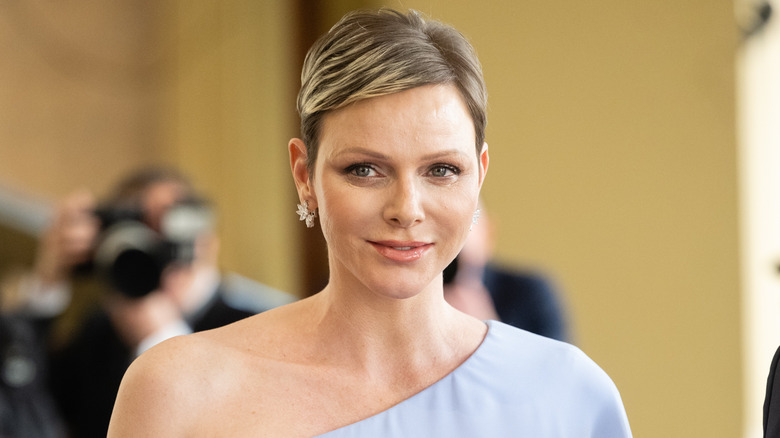 Samir Hussein/Getty Images
For Princess Charlene of Monaco, a brief trip to South Africa in May 2021 turned into a months-long ordeal that separated Charlene from her husband and kids. The princess' health difficulties began when she became ill from an ear, nose, and throat infection during her South Africa visit. The infection was a complication from a previous sinus lift and bone graft surgery,  which was intended to be an initial step before Charlene got dental implants. Due to the severity of the infection, Charlene was advised not to go home to Monaco. She remained in South Africa and needed numerous surgeries as part of her treatment. 
By early September 2021, Albert was optimistic Charlene could travel home before the end of the month. Unfortunately, Charlene suffered a setback when she collapsed and required an emergency trip to the hospital. Luckily, she was released from the hospital after a few days' evaluation.  However, she still required an additional surgery in October 2021. 
Finally, on November 8, 2021, Charlene arrived home and enjoyed a joyful welcome from her family. Even so, the princess' recovery was far from complete. Charlene and Albert made a joint decision for the princess to seek additional treatment to recuperate and regain her health.  In addition to being tired, Charlene was also significantly underweight, due to not being able to consume solid foods amid the numerous medical procedures. One source even alleged to Page Six that Charlene's health struggles were so serious "she almost died in South Africa."
Princess Charlene's absence ignited concerns about her marriage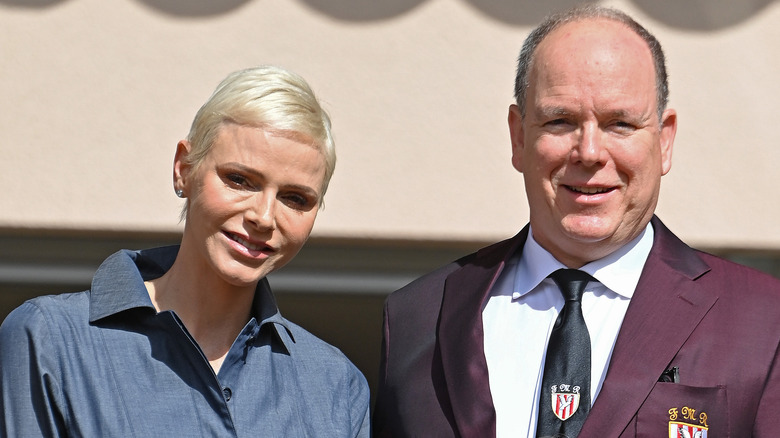 Sc Pool - Corbis/Getty Images
To complicate Princess Charlene's recovery, she and her husband, Prince Albert of Monaco, had to deal with rumors of marital problems. "She didn't go into exile. It was absolutely just a medical problem which had to be treated," Albert told People in September 2021. The prince regretted waiting to refute the rumors, hoping they'd vanish. Charlene's sister-in-law, Chantell Wittstock, spoke out on the couple's behalf, informing You (via News.com.au), "Their marriage is strong and they fully support each other."
It took until the end of April 2022 for Charlene to make a tense return to the public eye alongside her family. Unfortunately, it didn't end the speculation about Charlene and Albert's marriage. The princess had spent four months in Switzerland during the second part of her recovery, and some believed she had purchased a home there to live in after she divorced Albert. Frustrated with the media, Charlene quashed the rumors and complimented Albert's efforts to shield their family from the gossip. 
This isn't the first time Charlene and Albert's relationship has been scrutinized. Just before they got married in 2011, reports claimed that Charlene wanted to leave Monaco and cancel the wedding. These allegations were refuted by a palace advisor. Charlene herself also denounced the rumors and explained how the stress of the claims led to her crying during her wedding. The glare of the public spotlight caused additional tears when Charlene realized that people around the world were watching.
It was difficult for Princess Charlene to be apart from her family during her illness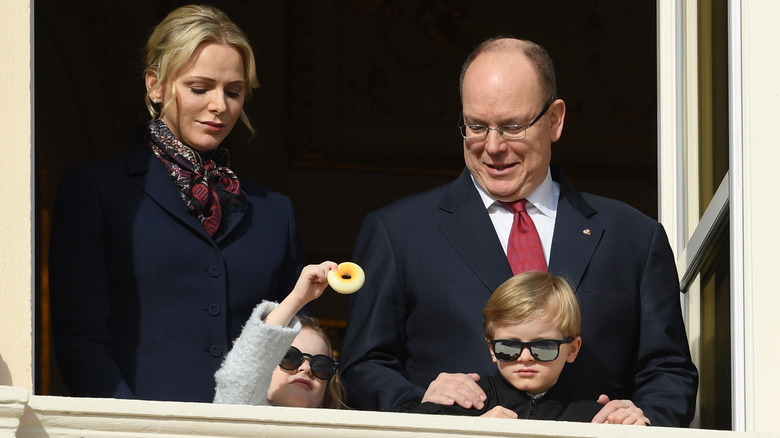 Pascal Le Segretain/Getty Images
While she was receiving medical care in South Africa, Princess Charlene's husband, Prince Albert, and their children, Prince Jacques and Princess Gabriella, were home in Monaco. To ease the pain of separation, Charlene spoke to Albert and their 6-year-old twins each day in summer 2021. When possible, Albert also took the kids to visit her in South Africa. 
After six months apart, Charlene was ecstatic to go home to her family. When Albert's private plane landed, her children presented her with welcome home flowers. The joyful reunion was short-lived, however, as Albert, Jacques, and Gabriella noticed that Charlene was still ill. When the twins appeared with Albert on the royal balcony for National Day of Monaco in November 2021, they held up handmade signs reading "We miss you mommy" and "We love you mommy" (via Page Six). Even so, they were resilient about their mother's departure to receive additional care. "They know that she's going to talk to them very soon. They miss her, of course, but they understand," Albert explained to People. 
After returning home in spring 2022, Charlene prioritized her family and her ongoing recovery. As her health improved, the princess increased her number of royal appearances. "I feel in great shape, happy and serene," Charlene informed Monaco-Matin in September 2023 in an interview translated from French. "I walk regularly but I would like to get back into swimming training, to regain a little more energy and feel stronger."