The Young And The Restless' Michelle Stafford & Amelia Heinle Are Our Favorite On-Set BFFs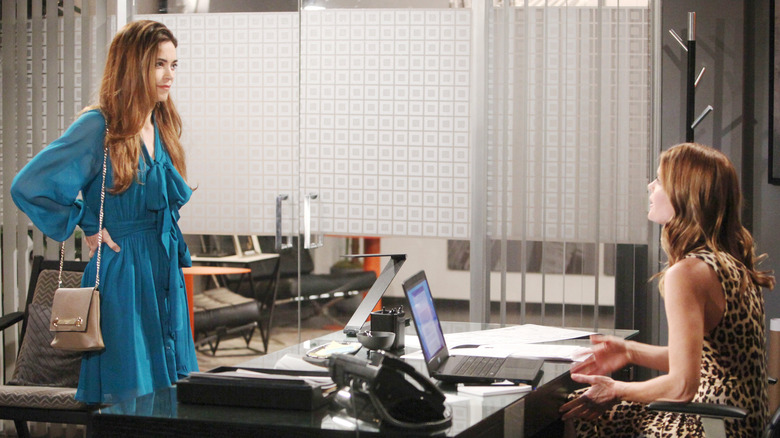 Phyllis Summers (Michelle Stafford) and Victoria Newman (Amelia Heinle) are not exactly the best of friends on "The Young and the Restless." The pair have a long and complicated history that includes colluding with one another to cover up the supposed murder of Victoria's ex-husband, JT Hellstrom (Thad Luckinbill). Despite Victoria's troubled past with men, she and Phyllis have a unique dynamic that frequently finds them in contentious encounters. At one point, Phyllis was nearly the stepmother to Victoria's children when she was with Billy Abbott (Jason Thompson). At a different time, Phyllis almost sent Victoria to prison.
When the two interact in the present, the vibe is typically icy, and neither has much good grace to put forth toward the other. However, despite how Victoria and Phyllis feel about each other, the same sentiment cannot be attributed to their portrayers, Stafford and Heinle. The actors are very close friends in real life, and they can frequently be found on Instagram together, doing whatever they can to embarrass their children.
In a recent video uploaded by Stafford, she and Heinle took time in between scenes for "Y&R" to disclose some of their favorite childhood secrets. From revealing secrets that impact their children's daily lives to their own dealings with being spanked by their parents, the soap opera veterans weren't shy about spilling all the tea for their followers. 
They joke about their kids and their own childhoods
Michelle Stafford and Amelia Heinle are becoming quite the dynamic duo on Instagram, and their videos together are a shining example of why. Previously, the actors shared a video of themselves dancing on set, with the caption, "To be CLEAR. We made these to embarrass our 13-year-old daughters. Natalia and Georgia. I think we have only really embarrassed ourselves.  But how adorable is @ameliamheinle this is why everyone loves her! Including me! She is joy personified." The actors aren't afraid to embarrass their daughters, making for riveting content that's comedy gold. 
In the latest video, Stafford and Heinle made several revelations about their childhood, exposing their children's apathy toward housework. After telling the camera their children never do household chores, Heinle reveals they do all the work, stating, "It's us. You have to make them do it. You have to threaten them." 
The pair also burst into laughter after Stafford recounted a story of her father spanking her and her siblings with a belt. She said, "My sister and I manipulated the situation. When we'd hear him do the thick one, we'd be like, 'Oh no! Not the thick one!' Because the thick one didn't hurt at all." Meanwhile, Heinle told a story of hiding her mother's keys so she couldn't take her to school. Stafford's former "General Hospital" costar Finola Hughes (Anna Devane) took to the comments to celebrate the besties, writing, "You are a communicator of joy!!"