Adam Sandler's Wife Jackie Is In More Of His Movies Than You Thought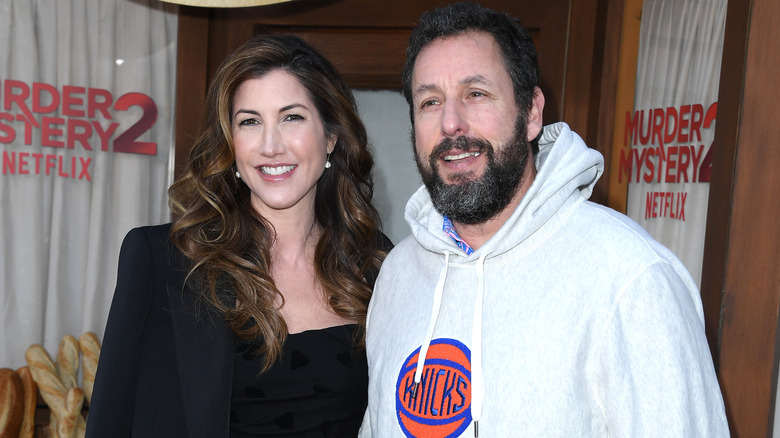 Steve Granitz/Getty Images
Adam Sandler fans were excited to watch the comedian's 2023 film, "You Are So Not Invited to My Bat Mitzvah," after hearing that his daughters Sadie and Sunny would have primary roles. However, it turns out that the movie was an affair for the entire family, as Adam's wife Jackie Titone Sandler also had a part to play. While having family members act alongside you in major film productions may be a big deal for some celebrities, that isn't the case for the Sandlers'. In fact, Jackie has appeared with her husband in almost two dozen films.
If you ask us, it was written in the stars because Jackie and Adam actually met due to the production of a movie. Jackie was cast as a bar waitress in 1999's "Big Daddy" after she was recommended by none other than one of Adam's pals, Rob Schneider. Though their characters didn't have a drawn-out romance in the film, sparks flew in real life. Today, the Sandlers are one of Hollywood's most iconic and enduring couples.
After "Big Daddy," Jackie went on to have a part in another Adam Sandler classic, "Little Nicky." Again, her part as a heavenly roommate to Nicky's (Adam) mom was minor. In the duos' next film, Jackie didn't even physically appear on screen, lending her voice to the character Jennifer in "Eight Crazy Nights." In 2003, Jackie and Adam tied the knot, and their movie collaboration fate was sealed.
Jackie Sandler has had minor and major roles
For the most part, Jackie Titone Sandler has stuck to more minor roles while her husband, Adam Sandler, frequently steals the spotlight. Take, for example, another of Adam's ever-popular films, "50 First Dates," starring the comedic actor and his BFF Drew Barrymore. Blink and you'll miss Jackie as one of Henry's (Adam) ex-lovers. Likewise, in "I Now Pronounce You Chuck & Larry," we glimpse her instructing kids in a classroom as a teacher.
Not all of Adam's movies are blockbusters. Nevertheless, Jackie still stands by his side, both literally and figuratively. "You Don't Mess with the Zohan" in 2008 and "That's My Boy" in 2012 may have flopped, but both presented an opportunity for Jackie to make a cameo as an uncredited mother standing in line and a masseuse, respectively. Despite sometimes unglamorous credits, like "great-looking flight attendant" in 2019's "Murder Mystery," Jackie has continued to agree to roles in her husband's films for more than two decades.
From time to time, even less-eagle-eyed fans are able to easily identify Jackie in Adam's productions. For example, in "Bedtime Stories," we see Jackie grace the screen as Lady Jacqueline in one of the fairytales. And in "Grown Ups" and its sequel, she is the wife of one of the main characters (though not Adam's). Her voice skills have even been applied to smaller yet important roles, such as Dracula's wife in the animated children's film "Hotel Transylvania."
What does Jackie do outside of Adam's films?
It's safe to say that Jackie Titone Sandler is an actor. After gracing the screen in 23 films (and counting) with her iconic husband Adam Sandler as of 2023, she's demonstrated her acting chops. But there's more to the mother of two than being a customary cameo in her hubby's movies. Before the part that kicked off her career and relationship — Sally in "Deuce Bigalow: Male Gigolo" — Jackie was a model. Reportedly, her modeling career started as early as her teenage years and took her to countries as far away as Brazil. However, everything changed once she hit it off with her movie star husband, and acting became her primary focus.
Well, that and raising her and Adam's two children, Sunny and Sadie. The Sandlers don't divulge much information about their relationship or family life, preferring to keep things private. However, we have seen the couple walk the red carpet together numerous times, and sometimes, they even step out as a family. Adam appears to be completely smitten with his wife of over two decades. In honor of their anniversary in June 2023, the actor shared a rare photo from their wedding with the heartwarming caption, "Your 'I do' was the best gift of my life," before writing "Us. The Kids. Let's keep going and going babe."
Indeed, it seems like his wish is coming true as a new movie featuring Adam and Jackie (and their kids), "Leo," is slated to be released on Netflix in November 2023.