North West Discloses Learning Disability On TikTok Live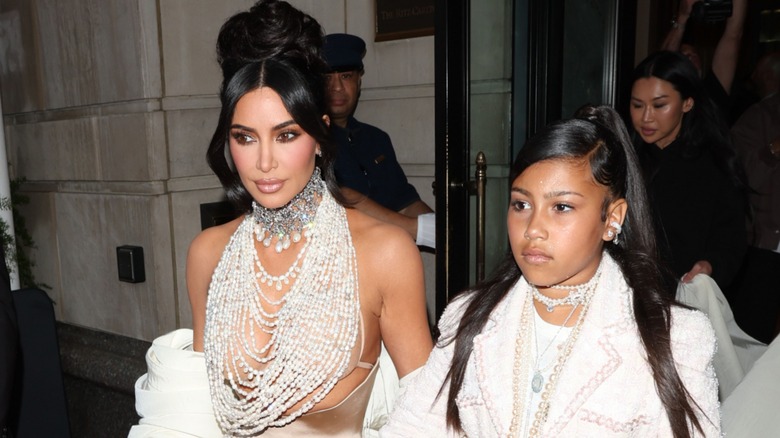 Mega/Getty
Celebrities usually try to keep their children's lives as private as possible, perhaps because they understand the difficulties of constantly being monitored by fans and critics alike. Kim Kardashian is no exception, but on a livestream with her eldest daughter, North West, North disclosed something Kardashian was seemingly not expecting her to tell.
In a snippet of the @kimandnorth livestream (which was screen recorded and reuploaded to TikTok by user @happiness4.20), North hands Kardashian her phone and then says, "Guys, I have dyslexia. Do you even know what that is?" Kardashian says, "Northie, you are sure spilling the tea on here, okay?" Looking mischievous, North also asks, "Should I drop a album?"
Kardashian jokingly threatens to end the livestream, and North laughs. On a more serious note, Kardashian says, "You know, I purposely don't talk about stuff that you're going through," implying that North's learning disability (and potential music career) was not something she planned on telling anyone anytime soon. Despite that inclination for privacy, Kardashian is not one to keep things from her children, and she opened up about the importance of being honest with her and Kanye West's kids while the two were going through their divorce.
Other celebrities have been forward about their dyslexia as well
Dyslexia is considered a learning disability, and it makes reading more challenging. People with dyslexia see letters but may be unable to tell what words the letters make up or use phonetics to sound out the words. Spelling is also more of a challenge for those with dyslexia, which is briefly shown in the livestream when North West asks her mother, Kim Kardashian, how to spell something before handing over her phone.
According to Discovery ABA, dyslexia is very common, and about 15% to 20% of people have it. Many myths about dyslexia have been busted, one being that it affects how intelligent or motivated someone is. That is not true, but people with dyslexia may have a hard time in school because it adds extra difficulty to reading and writing.
West is in good company — she is not the only celebrity who has been open about dyslexia. Gwen Stefani discovered she has dyslexia and spoke about that journey. Tom Holland, Keanu Reeves, Octavia Spencer, and Salma Hayek are just a handful of other famous people with dyslexia who have talked about their difficulties and how they have not let it hold them back from success.
Kardashian and her ex-husband publicly disagreed about North's TikTok usage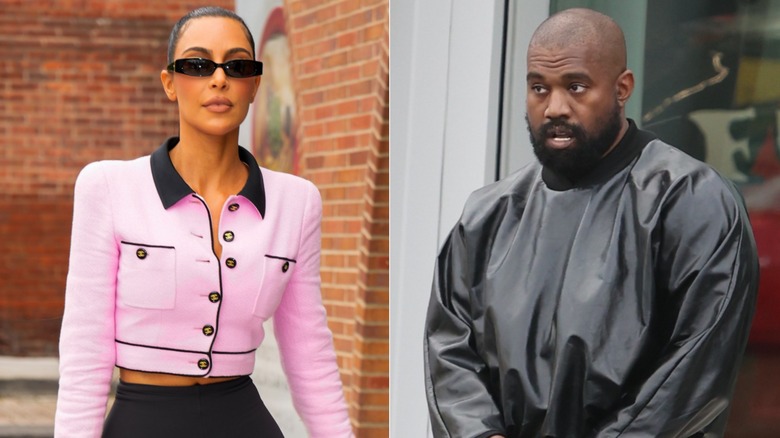 Gotham & Mega/Getty
Kim Kardashian and North West share a TikTok account, @kimandnorth. The account was a sore subject between Kardashian and her ex-husband, Kanye West. According to Us Weekly, Kanye was angry to discover that North used TikTok and made an Instagram post asking what to do since North was "BEING PUT ON TIK TOK AGAINST MY WILL?" (The post is now deleted.)
At that time, Kardashian explained on her Instagram story that TikTok fostered North's creativity, and an adult (presumably herself) monitored North's activity on the app. This is made clear by the account's bio, which, as of October 2023, says, "Managed by an adult."
Kardashian's Time interview from June 2023 mentioned TikTok and a situation when she removed a post that included North lip-syncing Ice Spice lyrics. Kardashian said perhaps Kanye was correct that time but added, "[North] loves making slime videos and doing her little hair tutorials, and I will fight for her to be creative." An insider told Us Weekly Kanye was happy that post was removed, even though he wished North wouldn't use the platform at all. They continued, "Even though [Kanye] completely trusts [North], he knows she's still very young and can't always make the best judgment call on what's appropriate to share with the public and what's not." Based on Kardashian's reaction to North mentioning her dyslexia, she agrees certain things don't need to be on the internet.