Inside Princess Charlene's Relationship With Her Own Family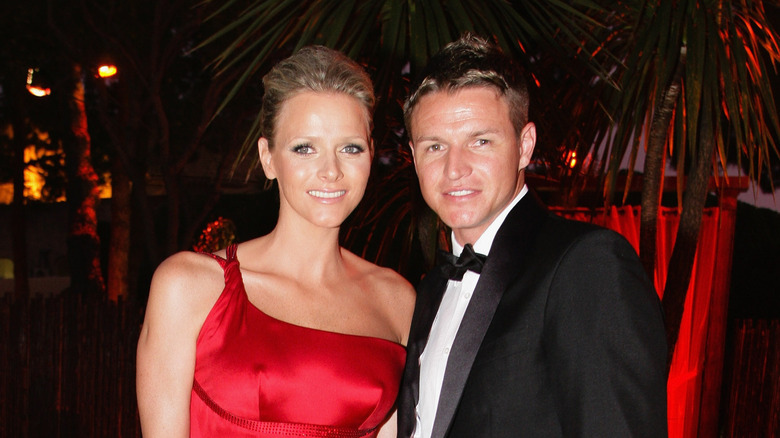 Palais Princier Monaco Pool/Getty Images
To be a royal bride, you have to be an aristocrat. Or, at least that's what it might seem. Over the years, many of the women who have married into European royal families have been quite blue-blooded. Princess Diana, of course, was the daughter of Charles Spencer, 8th Earl Spencer. Sarah Ferguson, Duchess of York, was a direct descendent of King Charles II. Even Queen Camilla is considered an aristocrat, with an ancestor who was also a mistress of a past king. Because of these women's unique histories, it may appear that there isn't room in royal ranks for brides from more typical backgrounds.
Enter, Princess Charlene. As the wife of the Monégasque ruler, Prince Albert, she is the highest ranked woman in Monaco. And, even though she holds fancy titles, like Her Serene Highness, Charlene does not hail from a blue-blooded background. On the contrary, the athletic blond actually comes from a lower middle class family with roots in both Zimbabwe and South Africa. What's more Charlene's ancestors endured a level of struggle that is unheard of from most royal brides. In fact, one of her great-grandparents was actually abandoned at a foster home due to financial troubles.
In that sense, it is clear that Charlene comes from a very different type of family than one would normally find in royal circles. And, from what we can tell, its members continue to get along swimmingly — providing each other with support during hard times.
Charlene's dad was away at war when she was a baby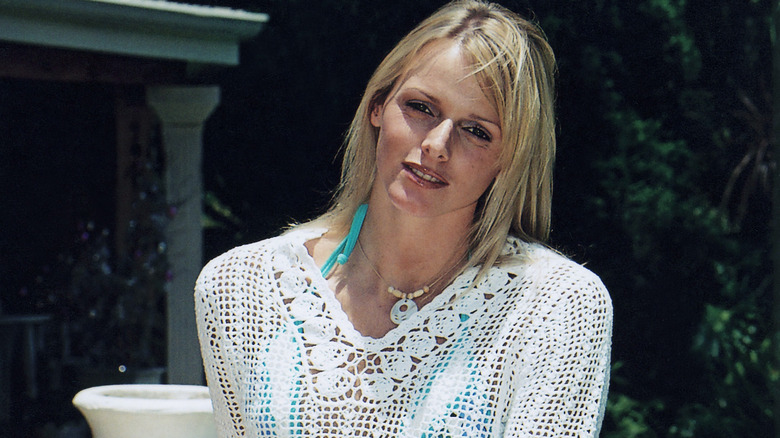 Media24/gallo Images/Getty Images
Princess Charlene was born Charlene Wittstock on January 25, 1978, in Zimbabwe (then known as South Rhodesia). Within a few years, her parents, Michael and Lynette Wittstock, grew their brood, giving Charlene two younger brothers: Gareth Wittstock and Sean Wittstock. For a time, all seemed well in the family of five. However, as the political situation in Rhodesia grew less and less clear, life for the Wittstocks became more uncertain. 
At one point, Michael went off to fight in the Zimbabwean War of Liberation, leaving his family at home. Reflecting on this turbulent time in an interview with Paris Match, Michael recalled, "It was pretty rough. At the time, the country was at war. So, I wasn't always there. I was going to the front for six weeks." Despite these frequent absences, the protective father said that he tried to go home to his family as often as he could. "On weekends, we went to the Gwai River side. There were wild animals, elephants, giraffes."
At the end of the day, though, the Bush War was still a tumultuous period. According to the book "Charlene: In Search of a Princess" by South African journalist Arlene Pinsloo, Charlene has actually spoken about this experience in the Afrikaans language publication Rapport. The princess reportedly shared, "I remember [my childhood days] filled with fear."
Princess Charlene forged a strong bond with her younger brothers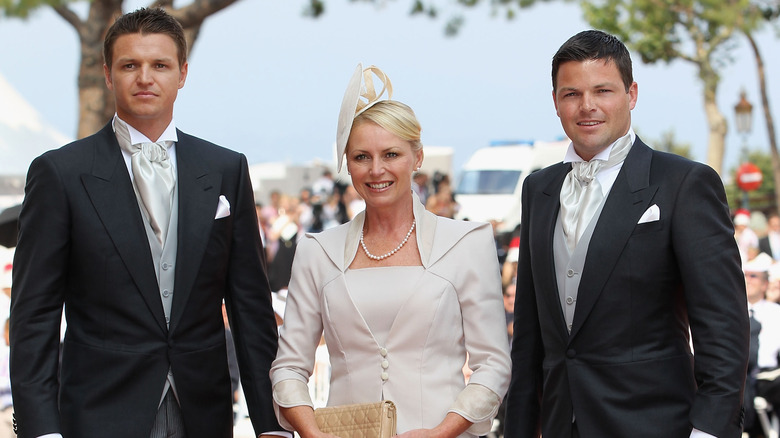 Sean Gallup/Getty Images
Early on, Princess Charlene developed a strong bond with her brothers, Gareth Wittstock and Sean Wittstock. The three siblings are all close in age: Gareth was born in 1982, and Sean arrived the next year. 
Growing up, Michael and Lynette Winstock's daughter and two sons played together for hours on end. And, it is believed that these moments left a lasting impression on Charlene. According to Arlene Pinsloo's book "Charlene: In Search of a Princess," some of the princess' earliest memories "are of climbing trees in their garden with her two younger brothers." Indeed, Charlene was never afraid to get her hands dirty as a child, preferring to engage in fun outdoor activities, rather than remain more sedentary at home. Chatting with Paris Match before her royal wedding, Michael recalled, "I think she had a very happy childhood. She was a real tomboy! She ran everywhere and always came back covered in dust or dirt." 
The three siblings also experienced a sense of communal loss, as violence tore through Zimbabwe in the 1980s. Per Pinsloo's report, Charlene once told the Afrikaans language publication Rapport, "It was a bit difficult to go to school and suddenly two of our friends are gone because they had been murdered on their farm." These sorts of traumas likely inspired the three siblings to stick together.
The young swimmer took on her mother's Olympic dream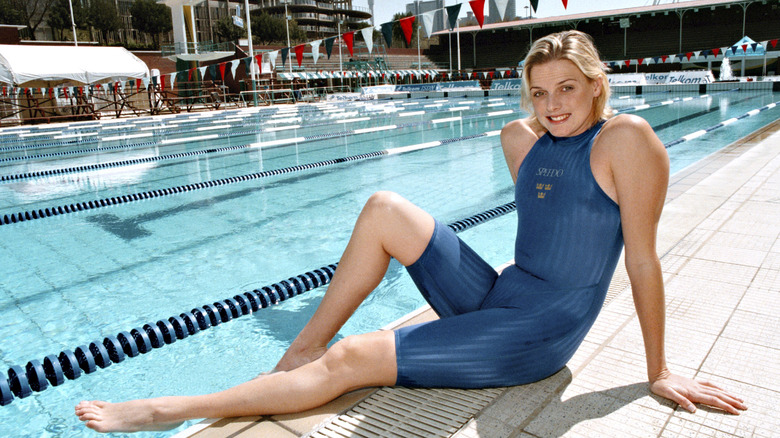 Media24/gallo Images/Getty Images
Although the horrors of war certainly made their mark on Princess Charlene's childhood, the young royal still found it in her to dream big. This was mostly due to her mother, Lynette Wittstock, who pushed Charlene to participate in competitive sports — and even inspired her to consider training for the Olympics. As the princess would later recall in an interview with Monaco Matin (via People), "When I was very young, I always heard my mother tell me how much she would have liked to participate in the Olympic Games. She practiced diving. But political circumstances at the time in [what was then called] Rhodesia did not allow national athletes to participate in the Olympics." 
Due to the severity of these political issues, Lynette was never able to practice competitive diving on the international stage. As Charlene told Monaco Matin, "She couldn't make her dream come true, even though she trained so hard." These stories of Lynette's disappointment motivated Charlene to try to carry the torch her mother once carried. The princess explained, "This dream became mine during my childhood: that of participating in the Olympic Games, of winning a medal."
In the end, Charlene trained hard and was able to represent South Africa in the 2000 Sydney Olympics. And, while she did not earn a medal, the princess' 4 x 100 meter Medley relay team did come in 5th — no small feat.
Charlene's father took her to swim practices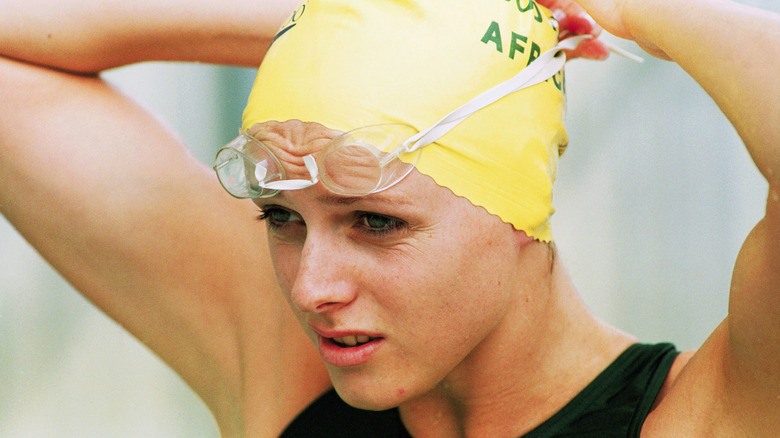 Touchline/Getty Images
Princess Charlene's mother, Lynette Wittstock, may have been the one who inspired the young athlete to shoot for the Olympics, but it was her father, Michael Wittstock, who helped her get there. According to "Charlene: In Search of a Princess" by royal expert Arlene Pinsloo, the proud papa was incredibly invested in his daughter's athletic career. Pinsloo wrote, "Michael took a keen interest in his daughter's swimming capabilities and was a driving force in Charlene's swimming career; he even coached her."
Fascinatingly, it seems that Michael was way more invested in Charlene's Olympic goals than Lynette was. As the swimmer's former manager, Dean Price, told Pinsloo, "Her father was more involved than her mum. He was very involved in her swimming career." From what Prince could tell, this level of involvement stepped from Michael's appreciation of Charlene's talent. The manager recalled, "He was passionate about her swimming and wanted to give her every opportunity so that she could be good."
Despite all the hard work and sacrifices that Michael put into his daughter's athletic pursuits, he does not look back on her career with any sort of resentment. If anything, he continues to be proud of Charlene for everything she accomplished. As he told Paris Match, "To be, at 15 years old, up at 4:30 a.m. every morning and doing dozens of laps, you have to be very focused and motivated ... We supported her to reach the best level."
Her parents supported her relationship with Prince Albert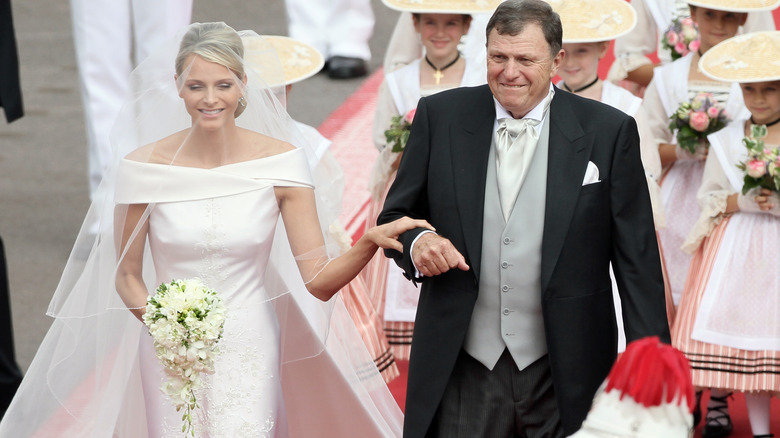 Sylvain Lefevre/Getty Images
On July 1, 2011, Princess Charlene and Prince Albert tied the knot in the first of two romantic wedding ceremonies. At the time, Charlene's parents were overjoyed to see their daughter settling down. As Lynette Wittstock told The Citizen at the time of the engagement, she was "thrilled" with the match (via People). And, as far as the gushing mama saw things, Albert was a solid guy. She explained, "I am ecstatic my daughter is finally getting hitched. My family is happy, we like him very much." 
Michael Wittstock, who walked Charlene down the aisle at her religious ceremony, has also spoken highly of his son-in-law. In a conversation with Paris Match, the down-to-earth father described Albert as "a charming, easy-going man." Apparently, one of Michael's favorite things about the prince is that he does not necessarily act like one. "We go to the pub and have a few drinks," he told the outlet. "We talk about sport, especially rugby. He doesn't have a big head. I appreciate it very much."
Because of this, it was not too hard for Albert to secure Michael's permission to marry his daughter. The prince simply phoned his father-in-law-to-be and got a resounding yes. Of course, Michael would later joke that he was trying to speed up the conversation so that he could watch the big game. As the father noted in an interview with The Star, "He called me just before kick-off" (via People).
Michael Wittstock defended his daughter against rumors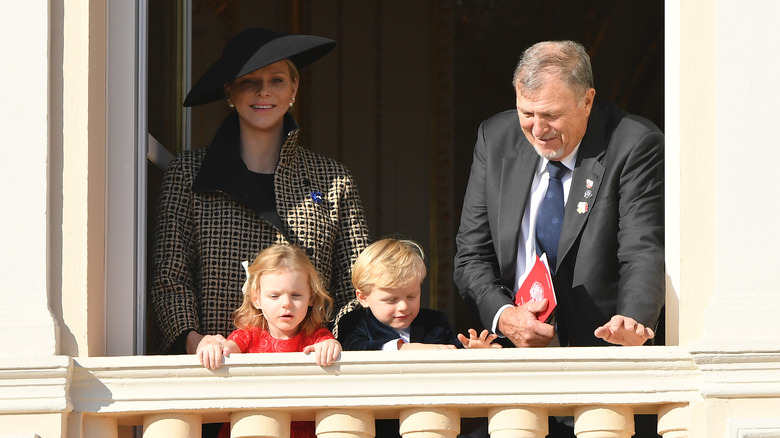 Pascal Le Segretain/Getty Images
Unfortunately, however, Princess Charlene and Prince Albert's marriage has not always been sunshine and roses. Like many other royal brides, Charlene has had to face the European tabloid press — and all the rumors that go along with it. This was true as early on as Albert and Charlene's South African honeymoon, which caused quite a bit of commotion in the gossip columns. As it turned out, the newlyweds did not just book separate bedrooms for their getaway, but separate hotels altogether.
Naturally, it did not take long for the media to spread the story. And, within weeks, royal fans found themselves doubting the legitimacy of Albert and Charlene's relationship. As royal expert Peter Allen told ABC News at the time, "You have to ask, why couldn't Charlene have stayed [with Albert] in Durban? It's a mystery."
Luckily for the newly crowned princess, there was one person who was not afraid to stand up to the tabloids and clear the air surrounding the scandal — her father. Indeed, Michael Wittstock rushed to his daughter's defense and, according to the Daily Mail, spoke with the outlet Burger. In this conversation, Michael condemned the way that the South African press had picked up these more negative stories about Charlene's relationship, stating, "I am disappointed in the media. South Africans should be supporting Charlene rather than spreading nasty rumors."
Charlene's family was her rock when she moved to Monaco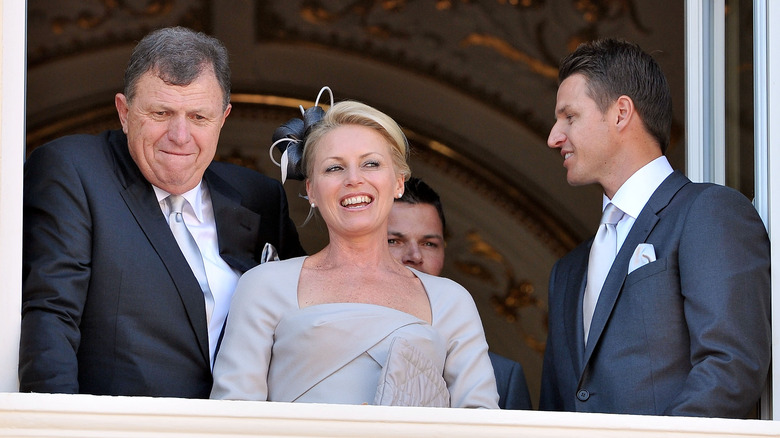 Pascal Le Segretain/Getty Images
Of course, dealing with gossip was not the only challenge that Princess Charlene faced when she married Prince Albert. The Zimbabwe-born Olympian also struggled to integrate in Monégasque society — which is traditionally dominated by the international jet set. As someone who was not brought up in a wealthy family, Charlene struggled to fit in. One high society insider told the Daily Beast, "People are embarrassed by her. There was a hope that she could introduce some glamour, but now most people just feel she is tacky." A separate source also added that members of the upper crust had been "preemptively apologizing for" the princess' lack of savoir-faire.
Even as Charlene floundered in this hostile social environment, though, she could count on her family. Speaking to Tatler about the challenges of integrating in Le Rocher's unique social scene, the princess revealed, "Although I have met some wonderful people since I've been living in Monaco, I regard them all as acquaintances. I only have two people I consider friends here. Above all, my true friends are my family." Apparently, Charlene's mom, Lynette Wittstock, and her brothers, Gareth Wittstock and Sean Wittstock, did what they could to be supportive during this tumultuous adjustment period. The former Olympic swimmer went on to add, "My mother and two brothers are the only friends I need and the only people I trust. I'm very grateful to have them."
Lynette Wittstock inspired Charlene's charity work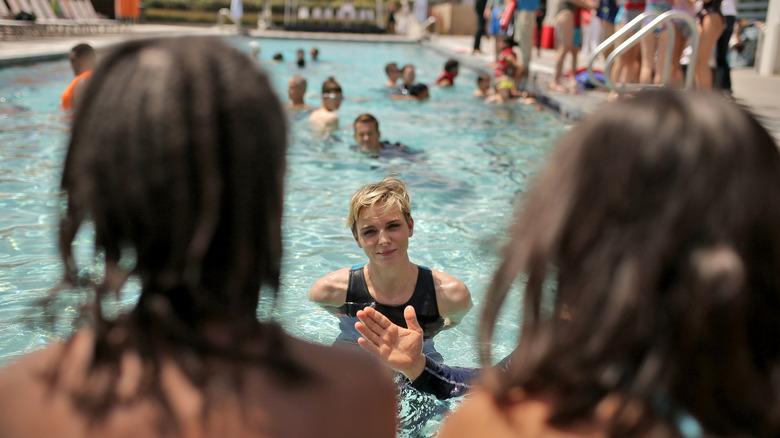 Mike Windle/Getty Images
When things in Monégasque society grew too stressful for Princess Charlene to bear, she decided to go high. Rather than worrying about what people were saying about her, Charlene decided to focus on her charity work. Out of a desire to help children across the world to learn how to swim, the graceful royal established the Princess Charlene of Monaco Foundation. According to the organization's website, its number one goal is to "to save lives by putting an end to drowning" — an issue that is close to Charlene's heart.
The princess has been open about the way that her mother motivated her to start the foundation. As a former swimming instructor who has lost loved ones to drowning, Lynette Wittstock knows a thing or two about the importance of water safety. Addressing Lynette's impact on her charity work, Charlene told Top Billing, "My mom is my inspiration. She taught myself, my two brothers, to swim. She taught hundreds of children to swim. So, I guess it's just something that I hold close to my heart, and I hope I make her proud." 
Perhaps, then, it is no surprise that journalist Jo-Ann Strauss described Charlene as a very "hands-on" foundation leader. Just like Lynette — who would hop in the pool alongside her students — Charlene helps the kids in her charity by getting into the water with them. 
The princess' brother joined her foundation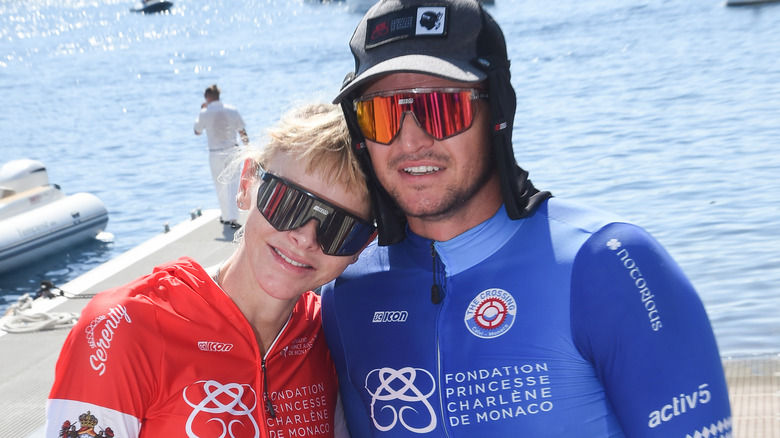 Stephane Cardinale - Corbis/Getty Images
Lynette Wittstock may have inspired Princess Charlene to start her foundation, but there is another person who has helped her see it through. Over the years, the princess' younger brother Gareth Wittstock has played a major role in the Princess Charlene of Monaco Foundation, even serving as the organization's Secretary General. 
Of course, just because Gareth has taken on this more institutional role does not mean that he doesn't want to get his hands dirty. On the contrary, Gareth has been known to participate in some of the foundation's most physically stimulating fundraisers, like the Riviera Water Bike Challenge. In this event, sports celebrities from across the world engage in a water bike relay race to raise money and awareness for Charlene's charitable mission. Historically speaking, Gareth has not been afraid to throw on a jersey and race water bikes with the best of them — even though he is not a professional athlete himself.
In the past, Charlene and Gareth's younger brother, Sean Wittstock, has also participated in the event as a way of showing his support. Speaking to the French outlet Gala about the 2023 Riviera Water Bike Challenge, Charlene seemed grateful for both of her brothers' commitment. "I thank my brothers, Sean and Gareth, who both participated enthusiastically, along with their respective teams," she stated.
Charlene used to worry about her parents' safety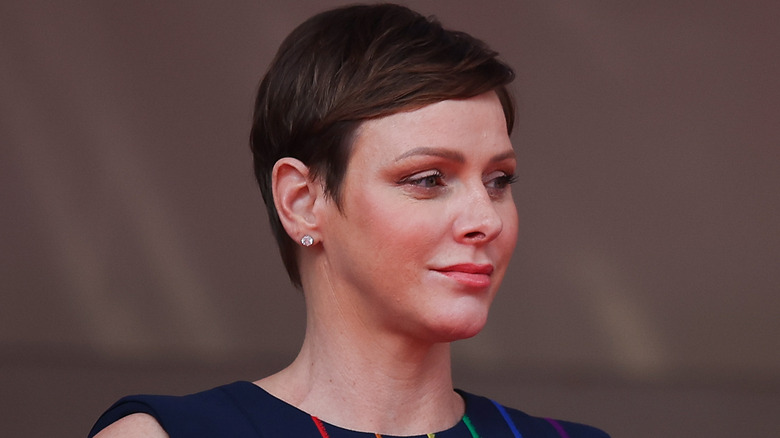 Eric Alonso/Getty Images
Over the years, Princess Charlene has received a tremendous amount of support from her family. However, she has also been concerned about their safety. Unlike her in-laws, Charlene's family doesn't come from immense wealth, and their home in South Africa isn't protected by a royal security team by any stretch of the imagination. And this has long been a source of stress for the princess. 
In a 2010 interview with The Times, Charlene opened up about the way her parents' living situation weighed on her. "I worry about them a lot. I worry about the fact that people break into the house and they've been robbed many times," the princess shared. She went on to explain that violent crimes had also reached her parents' vicinity. "There have been a lot of killings on our street. If you're not from a very wealthy background — and we are from a very lower middle-class income -– you can't afford to live in a secure area." Despite these dangers, Charlene hinted that she was having a difficult time convincing her parents to leave, adding, "But they wouldn't have it any other way; they are happy."
Rumor had it that the Wittstocks moved to Monaco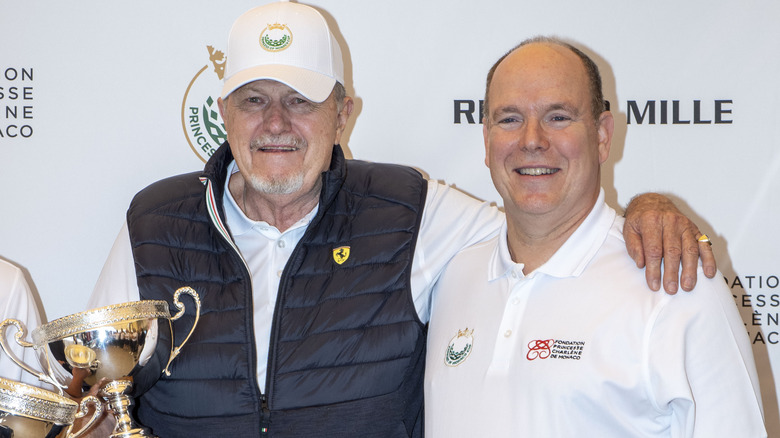 Arnold Jerocki/Getty Images
There have been whispers about the Princess Charlene parents' living situation changing. At the beginning of 2023, the Daily Mail reported that Michael and Lynette Wittstock had upended their lives in South Africa and moved to the South of France to be closer to their daughter. In stark contrast to the humble lifestyle that they knew back in the Johannesburg area, it is believed that the couple relocated to a more luxe situation in the village of La Turbie. 
According to an unnamed royal insider, Charlene was said to be feeling much livelier since her parents moved close. As the palace-based source told the Daily Mail, "It has made the world of difference ... The Wittstocks have moved into a house that's just a few minutes' drive away from Charlene, and they meet all the time." The source continued, "They make her feel safe and secure, and remind her of the far more carefree life she enjoyed in South Africa before becoming a Monaco princess."
Seems like a lovely turn of events, right? Well, days after the Daily Mail ran this story, News24's You reported that Sean Wittstock's wife, Chantell Wittstock, said the story wasn't true. "Mike and Lynette are still in Benoni. They have not moved and they have no plans to move to Monaco," she told the outlet. Royal rumors never rest.