Why Mina Starsiak Hawk Really Decided To Ditch HGTV's Good Bones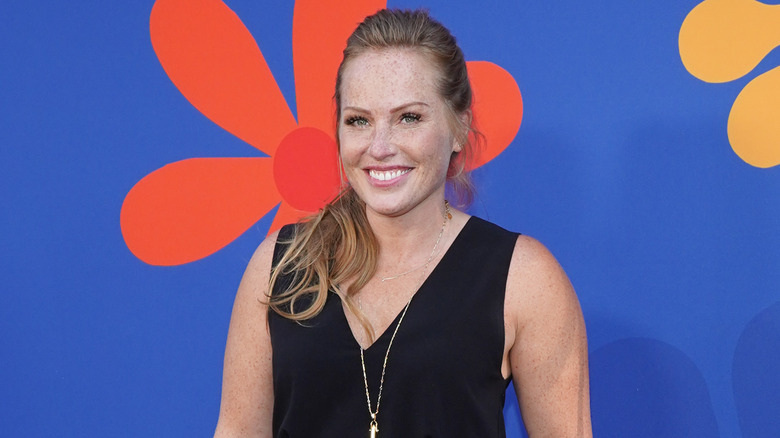 Rachel Luna/Getty Images
HGTV stars tend to show fans much more than their renovation skills. Take, for example, Ben and Erin Napier, who, over the course of seasons of "Home Town," expanded their family twice. While many take it in stride, it's understandable how going from a relatively normal life to that of a celebrity can take a toll. Case in point: Mina Starsiak Hawk, star of "Good Bones."
In 2015, Starsiak Hawk and her mom, Karen Laine, were picked up by the network for a new project called "Good Bones," which started airing in 2016. A real estate agent by trade, she and her mom — along with the company they founded, Two Chicks and a Hammer Inc. — were thrust into snapping up rundown homes and flipping them. For eight seasons, the Indianapolis area and the viewing public saw the hardworking women put their heart and soul into renovating gorgeous old houses. They also witnessed Starsiak Hawk tie the knot and welcome two little ones.
What they didn't see is that Starsiak Hawk felt she was losing herself in all the craziness, as she divulged in her podcast "Mina AF." "I just became a version of myself that I really didn't like," she said.
Mina Starsiak Hawk felt like she had waged war
Fans were saddened to hear that Season 8 would be "Good Bones" swan song. However, Mina Starsiak Hawk likely felt immense relief. On her podcast, she explained, "When you feel like you're fighting for your life, it's not the best version of anyone." Off-air, the HGTV star was facing some monumental shifts. Most notably, her mother and co-founder, Karen E. Laine, announced her retirement in late 2019. The company's Instagram post promised she would still show up on "Good Bones," but for Two Chicks and a Hammer Inc., that meant Starsiak Hawk was now responsible for manning the ship.
It was something that proved to be quite overwhelming for the realtor. "It's not my job to keep two dozen people employed for the rest of their lives," she said on her podcast. "I always felt the weight of so many other people's worlds that I put on my shoulders." She admitted that the pressure was causing her to lose control of her daily routine.
Understandably, the mom of two has very different priorities than when she began the show. In 2016, when the "Good Bones" pilot premiered, Starsiak Hawk wasn't even married and years away from becoming supermom to her son Jake Richard and daughter Charlotte. Now, her plate may be too full, and she has to decide on what (or who) she wants to focus her time and energy.
The company wasn't the only thing she pushed back against
Sadly, when it was announced that "Good Bones" was ending, Mina Starsiak Hawk also admitted her family was in danger of dissolving, too. In August 2023, she spoke candidly about their issues on her "Mina AF" podcast. "My mom and I aren't in a great place. My brother Tad and I aren't in a great place. My brother William and I are in a kind of, like, nonexistent place," she said.
Thadeus "Tad" Starsiak, Mina's brother who frequently helped her on the show, sidestepped these statements on Instagram, settling for, "So much life has happened between when we started and now," when acknowledging the end of an era, but effectively dashing any hope of another Starsiak family member picking up "Good Bones" after Mina left. 
As for the retired Karen Laine's relationship with her daughter, Starsiak Hawk admitted to People that filming the last season wasn't easy; at one point, the two women had "a knockdown drag-out [fight] during demo." She also revealed that while running a company with your family is never a breeze, the show's final season was probably the worst it could be between her and her mom. She also mentioned that for as long as she can recall, the pair's bond has been a bit contentious.
It sounds like, all around, wrapping "Good Bones" was probably the best call for the Starsiak clan. Hopefully, each family member can get on to bigger and better things in their lives.