The Young And The Restless' Michelle Stafford Loves Her On-Screen Kids (Even SORAS'd Daniel)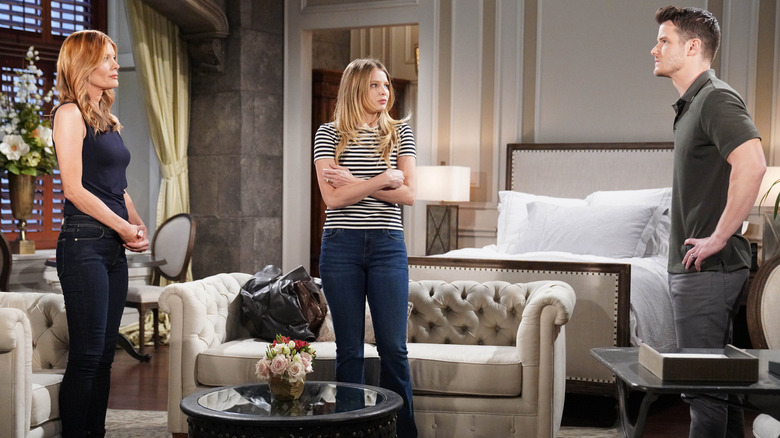 Howard Wise/jpistudios.com
Phyllis Summers (Michelle Stafford) might not be getting any Mother of the Year awards on "The Young and the Restless" for how she made her children believe that she was dead just so she could frame her murder on her nemesis, Diane Jenkins (Susan Walters). However, that's not the worst thing she's done over the years. 
Phyllis is someone who has definitely brought chaos on herself with very few people feeling one bit of sympathy for her. Some of her dirtiest deeds over the years have included trying to murder several different residents of Genoa City and manipulating people just so she can get her way. 
Because of her past, it seems like her two adult children, Danny Romalotti (Michael Graziadei) and Summer Newman (Allison Lanier) spend more time parenting her than she parents them, according to SoapHub. That's because Phyllis always finds herself in trouble.
With that said though, Stafford — as the character's portrayer — has a very strong relationship with the actors who portray her on-screen children (she even shares behind-the-scenes hijinks on Instagram.) Single mom Phyllis could probably even use some tips from her.
Michelle Stafford's dysfunctional on-screen family
Michelle Stafford is someone who loves playing a villain on "The Young and the Restless," but if there's a role that she loves even more, it's being a mother to her real-life two children, Natalia Scout and Jameson. Being a single mom herself, she told She Knows back in 2013, "I have so much respect for working mothers and working single mothers. So much respect. I just want to get us all in a room and have a big party!"
Well, it's hard to say if Phyllis Summers would be invited to that party, but Stafford certainly does have a lot of love for her co-stars and her on-screen children, Michael Graziadei and Allison Lanier. However, seeing her television kids grow up faster than in real-time has not been easy for Stafford and that's just because her character gets older quicker, too.
In an interview with Soap Opera Digest, Stafford says there's a whole lot of love between her, Graziadei, and Lanier. However, she was certainly unhappy when little Danny was SORAS'd back in 2004. "I'll tell you this because The Graz already knows the story but I was all bent out of shape when they decided to age my son and I was like, 'Oh my God, that makes me so old,'" she confessed.
However, Stafford added, "I love doing scenes with Allison and The Graz because those three are so dysfunctional and fun." After all, dysfunction just seems to be in Phyllis' blood.