A Look Back At Tara Reid's Career Beginnings On Days Of Our Lives
A lot of movie fans out there are familiar with the tragic story of Tara Reid. Even though she became a household name thanks to her role in the "American Pie" series, she was also known as one of Hollywood's biggest party girls in the mid-2000s. Along with Paris Hilton and Lindsay Lohan, Reid was a paparazzi magnet thanks to her club-hopping ways back then. 
Unfortunately, that was an image that the actor had a hard time shrugging off. As the years went by, she also experienced one reality television show flop after another, a stint in rehab, botched plastic surgery gone wrong, and a Delta Air Lines flight disturbance complaint that put her in the headlines yet again, per Page Six. 
While Reid's life story might read like a soap opera storyline, she actually did get her start in the daytime television world. Little do some of her fans know that Reid's breakout role was on one of the highest-rated soaps in the mid-1990s. Before she was an "American Pie" and "Sharknado" star, Tara Reid was a childhood actor who got her big break on "Days of Our Lives." She starred in 13 episodes as her character Ashley back in 1995. It's safe to say that it was a role that certainly changed her life, too.
Tara Reid began her career on Days of Our Lives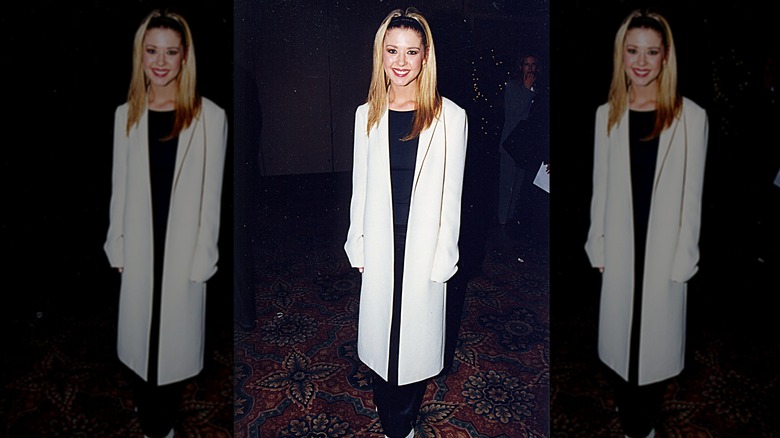 Jeff Kravitz/Getty Images
When Tara Reid landed her role on "Days of Our Lives" she was a fresh-faced teen who was just starting out in the entertainment business. As her character Ashley, she came onto the scene as one of Sami's friends. She was also a bad girl who helped Sami escape from the hospital before the local Salem Police Department caught them (via Beth's Days Page via the Internet Archive).
After her stint on "Days of Our Lives" was over, Reid moved on to bigger projects in the entertainment industry. She was just 20 at the time and just a few years before she became a paparazzi target in Hollywood.  Her soap opera role was a short one, but also big enough that land her the role of Bunny Lebowski in the 1998 cult classic "The Big Lebowski."
Reid admits that she had no idea how her life would begin to change soon after she appeared on "Days of Our Lives" and started getting attention from the media. She told Paper magazine that if she could now give advice to her younger self at the time, she'd tell her to stay home. Reid explained that at the time, "I got paparazzied everywhere, everywhere. They were outside my car, they were outside the club. Like I couldn't get away with anything. Everyone was doing the same thing, but I got in trouble for it. So that's why I'd suggest staying home."
Tara Reid is still a hard-working actor today
While Tara Reid's fans might not be hearing much about her these days, that doesn't mean she's not keeping busy. Reid's name is not in the gossip columns anymore and that's a good thing because she's too busy cashing in her Hollywood paychecks. Reid has a whopping 19 projects that are either in development or in post-production, according to her IMDb page. Some of them include "Aquatic Siege," "Generation Angst," "Hollywood Heist" and so much more.
In the end, Reid also felt that not having a family damaged her acting career. "I'm not married, I don't have kids, and I think, in Hollywood, if you don't have kids or you're not married, you're judged. So they still think you're that party girl from 40 years ago," she told Mr. Warburton Magazine.
Now, whether or not Reid would be willing to go back to her daytime roots remains to be seen, but for now, it looks like she's got her plate pretty full. Then again, there's a good chance she might have something totally new and different up her sleeve, too. She told Time back in 2014, "There's a whole side of me that no one gets. No one knows that side about me, but nobody wants to know that side of me." 
Maybe Reid will revisit the "Days of Our Lives" set and find out where Ashley is today? There's no doubt that "DOOL" fans would love to see that happen.