Inside Young And The Restless Star Camryn Grimes' Relationship With Brock Powell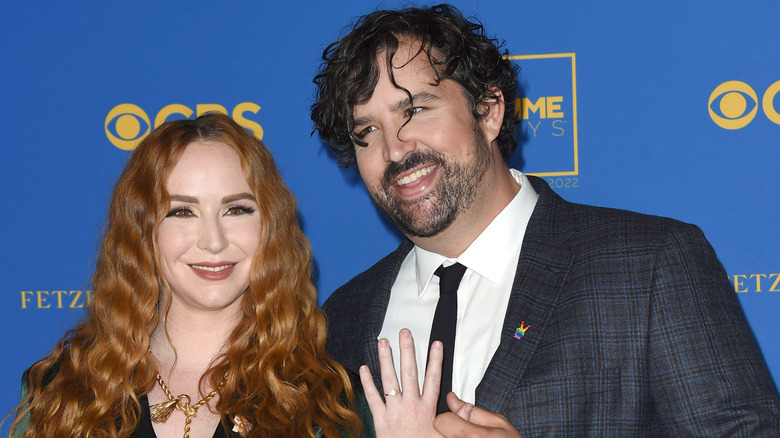 Jill Johnson/jpistudios.com
There's no doubt that fans would agree that "The Young and the Restless" star Camryn Grimes has grown up before their eyes. Once a child star in the daytime television world, Grimes set a Daytime Emmy record when she was the youngest kid to win the Daytime Emmy Award for Outstanding Supporting Actress in a Drama Series for her role as Mariah Copeland. If that weren't enough, her character Mariah and Tessa's relationship timeline is one of many reasons why millions of soap fans tune in each week. The on-screen couple made daytime history as the first same-sex couple to get married on the soap.
While "Y&R" fans have certainly loved watching Grimes transform from kid star to the talented actor she is today, many have also been keeping up with her life off-screen, which includes her relationship with partner, Brock Powell. Thankfully, what Grimes and Powell share together is nothing that you'd see in a dramatic soap opera storyline.
Camryn and Brock met at work thanks to a little faith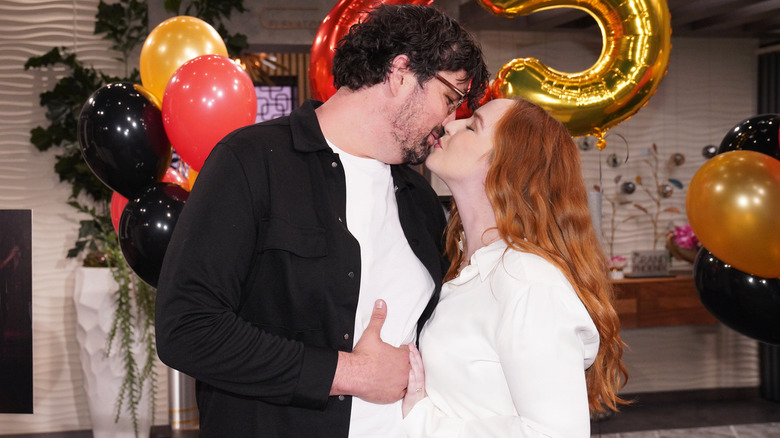 Howard Wise/jpistudios.com
The first time that "The Young and the Restless" actor Camryn Grimes went Instagram official with her partner Brock Powell, a voice-over actor, was back in September 2020. She shared a photo of them during a hike in Sedona and captioned it with, "Well, he made it on the grid. Oh boy, this is gonna go straight to his head." Not only did Powell make it on the Instagram grid, but he also made it in her heart as well. By January 2022, the couple announced their engagement, according to People, but this came as no surprise to fans as Grimes was showing off that fallen in love glow for quite some time. The couple celebrated their engagement with a Disney's "Up" movie theme. Powell told the publication, "The movie deeply connected to both Cam and I, especially as two people who were deeply in love and unable to travel and see the world beyond their own house over the last couple years."
The couple told Soap Opera Digest in a joint interview back in 2022 that they met in the entertainment industry. Powell recalled, "We met over Camryn's pursuit of voice-over and then got to work together in that capacity. We were introduced by Bill Farmer, who was my mentor and voices Goofy for Disney." Their love for all things Disney, their voice-over work, and their upcoming wedding aren't the only things the couple has been working on.
Camryn and Brock are expecting their first child together
In August 2023, Camryn Grimes and Brock Powell announced that they were expecting their first child together. Grimes posted an Instagram of several snapshots of her growing baby bump and captioned it with, "I guess you can add mother to my resume." Grimes has also made it no secret that she's dealing with all the same pregnancy symptoms, cravings, and frustrations that many women out there have experienced before. The same month that she announced her pregnancy, Grimes took to her X account to write, "Getting to sleep is becoming increasingly difficult and incredibly frustrating. I'm too hot, I'm too cold, nothing is comfortable, restless leg... ladies, help me out here."
Now, as far as when the couple plan on tying the knot, they haven't said, but it looks like they are working on their baby registry before they start on their wedding one as their child is due in December 2023. Something tells us that they've got quite a few Disney-inspired baby names on their list to pick from.