Princess Charlene's Most Gorgeous Royal Hairstyles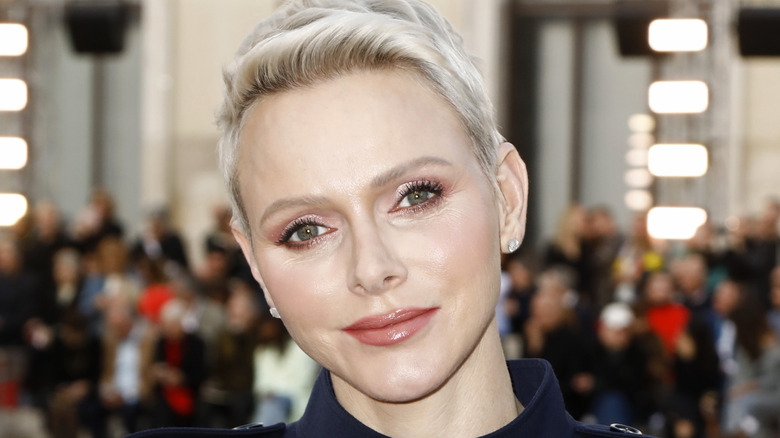 Julien Hekimian/Getty Images
Her Serene Highness Princess Charlene of Monaco is well-known for her ever-changing hair. In fact, some of the daring styles she chooses have sparked commentary about her "un-princess-like" choices, from edgy undercuts to close-cropped pixie styles. The Zimbabwe native doesn't just experiment with traditionally masculine styles though — she's also rocked some gorgeous longer looks and feminine updos throughout the years, too. 
Since becoming a royal in 2011, Charlene has made one thing crystal clear: Public opinions on her style aren't going to deter her from expressing herself as she wishes. That rebellious quality maintained by the Princess of Monaco is a significant difference between herself and the women of the British royal family — most notably Princess Catherine of Wales — who are upheld to rigid expectations where style and beauty are concerned. Charlene's refusal to cave to naysayers' criticism is one of our favorite things about the princess, following closely behind the wide array of stunning hairstyles she's debuted throughout her tenure in the Monégasque royal family.
Regal updo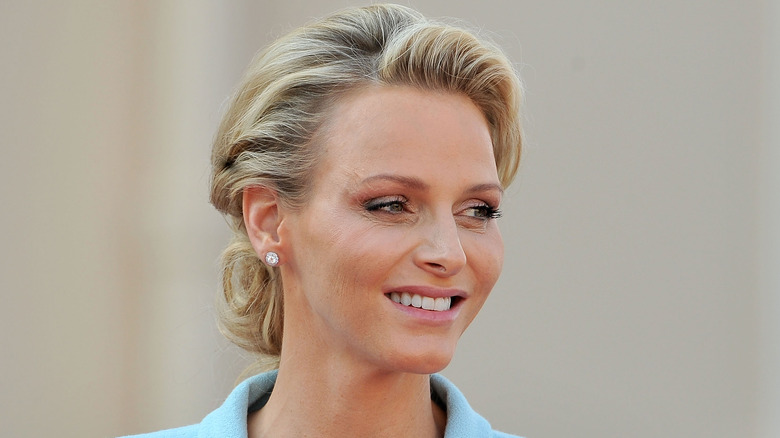 Pascal Le Segretain/Getty Images
For her civil wedding ceremony with Prince Albert in 2011, Princess Charlene had her blond locks swept into an elegant updo that conveyed the perfect regal vibe for the historic occasion. Her hair was teased at the crown of her head to create an ample amount of volume, and a section of locks was swept to the side across her hairline to frame her face. Charlene's tresses were gathered at the base of her neck in a loose chignon, which was refined without being too structured. 
The princess chose to collaborate with late fashion designer Karl Lagerfeld for her wedding look, which deviated from Monégasque royal tradition. While royal women had always opted for a dress or skirt for their wedding, Charlene and Lagerfeld created a design that incorporated pants. The Zimbabwe athlete wore a soft blue jumpsuit with a lace bodice and wide, pleated pants that mimicked the look of a maxi skirt. She wore a tailored blazer overtop and donned classic bridal makeup for a modern Cinderella-inspired ensemble. 
Chic chignon with bangs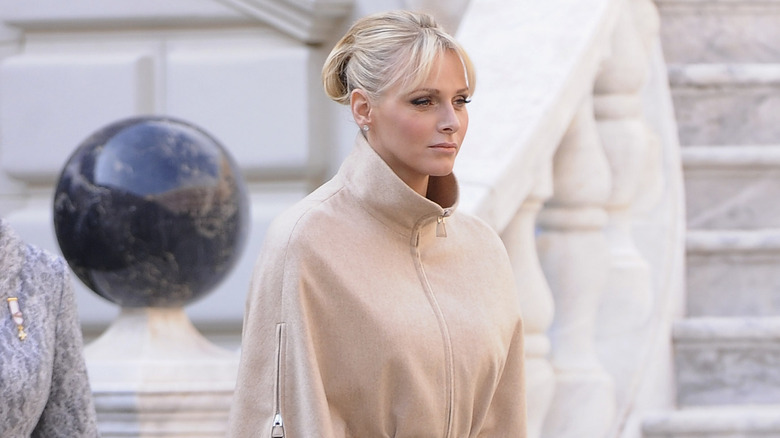 Pls Pool/Getty Images
Princess Charlene celebrated her first National Day of Monaco in 2011 and looked every bit royal for the occasion. The newly married princess sported mid-length locks in the early days of her royal tenure and used her extra length to sweep her blond strands into a unique updo for the Monégasque holiday. Her gold-highlighted hair was slicked at the sides but more loose and voluminous at the top, coming together at the back of her head to form a rolled updo. Piecey bangs framed Charlene's face, softening the severe look in a feminine way.
The princess opted for neutral-toned makeup with heavy but flattering pinky-peach blush and a matching lip. Charlene wore an elegant monochromatic beige outfit for the occasion, which included a funnel neck cape jacket that was cinched at the waist, a cobblestone-textured pencil skirt, leather opera gloves, patent pumps, and a small clutch.
Princess Diana-inspired waves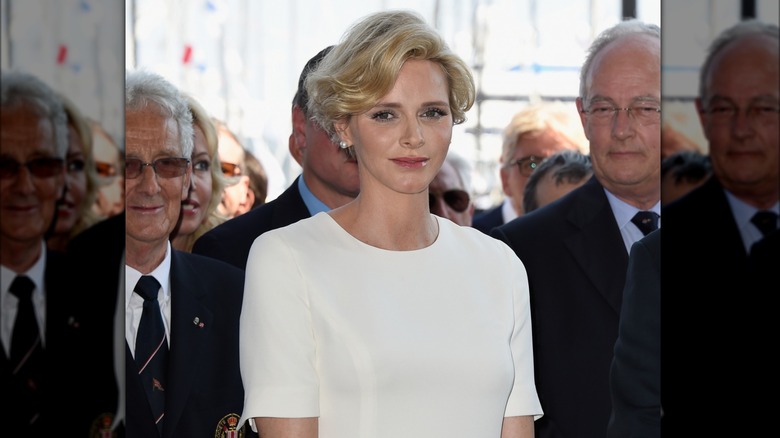 Pascal Le Segretain/Getty Images
While attending a 2014 yacht club opening in Monaco, Princess Charlene debuted a hairstyle that felt like one Princess Diana might have worn in the 1980s. The Monégasque royal's golden strands were long at the top of her head but cut shorter around the base of her neck, which created a very flattering and feminine shape. Charlene's honey-hued hair was blown out and loosely curled, cascading around her face in soft layered swaths. The style featured a side part, a lot of volume, and a touseled look that lent the princess an effortlessly beautiful vibe.
Charlene's outfit was quite feminine as well — perhaps due to her recently announced pregnancy and small but showing baby bump. The princess wore a cream-colored, short-sleeved Dior dress with a sheer, textured hem that gave the elegant number a flirty edge. She paired beige patent pumps and a snakeskin clutch with the outfit and finished the look with neutral-toned, glowy makeup.
Sleek straight strands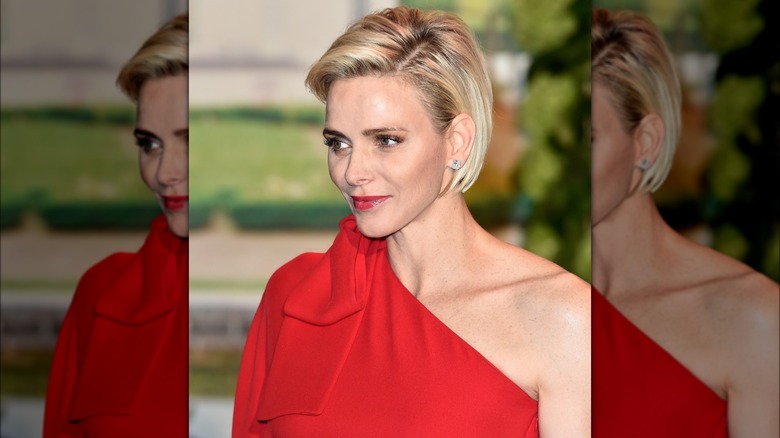 Pascal Le Segretain/Getty Images
For Monaco's 67th Bal de la Croix Rouge in 2015, Princess Charlene donned a sleek, straight hairstyle that was both elegant and stylish. Her chin-length blond strands featured caramel- and honey-toned highlights, and her ashy brown roots added even more dimension to her light-colored hair. Charlene's tresses were side-parted and blown out with plenty of volume atop her head and at the crown, and the ends of her bob were curved toward her face, which created a lovely line from her hair along her chin. Both sides of the style were tucked behind her ears to intensify the forward sweeping bend of the bob.
The princess embraced the red theme for the occasion, opting for a crimson jumpsuit by Valentino that featured a single shoulder with an oversized bow set beside the neck. Charlene paired a similar-toned cherry lipstick with the look, and she brought out the gold tones in her hair with a variety of gilded accessories.
Elegant fade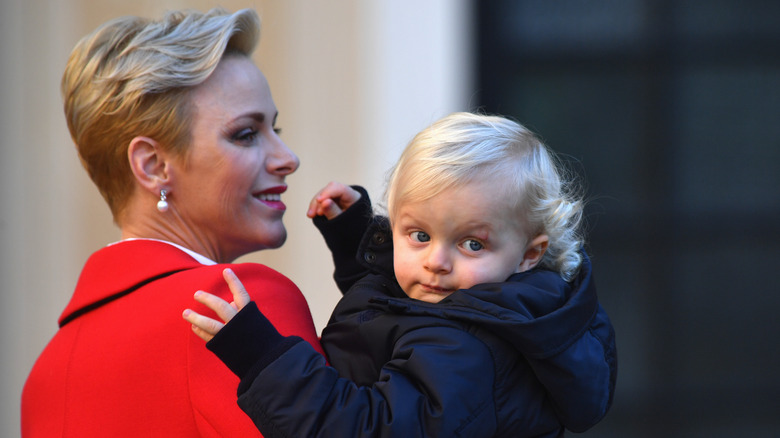 Pascal Le Segretain/Getty Images
During the Monégasque royal family's annual Christmas gift distribution in 2016, Princess Charlene donned a glamourous fade with a gorgeous ombre effect. Her Serene Highness' blond hair was short on the sides and at the back, and the close-cropped strands were a rich honey color. Atop her head, Charlene's short hair faded into slightly longer locks, which were highlighted for an icier blond tone that subtly incorporated the darker honey hues on the lower half of her head. Her tresses were split in a deep side part, creating a stunning wave across her hairline, and the back of the style featured enough volume to match the swooping section over her forehead.
Charlene embraced the holiday spirit through her outfit, which included a classic red peacoat, a white button-up blouse with gold stitching, and tawny wide-leg trousers. The princess accessorized with gold flats, pearl and diamond drop-style earrings, and a bold red lip to match her coat.
Side-slicked pompadour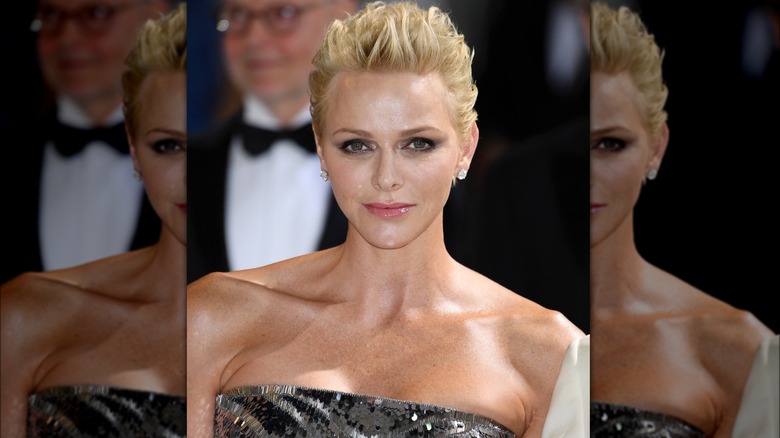 Pascal Le Segretain/Getty Images
Once again making a stunning style statement at the Bal de la Croix Rouge, Her Serene Highness Princess Charlene looked like an absolute rockstar at the annual gala in 2017. Her edgy ensemble may have served as inspiration for her bold looks in the following years, and we love to see a royal routinely embracing a less traditional vibe. Charlene's golden locks were styled in loose beachy waves, slicked back at the sides, and coiffed into a voluminous pompadour atop her head. The princess' short strands were blown straight back, giving her a sexy sea witch look reminiscent of Ursula in "The Little Mermaid."
Charlene's daring ensemble didn't stop at her hair — the Monégasque royal wore a jaw-dropping, mouth-drying metallic jumpsuit by Atelier Versace. The strapless, straight-necked garment featured a severely cinched waist, billowing wide-leg pants, and intricate beadwork. The princess embraced the silver and gunmetal tones in her makeup as well, which included an avant-garde smoky eye with black, gray, and silver tones.
Voluminous tousled waves
Stephane Cardinale - Corbis/Getty Images
While attending Monaco's annual Bal de la Croix Rouge in 2018, Princess Charlene was the belle of the ball thanks to her glamourous and edgy ensemble. For the black-tie event, the Monégasque royal styled her honey-highlighted tresses in voluminous side-swept waves. Her hair, which was short but nowhere near as close-cropped as other styles she's rocked, was artfully arranged in touseled sections arcing over the crown of her head. Charlene's hairstyle included a deep side part, and her blond locks were tucked behind her ear on one side to show off a dazzling diamond ear cuff.
The princess paired the stylish hairdo with a jaw-dropping Versace gown, which featured flapper-style beading and a modest mermaid silhouette. Charlene played up the edginess of the look with her delicate yet bold makeup, which included an avant-garde blue and silver smoky eye with black eyeliner, peach-toned blush, and a soft coral lip.
Gleaming Old Hollywood-style curls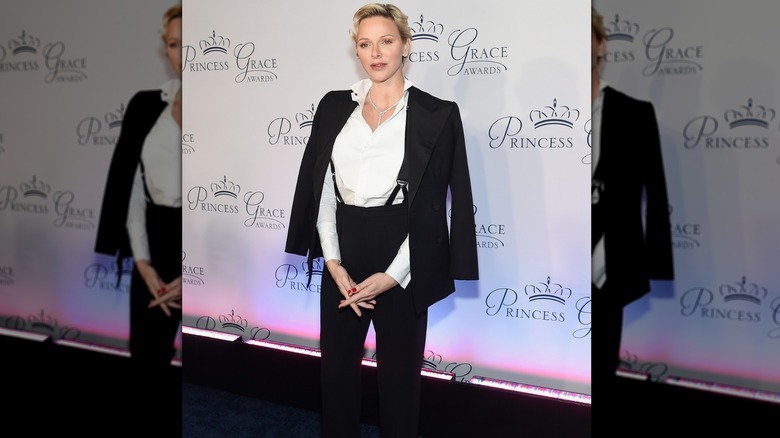 Jamie Mccarthy/Getty Images
Her Serene Highness Princess Charlene combined feminine and masculine styles yet again at the Princess Grace Awards Gala in 2018. For her hairstyle, she chose a sleek Old Hollywood-inspired look with coiled curls framing her face and sweeping toward the back of her head. Charlene's gleaming blond locks were artfully arranged and tucked behind her ears, working as a knockout pairing with her elevated menswear outfit. The angelic, cherub-esque hairstyle created a fun dichotomy with the princess' masculine power suit. 
Charlene donned a chic suit, which was comprised of a pair of black trousers with a matching jacket, as well as a high-collared white dress shirt and black suspenders. The "drinks after work" ensemble was reminiscent of the infamous wardrobe in "The Godfather," and we adore how the Princess of Monaco brought femininity to the look with diamond jewelry, ethereal makeup, and her gorgeous vintage hairstyle. 
Tousled faux updo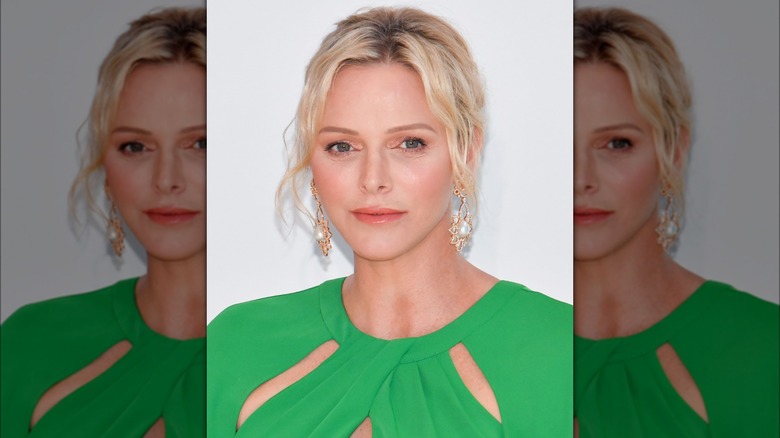 Stephane Cardinale - Corbis/Getty Images
Giving the edgy vibes a rest in 2019, Princess Charlene attended Monaco's Bal de la Croix Rouge in a much more feminine, summer-inspired look than the ensembles she wore in previous years. The Monégasque royal's chin-length hair was styled in beachy waves and coifed into a faux updo. While two sections of loosely crimped bangs framed her face, the remainder of Charlene's golden locks were pinned back toward the center of her head to give the illusion of a low updo. Though it was a more relaxed style, it was really elegant and paired well with her makeup, accessories, and vivid gown.
The princess opted for a verdant green cape dress with cutouts across the décolletage. Charlene carried a highly reflective gold clutch and wore coordinating chandelier-style earrings encrusted with diamonds and pearls. Her makeup was a soft, monochromatic peach look with a glossy lip, glowy blush, and shimmery eyeshadow, which gave her complexion a beautiful, fresh-faced look.
Halo braid and bangs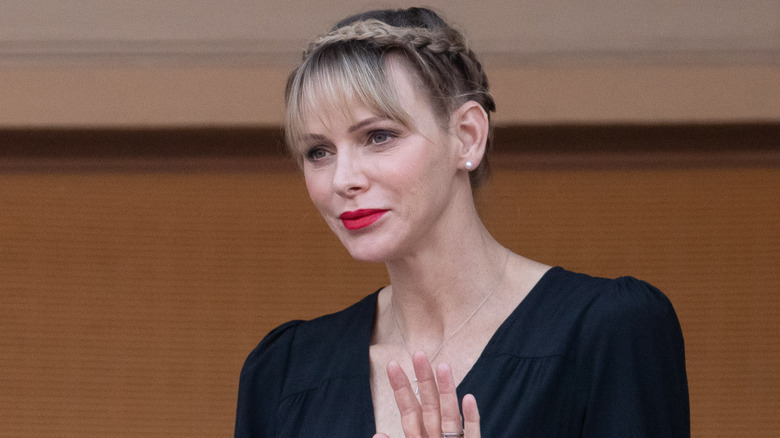 Sc Pool - Corbis/Getty Images
In 2020, Princess Charlene enjoyed the annual St. John's Day Festival from a palace balcony and channeled major cottagecore vibes for the celebratory occasion. The Monégasque royal wore a much more feminine style than many of the shorter looks she seemed to prefer in the late 2010s. Charlene's ashy "brond" — a mix of blond and brown hair — was braided into two plaits at the sides of her head. Those woven tails were then pinned around and over the crown of her skull. Charlene's wispy bangs laid across her forehead, giving the look a soft milkmaid vibe in the most ethereally gorgeous way.
The princess' look didn't just feature the cottagecore aesthetic in her hairstyle — she also donned a black smock dress that nodded to the popular style. Charlene's soft brown eyeshadow, barely-there complexion products, and minimal mascara also paired nicely with the romanticized rural aesthetic, while her bright red lipstick packed an unexpected but pretty punch.
Blunt 1920s bob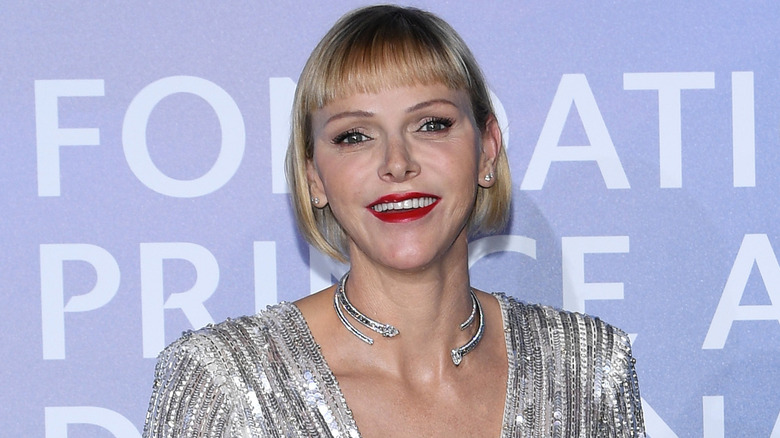 Pascal Le Segretain/Getty Images
Showing off her love for 1920s style, Princess Charlene embodied the bygone era in her look for the 2020 Monte-Carlo Gala for Planetary Health — perhaps an intentional nod in honor of 100 years having passed since the iconic 20th century decade. For the star-studded event, Charlene chose to style her blond tresses in a blunt chin-length bob with straight bangs cut above her eyebrows. Her highlighted locks were ironed straight with a slight bend at the ends, curving inward toward her neck. The princess tucked both sides of the bob behind her ears, which revealed her demure diamond stud earrings. 
The Monégasque royal embraced the '20s through her makeup and attire as well. Charlene donned slim, straight eyebrows, a bold red lip, and matching cherry-toned blush. Her floor-length, long-sleeved Jenny Packham gown featured intricate silver beading and sequins in a crisscrossing arrangement across the bodice of the column silhouette dress — a modern nod to the flashy vintage era.
Bleached boyish cut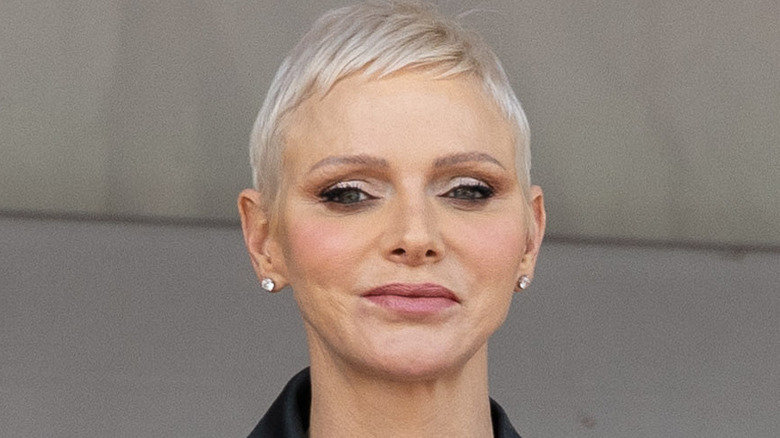 Arnold Jerocki/Getty Images
Princess Charlene debuted one of her all-time shortest haircuts at the 2022 Formula E World Championship race in Monaco, and we can't get enough of her adventurousness when it comes to playing with her hair. So many women are nervous about making such bold changes to their hairstyles, but Charlene is constantly showing people around the world how to have fun, look fantastic, and embrace a carefree attitude — after all, it's going to grow back. Her Serene Highness bleached her hair platinum blond and had the sides and top close-cropped as ever. The sides and back were nearly shaved, and the top was just long enough to give the illusion of a side-swept micro bang. The sleek pixie cut was undoubtedly boyish, but Charlene managed to give it a feminine flair with her soft glam makeup. 
The princess leaned into the masculinity of it all, which we absolutely love to see from a royal woman, with an oversized charcoal gray blazer and trouser set. She donned a matching V-neck top under the buttoned jacket and accessorized with her signature diamond stud earrings. 
Spiky-chic pixie cut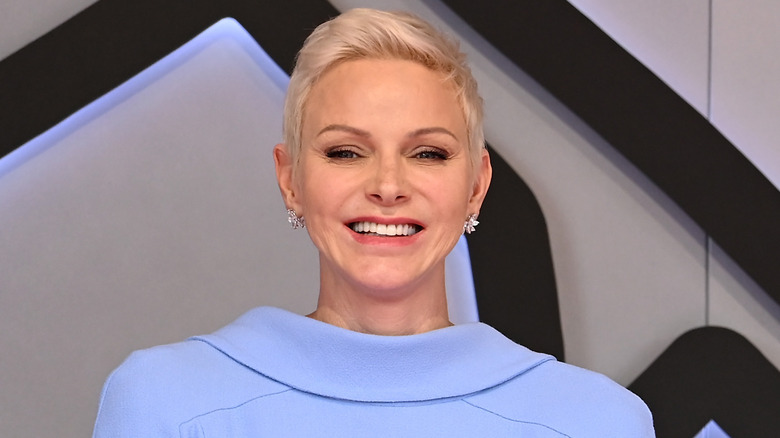 Pascal Le Segretain/Getty Images
Princess Charlene looked beyond breathtaking once again at the 2022 Monaco Grand Prix. The Monégasque royal rocked an icy bleach-blond hairdo that was very closely cropped to her skull. The short pixie cut was touseled into a spiky yet suave arrangement, and the front of Charlene's hair was pushed up and rolled back in a loose quiff. The sides of the bold style were brushed down and slightly forward, adding more movement and dimension to the bleached, boyish look. 
Charlene's outfit softened the masculine-leaning hairstyle as she chose a stunning pale blue jumpsuit by Terrence Bray for the legendary race. The posh long-sleeved garment featured a wide-leg silhouette, bishop sleeves with tailored cuffs, and a bateau-style neckline that plunged into a deep V at the back of the jumpsuit. Charlene finished the mesmerizing look with sparkling statement earrings and warm, peach-toned makeup, creating one of her most iconic looks since becoming the Princess of Monaco.
Icy close-crop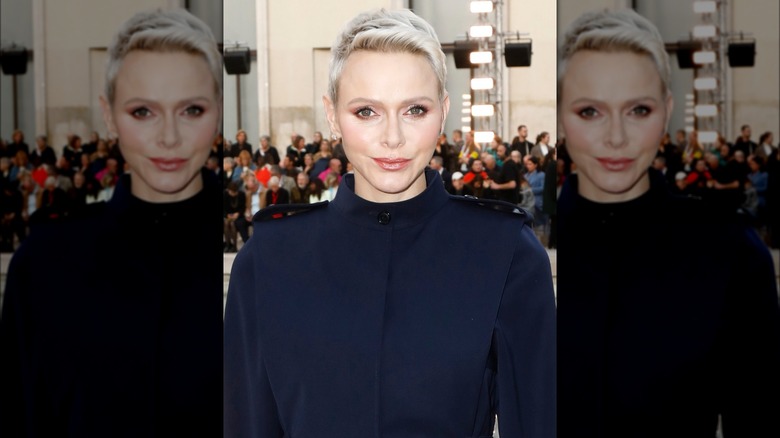 Julien Hekimian/Getty Images
In October 2022, Princess Charlene made a surprise appearance at Paris Fashion Week to support one of her favorite brands: Swiss fashion house Akris. Sitting in the front row at its spring/summer 2023 show, Her Serene Highness looked as confident as ever with one of her shortest hairstyles to date. The Monégasque princess' blond strands were bleached to bring out a mix of icy and ashy hues, which looked uber chic. Charlene's close-cropped tresses were artfully touseled to show off the texture and tones in her hair, and the front of the style was blown back in a very short and subtle quiff. The sides of Charlene's hair were slicked down to keep the attention on the dimensional pieces atop the princess' head, and in combination with her rose-toned makeup, the hairstyle had a feminine feel despite its traditionally masculine cut.
Never one to fear making a bold statement, the Monégasque royal embraced the menswear vibe by pairing her pixie cut with tailored navy trousers and a matching military-style jacket. Blending feminine and masculine qualities even further, the jacket was cinched at the waist to emphasize Charlene's figure, and she finished the look with suede navy pumps and a matching rectangular clutch.