General Hospital Fans Sound Off On If Joss & Dex's Romance Will Really Work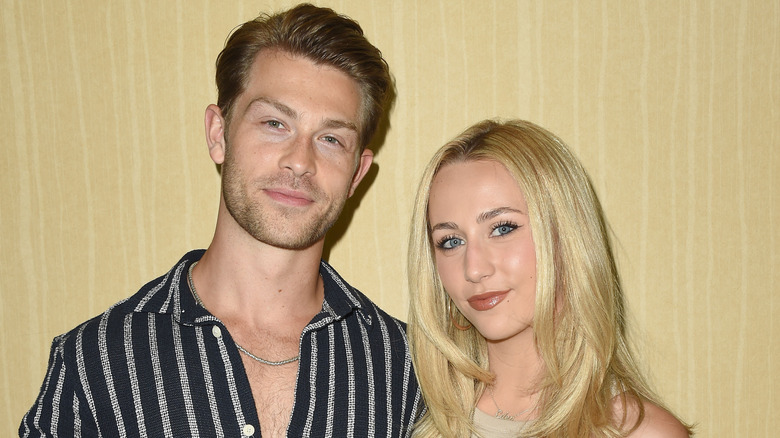 Jill Johnson/JPI Studios
Josslyn Jacks (Eden McCoy) and Dex Heller's (Evan Hofer) romance on "General Hospital" has been a topic of discussion among fans for quite some time now. While some viewers have expressed their problem with Joss and Dex's relationship — the non-stop pillow talk frustrates fans, apparently — they are still one of the hottest couples in Port Charles right now. Back in March, actor Evan Hofer admitted in an interview with Soap Opera Digest that his character Dex has struggled to keep things real with Joss, despite her being so honest with him. He said, "I think he battles with that pretty constantly because he does really care about Joss and really does want to explore the attraction that they both have [without secrets between them]. He wants the best of both worlds." No one said it would be easy to work for a mob boss like Sonny Corinthos (Maurice Benard) and date his stepdaughter at the same time.
When The List asked General Hospital fans whether or not Joss and Dex were meant to be or doomed to fail, both fans and critics had a lot to say about the matter. It seems like the majority of the audience want to see them together, but they think that their relationship won't last for one particular reason, too.
Are Joss and Dex meant to be?
Fans of "General Hospital" and The List readers sounded off on Josslyn Jacks and Dex Heller, with a lot of fans believing that they are the perfect Port Charles pair right now. Some comments have included, "I like Dex and Joss. I mean look at Sonny and Nina almost the same thing goes on there," along with, "I like them together. I think Dex has a story of his own. It could get very interesting." Even though some viewers said the only thing Joss and Dex do in front of the cameras is kiss and make out, others said that there might be trouble right around the corner for them. Another critic wrote, "All good relationships are doomed to fail on GH. They refuse to let anyone be happy for long."
Interestingly enough, there has been some speculation about Eden McCoy and Evan Hofer's off-screen relationship as well, as detailed by Soap Dirt. While the two co-stars have made no comments about the matter, they have been spending a lot of time together doing things like belting out their favorite karaoke hits and enjoying brunch together. Something tells us that McCoy and Hofer are building a storyline of their own.