Steve Harvey Took Overprotective To A New Level With Daughter Lori's Ex-Fiancé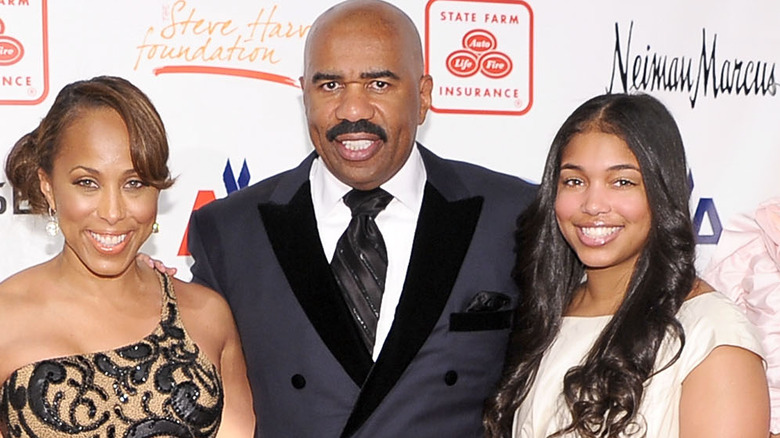 Michael Loccisano/Getty Images
If there is one thing Steve Harvey takes great pride in, that's being a father. The "Family Feud" host shares twin daughters, Brandi and Karli, with his first wife, Marcia, and sons Broderick and Wynton from his second wife, Mary Shackelford. When Harvey married his wife Marjorie in June 2007, he affectionately took on a father figure role in the lives of her three children, Morgan, Jason, and Lori. As with his biological children, they even use Harvey's last time. Therefore, he is equally as devoted. This is especially true when it comes to the guys that Lori brings home.
The youngest Harvey's dating life has been under a microscope in recent years. This is especially true considering the successful men who have courted her, including Grammy award-winning rapper Future and her former boyfriend, actor Michael B. Jordan. However, during her first public relationship with her former fiancé, Memphis Depay, Harvey decided to take an overprotective approach to ensure Lori was safe with her once-potential husband.
Harvey had Memphis Depay followed when he first started dating Lori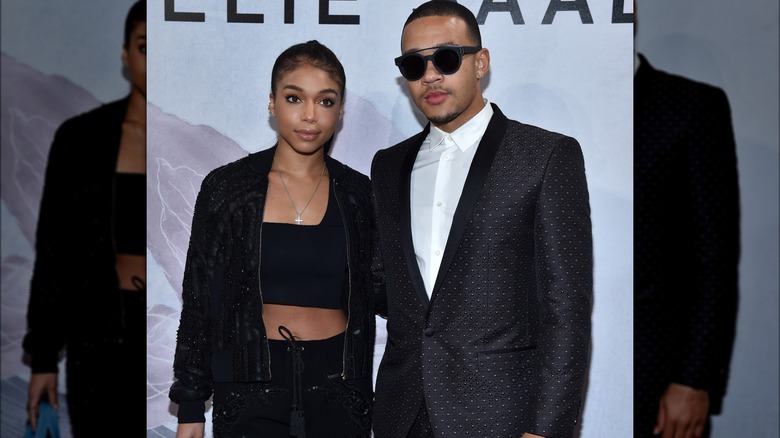 Pascal Le Segretain/Getty Images
Steve Harvey may be a comedian, but when it comes to protecting his family, he takes his job very seriously. For this reason, he hired people to follow Memphis Depay when he first began dating Lori in 2016. Harvey made the revelation during a February 2018 episode of his daytime talk show. Harvey admitted that he was initially apprehensive about the young influencer dating Depay, who is an internationally renowned soccer player. Though Lori was upset to learn that her doting father was having Depay trailed, he informed her that it was for his own good. "What you trippin' for? I'm trying to help you. You think he cute; I don't. You find him attractive. The boy is just a boy to me," Harvey recounted his conversation with Lori to the laughing studio audience (via People).
The couple became engaged in June 2017, something that Harvey praised in an announcement on Twitter. Sadly, they parted ways in 2018. While Lori and Depay have never spoken ill of one another after the split, during an August 2022 interview with Teyana Taylor, Lori explained that she realized she was too young to get married and wanted to live her life a bit more before walking down the aisle.
Harvey and Depay remained close after his breakup from Lori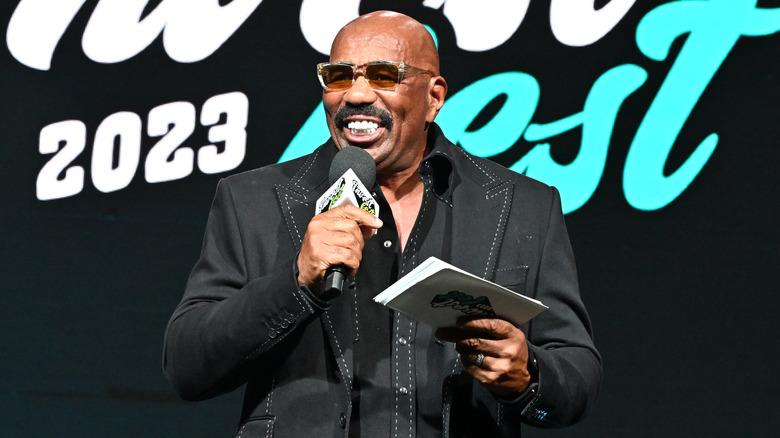 Paras Griffin/Getty Images
Despite the breakup, Steve Harvey and Memphis Depay remained friendly with one another. This proved true even as Lori Harvey moved on to musician and songwriter Future, whom she began dating in 2019. In February of that year, Depay was spotted hanging out with Harvey on a yacht. The two smoked cigars and enjoyed some relaxation on the water. Lori was nowhere in sight for the outing. Instead, the model high-tailed it to Africa with Future shortly before her ex and dad linked up.
In December 2022, when Depay and his Netherlands team defeated the United States during the World Cup, Harvey once again showed support for Depay. The soccer star tweeted a screenshot of a text message exchange with Harvey, part of which read, "So proud of you, man, congratulations!!!!!!!!!" Depay captioned the image, "Real always recognizes real." Even with such high regard from Harvey, there doesn't seem to be much hope for reconciliation since Lori is still seeing "Snowfall" star Damson Idris, while Depay is allegedly dating model Coral Gutierrez. Nevertheless, even if Lori is no longer interested in Depay, her dad remains a fan.