How Kevin Bacon's Daughter Sosie Bacon Upheld Their Spooky Family Tradition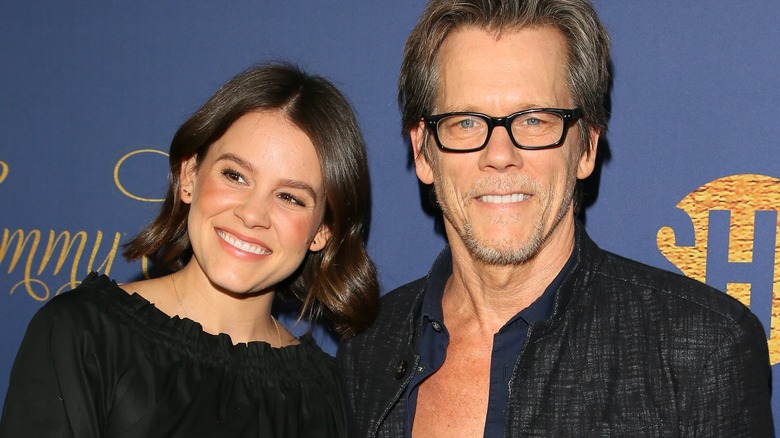 Jean Baptiste Lacroix/Getty Images
When it comes to Kevin Bacon and his daughter, Sosie Bacon, the similarities between father and daughter are scarily similar — quite literally. Following Sosie's starring role in the unsettling 2022 thriller "Smile," her dad, who has starred in multiple horror movies dating back to the original 1980 "Friday the 13th," sat down with The Hollywood Reporter to discuss what it's like watching his daughter follow in his frightening footsteps.
"We definitely have a fondness for [horror] in our family," Kevin admitted. "I wonder what it is, specifically. I think that for an actor, you're looking for things that have high stakes. And that's what horror gives you. It's always going to be a radical life-or-death situation."
And for Sosie, the daughter of Kevin Bacon and Kyra Sedgwick, the stakes in her first thriller were certainly high. The up-and-coming actor plays therapist Dr. Rose Cotter, who is terrorized by disturbing, smiling harbingers of death throughout the entire movie — an all-out horror fest that impressed her "Tremors" alum dad.
Kevin Kevin Bacon said his daughter's film was exceptionally difficult
It's natural for a father to be proud of his daughter, particularly when she's taking a page out of his own book. But as Bacon told The Hollywood Reporter, the demands of Sosie Bacon's role in "Smile" were extraordinary. Bacon explained that, unlike most horror movie tropes that start pleasant before turning nightmarish, Sosie's film dove headfirst into the thrills and chills. 
"Even knowing how hard she had worked, and knowing she was good, when I saw the movie, I was just really taken aback with, not only with how great she was but also how hard that role was," Bacon said. "It's one of those parts where there is no break. That's a movie where the stress level is [insane]. I was very proud of her."
Sosie's dad wasn't the only receptive audience member, either. "Smile" was nominated for Best Movie, and its leading actor, Sosie, was nominated for Most Frightening Performance at the 2023 MTV Movie & TV Awards (via MTV). The psychological thriller also won an ASCAP Film and Television Music Award for the Top Box Office Film, per the "Smile" IMDb page.
Sosie Bacon's silver screen success is entirely her own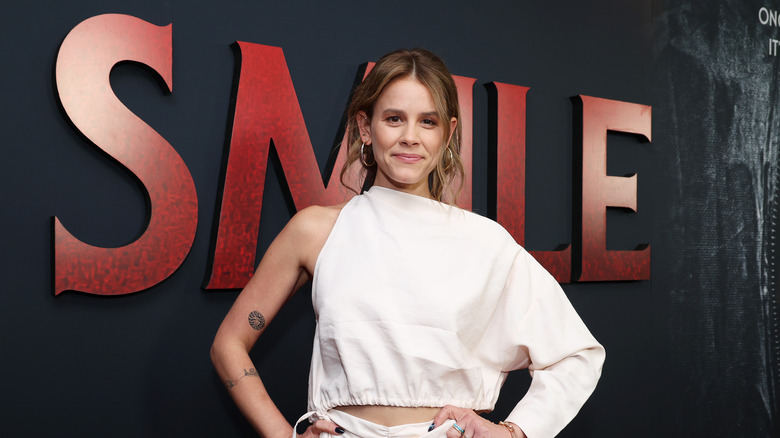 Phillip Faraone/Getty Images
Kevin Bacon, father of "Smile" star Sosie Bacon and star of thrillers like "Tremors," "You Should Have Left," and "Stir of Echoes," told The Hollywood Reporter that his daughter moved to Los Angeles in her early 20s and immediately began working as an aspiring actor. She "really started doing all the right stuff," Bacon recalled. "Pounding the pavement, doing self-tape after self-tape, and studying. For the most part, Sosie's A-lister parents let her pursue her career on her own terms.
"They tried to just stay out of it," Sosie told Harper's Bazaar about her parents' role in her decision to act. "I don't think that they encouraged or discouraged either way. Having parents that are in this, you see a lot of the negative sides of it, not just the flashy, fun side. That being said, as soon as I made the choice, it was like, 'Amazing. That's exciting. Now we can talk about it.' It wasn't like, 'Oh, no!'"
While some could argue that Sosie's distinct appearance looks absolutely nothing like her parents, her acting portfolio paints a similar picture to her mom and dad. In addition to "Smile," Sosie has appeared in other unsettling flicks and series like "Scream: The TV Series," "13 Reasons Why," and her mother's drama series, "The Closer."