Inside Frances Bean Cobain's Relationship With Riley Hawk
Both the children of famed cultural icons, Frances Bean Cobain and Riley Hawk have led a quiet romance. Frances is the only child of Kurt Cobain, the late frontman of rock band Nirvana, and alt-singer Courtney Love. She was nearly 2 years old at the time of her father Kurt Cobain's death in 1994. Despite being the daughter of two rock idols, Frances Bean Cobain pursued a career as a visual artist, deciding not to follow in her parent's footsteps.
The same cannot be said for her now-husband, Riley Hawk. As the son of skateboarding legend Tony Hawk, Riley also had big shoes to fill once he decided to become a pro boarder. He has skated for professional teams such as Brixton and even opened up his own coffee shop in California. While it is unknown exactly when the couple first connected, Frances Bean Cobain has provided glimpses into their relationship via social media.
On her 30th birthday, Frances opened up about living through her father's painful legacy. "I saw myself and the world ... through a lens of resentment for being brought into a life that seemingly attracted so much chaos," she wrote in an Instagram post, which included a cute snap with Riley. "I'm glad to have proven myself wrong & to have found ways to transform pain into knowledge," she added.
Frances Bean Cobain and Riley Hawk got married in a private ceremony
Frances Bean Cobain and Riley Hawk were first reported to be together in January 2021, but nothing was made official until 2022 (per The Sun). Since then, the couple has flown under the radar, save for the few pictures Frances has shared on social media. 
Even though she is notoriously private, Frances returned to Instagram in 2022 with a life update. She posted a carousel of sweet pictures that gave fans a glimpse into her life with Riley: One showed Riley smiling while sitting by a Christmas tree. Another was a photo of herself and Riley lounging on a boat next to Tony Hawk and his wife, Caroline Goodman. In her caption, Frances wrote: "I wanted to share a few moments that were captured / created this past year that brought me a great amount of joy."
In October 2023, Frances and Riley tied the knot in an intimate wedding ceremony. It was reported that their nuptials were officiated by Michael Stipe, who is Frances' godfather and former R.E.M. band member (via TMZ). Stipe and the late Kurt Cobain shared a very close relationship, so for Stipe to oversee Frances Bean Cobain's marriage is especially heartwarming. Their matrimony was Frances' second marriage, and Riley's first.
Frances Bean Cobain's first marriage ended in chaos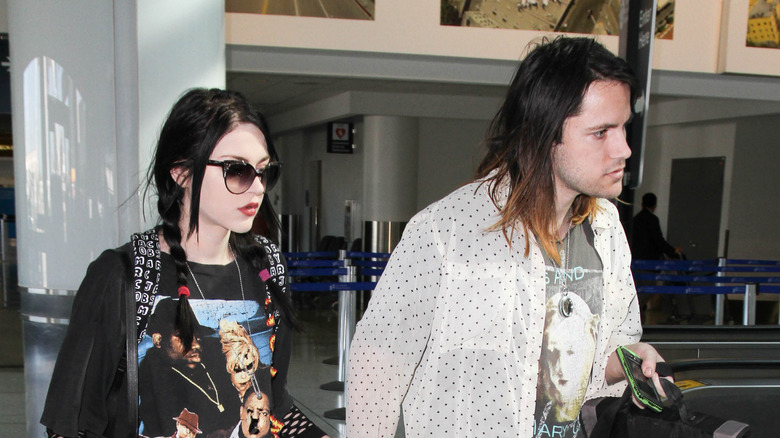 Gvk/bauer-griffin/Getty Images
Frances Bean Cobain had a short-lived first marriage with musician Isaiah Silva, which ended in a messy divorce settlement. The two privately got married during the summer of 2014, less than two years later in 2016, Cobain filed for divorce. Citing irreconcilable differences, the Nirvana star's daughter soon found herself in an explosive legal battle with Silva (via E! News).
Upon finalizing the divorce,  Cobain had to give up a priceless possession — her father Kurt Cobain's acoustic guitar from his famed "MTV Unplugged" performance in 1993. Silva claimed that his ex-wife had gifted him the heirloom as a wedding present, which she denied. In exchange for the guitar, the judge ruled that Silva would not receive any alimony from Francis Bean Cobain via Kurt Cobain's estate (per People).
After the divorce was finalized in 2017, the following year Isaiah Silva went back to the courts. He filed a lawsuit against his ex-wife's mother, the controversial Courtney Love, who he alleged tried to kill him. Silva claimed that Love, her manager, and others organized a kidnapping and murder of Isaiah Silva in an effort to get her late husband Kurt Cobain's guitar back (via People). Even though Frances and Love have a complicated relationship, the Cobain family came together to deny all of Silva's claims.