Family Guy's Brutal Harry & Meghan Spoof Predicts Their Influencer Future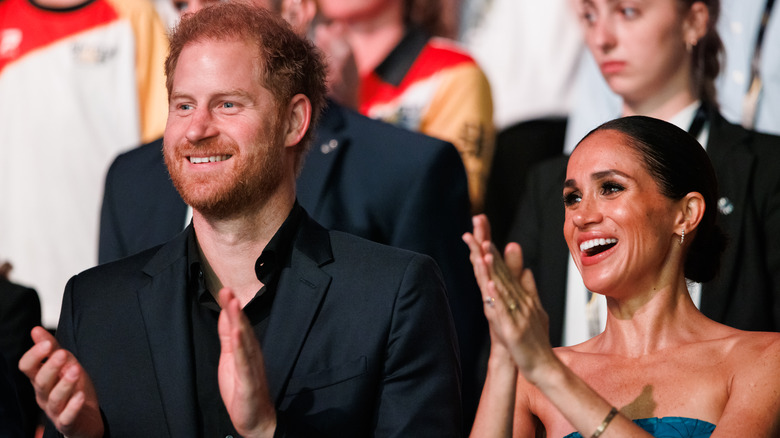 Joshua Sammer/Getty Images
In the statement that Prince Harry, Duke of Sussex and Meghan Markle, Duchess of Sussex released in January 2020, they said they were no longer going to be working royals and they were going to "work to become financially independent." That financial independence has surely been helped by their multi-million dollar deals with Netflix and Spotify. While the Spotify deal came to an end in June 2023, Netflix apparently still has big plans for Harry and Meghan. There's the "Heart of Invictus" series about athletes competing in the Invictus Games as well as the "Harry & Meghan" docuseries that revealed never-before-seen moments from the couple's courtship and family life.
Harry and Meghan's deal with Netflix came up on a recent episode of Fox's "Family Guy." The short spoof scene featured a butler approaching Harry and Meghan as they lounged poolside and saying, "Your millions from Netflix for ... no one knows what." Then Meghan says it's "time to do our daily $250,000 sponsored Instagram post for Del Taco." Ouch — going from working royals to advertising for Del Taco isn't the most impressive career move.
While Harry and Meghan were noted as some of Time's most influential people in 2021, they haven't made the jump to official influencer status with paid posts on social media. Their last Sussex Royal post was in March 2020, and Meghan shuttered her personal Instagram page in 2018. 
Meghan Markle's rumored to be getting back onto social media
Although Meghan Markle hasn't been on social media for a while, there are rumors she's coming back with a new account with the handle @meghan. Meghan's also rumored to be bringing back her lifestyle website "The Tig," so perhaps the "Family Guy" satirization of Harry and Meghan as influencers will turn out to be an accurate prediction? It would make them money; Meghan could potentially earn $1 million per Instagram post.
The "Family Guy" episode doesn't just use Prince Harry and Meghan's imagined influencer futures as a punchline, they also bring in the whole royal institution. In the last few seconds of the scene, Harry said, "I shouldn't have left the made-up nonsense." The "Family Guy" writers really don't seem to think too highly of the monarchy, and they're not alone. In February 2023, an entire episode of "South Park" was dedicated to mocking Meghan and Harry. The episode called "The Worldwide Privacy Tour" didn't use the royal couple's names, but it was very clearly a send-up of the Duke and Duchess of Sussex.
Meghan was reportedly upset by the "South Park" parody. No word yet on whether Harry and Meghan have heard about the Fox "Family Guy" scene, and if so, what they thought of it. If nothing else, the Del Taco reference isn't really on brand for the couple. They've made it clear in the past that one of their favorite fast food places is In-N-Out.