The Real Meaning Behind Britney Spears' Everytime
Because songwriters often pour their real-life struggles into their music, the lyrics of Britney Spears' "Everytime" have stirred up their share of theories. The track from 2003's "In the Zone" was co-written by Spears and Annet Artani, a backup singer who became Spears' friend during her "Dream Within a Dream Tour." Artani said that the singers collaborated on "Everytime" after previous boyfriends (Spears' ex-beau being Justin Timberlake) had left them both heartbroken. As Artani told Insider, "We cried through the whole process. It was cathartic and a bonding experience." 
Many people see "Everytime" as a response to Timberlake's "Cry Me a River" because both songs are about former relationships. In her Insider interview about the song, Artani said that Timberlake's behavior post-breakup — his badmouthing of Spears — was painful for the pop star. That all went into the song, and the first verse includes the lines, "Why are we/Strangers when/Our love is strong?/Why carry on without me?" 
In the chorus of "Everytime," Spears laments about being unable to "fly." She sings, "I guess I need you, baby/And every time I see you in my dreams/I see your face, it's haunting me/I guess I need you, baby." Despite the intention of the songwriters, fans have drawn the wrong conclusions about the meaning of "Everytime" based on these lyrics and quotes from Spears' memoir.
What did people assume about Everytime?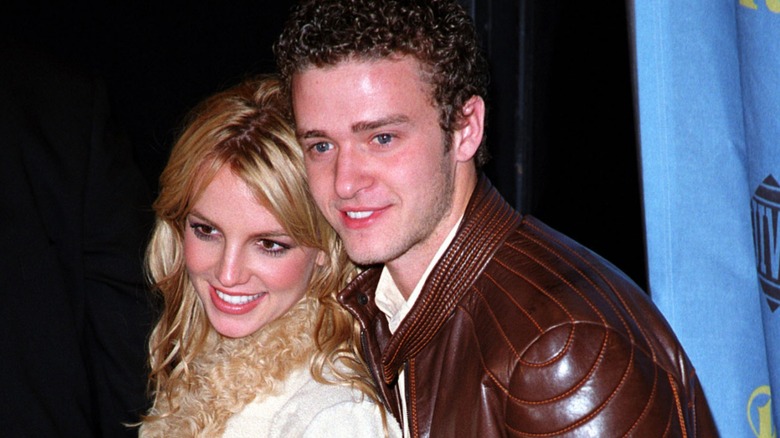 James Devaney/Getty
According to People, Britney Spears says in her memoir "The Woman in Me" that Justin Timberlake convinced her to have a painful, secret abortion at home because, "He said we weren't ready to have a baby in our lives, that we were way too young." These lyrics (and the song's music corresponding music video) sparked Spears sleuths to wonder if the song references this tragic moment in Spears and Timberlake's relationship. However, Annet Artani claims that is not the case. She told TMZ that the songwriting process did not include any mention of the abortion. Artani also told the outlet that she came up with the, "I guess I need you, baby" line, but that she had no say in the music video (which features a baby's birth).
In the second verse of "Everytime," Spears wishes her former lover was still around, and in the pre-chorus, she sings, "What have I done?/You seem to move on easy." This could reference the surprising way Timberlake broke up with Spears, how he quickly moved on, or the way he disparaged Spears post-breakup.
For song's bridge, Spears take responsibility for the relationship falling apart and asks for forgiveness, adding, "My weakness caused you pain/And this song's my sorry." This may allude to the cheating allegations Timberlake threw at Spears, which she confirms in "The Woman in Me" (and about which Artani spoke to TMZ).
There was drama between the Everytime songwriters
Before the final chorus of "Everytime," Britney Spears sings, "At night, I pray/That soon your face will fade away." She hopes to forget her lover soon and move on from him. Shortly after Spears and Timberlake's complicated relationship ended, she had a brief, passionate fling with Colin Farrell. But Spears says in "The Woman in Me" that, "As I had before when I'd felt too attached to a man, I tried to convince myself in every way that it was not a big deal, that we were just having fun, that in this case, I was vulnerable because I wasn't over Justin yet."
"Everytime" ends with one last heartbreaking chorus. The emotional song also had some behind-the-scenes drama, with Spears and her team trying to remove Artani's writing credit. (Spears even did an interview with Hip Online in 2003 saying that she was solely responsible for writing the song.) In her Insider interview, Artani admitted that she was shocked by the change in Spears' behavior after how close the women had become and felt that someone close to Spears was influencing her. However, Artani did not get booted from the credits of the song, and "Everytime" made it to No. 15 on the Billboard Hot 100 chart.