We Give Marie Osmond's Acting 2 Stars In The Bold And The Beautiful Sneak Peek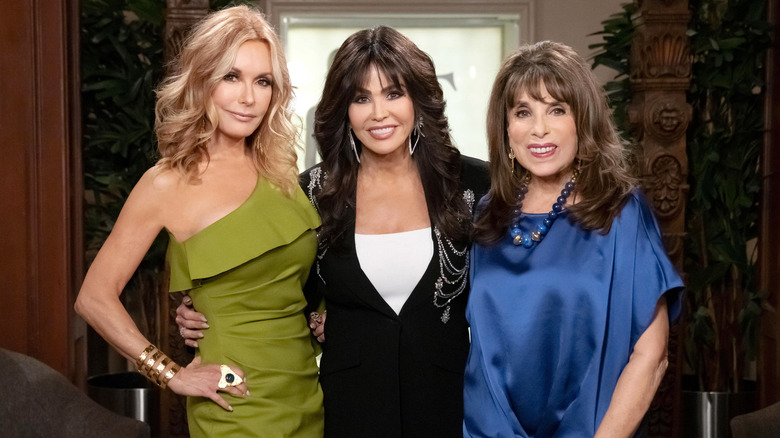 © Howard Wise/jpistudios.com
"The Bold and the Beautiful" has had a flock of famous guest stars on the show throughout its nearly 40-year run, from television icon Betty White to Patrick Duffy of "Dallas" fame to "Big Brother" winner Taylor Hale. This week, Marie Osmond is set to make her mark on the CBS sudser, appearing as a potential buyer in the big fashion showdown between Eric Forrester (John McCook) and Ridge Forrester (Thorsten Kaye).
Osmond rose to fame in the '70s as the sister of the family band The Osmond Brothers and a singer of country hits like "Paper Roses." She also performed with her brother, Donny, and co-hosted the variety show "Donny & Marie" with him as well as the talk show of the same name. Younger audiences may recognize Osmond for her partnership with Nutrisystem — she claims to have lost 50 pounds with the weight loss program. Osmond has been slated to appear on "Bold" since 2011. Adam Gregory (Thomas Forrester) told Entertainment Tonight Osmond would appear on the show that year, with Osmond confirming: "That's right, you only have 'One Life to Live' and 'All My Children' asked me to do a soap, so I'm doing 'The Bold and the Beautiful,' 'cause I'm bold, and he's beautiful." The plans didn't come to fruition, but we'll see Osmond as Countess Von Frankfurt beginning October 27. 
Based on a sneak peek of her debut, viewers can expect a pedestrian performance. While there's nothing horrendous about Osmond's performance, it does come off as unnatural. The "A Little Bit Country, a Little Bit Rock 'n Roll" singer is a "little bit" out of her element in this latest endeavor. 
Marie Osmond's soap debut leaves much to be desired
While two stars might sound a little too harsh to dole out to Marie Osmond in her soap opera debut, it's an earned score. Anything above that would be given on nostalgia value alone and, while the Osmond family is a pillar of the entertainment industry, soaps are an entirely different animal. There aren't enough Nutrisystem commercials in the world to help her exercise her acting abilities for this role. 
In the clip, Osmond responds to Esther Valentine (Kate Linder) from "The Young and the Restless," who can't help by loudly gawk at the dazzling designs. Osmond snarkily responds to her, saying, "Might I ask, are you planning on commenting on every gown today?" The comment gives the impression that Osmond's character will be more of a villain type, or at least a snobby person unimpressed by someone with working-class roots like Esther. 
Although soaps are intended to be overly dramatic, Osmond's performance still translates as "overacting," especially considering that this isn't her first foray into acting. She's been on-screen for years, starring in TV movies like "The Road Home for Christmas" and "The Christmas Edition." She even starred alongside Betty White in the short-lived sitcom "Maybe This Time." While not an outright failure, Osmond's moment in the "Bold" spotlight wasn't beautiful, and it felt more like a high school theater performance rather than one from a TV veteran. Hopefully, future episodes featuring Countess Von Frankfurt will see better delivery from Osmond.