Inside Lele Pons' Relationship With Her Husband Guaynaa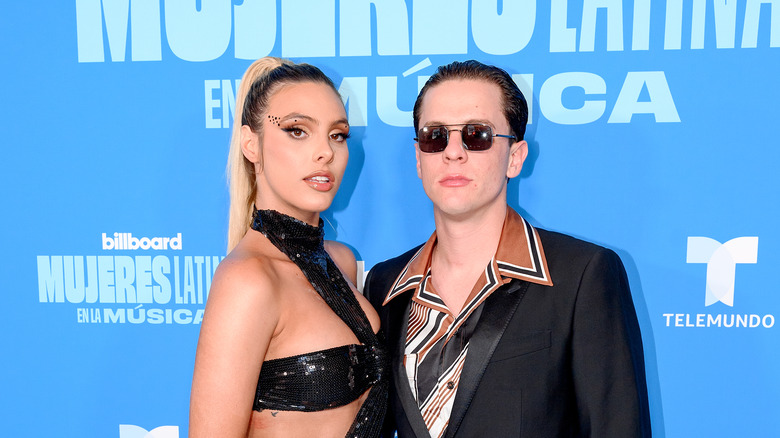 Ivan Apfel/Getty Images
Years before TikTok took the world by storm, Vine entertained audiences with short videos, and Venezuelan-born Lele Pons was one of the early creators. In fact, as a teenager, she was the first Viner to reach 1 billion loops (the platform's terminology for views) in 2014, but since the death of the social platform, Pons has branched out into comedic and musical content creation for Instagram, TikTok, and YouTube. Without this work, she likely would never have met her husband, Puerto Rican rapper Guaynaa, whose real name is Jean Carlos Santiago Pérez.
In 2019, Guaynaa's song "Rebota" reached the Billboard Hot Latin Songs and he quickly shot to fame. Not long after, the rapper and Pons' shared passion for music set them on a collaborative path that eventually led to romantic feelings for one another. 
Fans couldn't have been happier when the two announced their relationship, engagement, and eventually marriage, all in a matter of a few years. In watching their content and listening to their songs, it's clear that the content creator and rapper are made for one another and have helped each other in their respective careers. For more details on their fairy tale love story, let's take a look inside Lele Pons' relationship with her husband, Guaynaa.
Lele Pons didn't like Guaynaa when they first met
At some point in 2019, Lele Pons and Guaynaa met while filming a music video with a mutual friend, but it wasn't for the song that they would eventually become known for the following year. Where the rapper may have felt an instantaneous connection with Pons, she actually claimed that she didn't like him at first.
While speaking on Logan Paul's podcast "Impaulsive" in March 2023, she explained, "When we met, he liked me a lot and I didn't. ... He was trying to, like, be cute and nice and adorable and ... I want a hard-to-get guy." 
Over time, after rejection upon rejection, Guaynaa decided to stop pursuing Pons, and this made her realize that he did indeed want to be with him. By the time the two actually worked things out, it was still months before their debut single and even longer before they officially made their relationship known to the world. Later, Pons added, "I actually love him for who he is and what he stands for, for the communication that we have. I admire him."
Lele Pons and Guaynaa collaborated in 2020
Lele Pons went from one of the most iconic Vine stars in 2014 to a singer and rumored girlfriend of Guaynaa nearly a decade later. In September 2020, the music video for their flirtatious song "Se Te Nota" dropped, demonstrating elements of Pons' iconic physical comedy and the undeniable chemistry between the two. 
After nearly three minutes of Guaynaa attempting to win over Pons' affections throughout the video, the two shared a quick kiss, and fans went wild with theories about the status of their relationship. It undoubtedly contributed to the video's popularity, drawing in over 456 million views as of October 2023.
In an interview with TMRW Magazine, Pons explained that collaborating on the song together was how she and Guaynaa "got closer." She added, "At the time I was completely focused on work, I didn't have any headspace. Back then I wouldn't have even noticed him. He came at the perfect time." It seemed the stars aligned perfectly for the couple, and they'll always have "Se Te Nota" as a time capsule of the early stages of their relationship.
Rumors of a romance began while they promoted their song
Leading up to the release of "Se Te Nota," Lele Pons had been featuring fellow content creator Twan Kuyper in her videos and on her social media pages. The two had been in a fake relationship for the sole purpose of creating a buzz within their audience, going as far as to pretend they had gotten married. However, once Pons' single featuring Guaynaa dropped, Kuyper's presence on Pons' platforms began to diminish.
Following their on-screen kiss for the music video, fans were quick to speculate over whether the content creator and rapper were dating. Somehow, Pons and Guaynaa managed to keep their romance under wraps despite many of their fans shipping them together, but of course, they added fuel to the fire and began appearing more frequently on each other's Instagram posts as they promoted their song. 
They couldn't keep the news contained for long, as just a few months after "Se Te Nota" was released, Pons and Guaynaa made it official.
They became Instagram official just months later
Three months after "Se Te Nota" dropped on YouTube, Lele Pons and Guaynaa made their relationship Instagram official in December 2020 with a sweet post, featuring a photo of the two of them kissing. She captioned it simply, "It's official," and shared several pictures of the couple in skiing gear at Big Bear Mountain. The comment section quickly flooded with heart emojis and support for the couple, and it soon became the first of many sweet Instagram snaps of the two.
Previously, in November 2019, Pons had shared with "Entertainment Tonight" what she looked for in a partner. "He has to make me laugh, he has to be someone ambitious, someone that I admire, someone that has a lot of values, is a family person, supportive," she explained. It's clear the content creator found what she was looking for, and the couple couldn't look happier together in their shared photos, including a series of the couple in matching Halloween costumes.
It took time, but they caught major feelings for one another, as Pons told People en Español, "When I fell in love was a day I was jesting with him and I said, 'I feel so at peace with him here.' That was the moment I said, 'I don't want to let him go.'"
The couple often gush about each other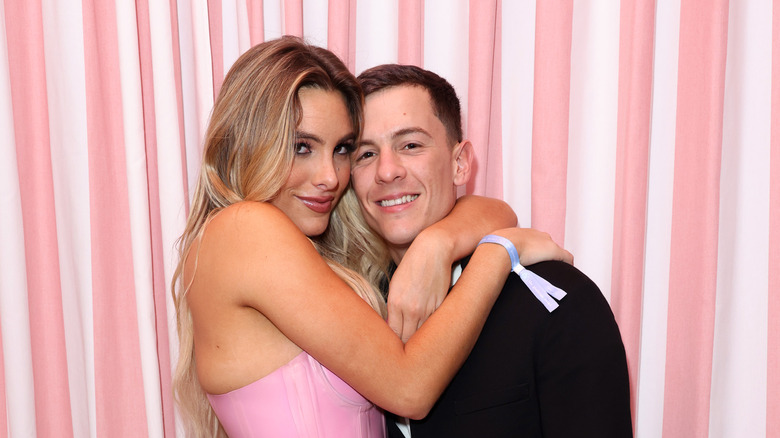 Alexander Tamargo/Getty Images
It's clear that Lele Pons and Guaynaa are head over heels for one another, and they've often gushed about each other in interviews. In January 2021, just a month after they shared their relationship with the world, the couple spoke with People en Español in a joint interview about their love and what makes them such a happy couple. 
Guaynaa described Pons as a supportive girlfriend, adding, "She is always smiling, she has a very pure heart."
In a similar light, Pons explained, "He makes me a better person. I admire him a lot. He is a family person, he always thinks about his family and friends, the people he loves. I like that he loves me a lot and has a lot of patience with me. I feel at peace with him. I have a lot of fun with him." The two also both spoke about their intentions to focus more on music, with Pons decidedly taking a step back from other forms of content to "evolve," thus giving the couple more to collaborate on.
They bought a home together in 2021
After dating officially for less than a year, Lele Pons shared an Instagram post of herself and Guaynaa kissing outside a stunning, gated property with the caption, "We bought a house." Further photos showcased the happy couple with their dog Toby, lying out on the floor of their empty home. 
The comment section flooded with love and support from friends, family, and fans, including a message from the rapper, stating, "A wonderful new stage is coming, love. So wonderful that it's with you. I love you!!!"
Through their respective Instagram Lives, the couple showed off rooms of their home and highlighted all of the work that was still needed, but they seemed thrilled nonetheless. "Long way to go but gonna be great," Pons wrote on one of the posts. In the years since buying their home, fans have seen a handful of interior shots in the background of their Instagram posts, which show off the renovations and modern décor they've filled their home with.
Lele Pons was supportive after Guaynaa's car crash
In January 2022, Guaynaa was involved in a car crash in Los Angeles. Another car had hit the vehicle he had been traveling in as a passenger, causing some pretty scary injuries. That same day, Lele Pons shared an Instagram post of herself in bed with her boyfriend, who was wearing a neck brace. 
Thanking their fans for all of their support, she wrote, "He is now in the process of recovery and will continue to be for the next couple of days! So blessed and fortunate that nothing happened and he's okay."
A couple of months later, Guaynaa updated his fans about his condition in an Instagram Live video, stating that although he was still taking it easy, he was on the mend. "We are still resting, but yes, we already have a clearer picture, and we see the light at the end of the tunnel," he explained. He later added, "I never thought I'd be so close to death." During his recovery, Guaynaa shared photos of himself with Pons by his side, as she served as a support while the rapper recovered from his injuries.
Guaynaa proposed on stage at the 2022 Tomorrowland Festival
In April 2022, Lele Pons and Guaynaa pranked their followers with a fake proposal on her Instagram feed, captioning the post, "I said ye ... never mind." The first photo showed the rapper down on one knee and Pons looking ecstatic, but further snaps made it clear that Guaynaa was simply tying his shoe.
However, fans weren't disappointed by the prank for long, as the rapper popped the question for real just four months later at the Tomorrowland Festival in August 2022. Steve Aoki was set to perform, but Guaynaa took the opportunity while on stage with Pons to get down on one knee with a microphone and ask the content creator to marry him, among a horde of screaming spectators. 
She, of course, said yes with tears in her eyes and shortly thereafter posted a sweet photo on Instagram of the romantic moment. She captioned the post, "Can't wait to spend the rest of my life with you!" More snaps from the night highlighted Pons showing off her emerald-cut engagement ring and hugging Paris Hilton, who was in attendance that night.
They tied the knot in March 2023
Lele Pons and Guaynaa had a breathtakingly beautiful wedding in Miami on March 4, 2023. Throughout the ceremony and reception, Pons wore three striking gowns, some of which were hands down the most gorgeous celebrity wedding dresses of the year. Several celebrities were in attendance as well, including Paris Hilton, who was a bridesmaid, as well as Camila Cabello, Steve Aoki, and Diplo.
Pons and Guaynaa each gave a speech at their wedding, with Pons referencing their song in hers. "Se te nota ... that you like Guaynaa! That's what my friends told me about you, from day one. Today my purpose is to make you happy for the rest of my life and now I say to my friends, 'Yes, it shows, I love you Guaynaa!'" she exclaimed.
A couple of weeks after they tied the knot, Pons and Guaynaa explained on the talk show "El Gordo y La Flaca" that their wedding was almost canceled. The rapper had been in Mexico prior to the big day and had eaten something that upset his stomach. Pons explained, "The doctor came and said that he'd eaten something horrible and Guaynaa said, 'Baby, what happens if we don't get married tomorrow?' We won't get married, and that's it, health comes first. He really felt terrible." Thankfully, after an IV was administered, Guaynaa's condition improved, and the happy couple was able to continue on with their plans.
Lele Pons and Guaynaa honeymooned in Dubai
There are so many romantic getaways for a honeymoon, and initially, it seemed like Lele Pons and Guaynaa had trouble deciding on where they wanted to travel after their wedding. 
While speaking with Billboard in February 2023, a couple of weeks before they tied the knot, the content creator explained their plans. "[We're going] to Dubai and Paris. Because I know that ... I'm more romantic, I like Paris. But he wants activities, so we're also going to Dubai," she said.
It would appear that Guaynaa won the argument on where to go, as Pons shared an Instagram post of the couple in Dubai on March 11, 2023. The newlyweds scuba dived, hung out with some camels, posed for selfies in their underwear, and had what looked like an incredibly romantic trip. Although it doesn't seem like Paris was part of their honeymoon, Pons and Guaynaa looked happier than ever, and perhaps a trip to France is still in the cards for the couple's future.
They released an album together in 2023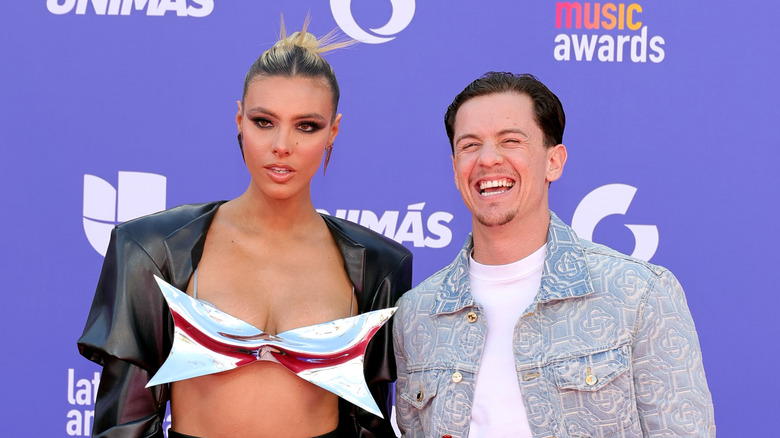 Ethan Miller/Getty Images
Following the success of their joint single "Se Te Nota," it was clear that Lele Pons and Guaynaa were destined to continue making music together. As if planning a wedding weren't stressful enough, the couple decided to multitask and had also been working on their first album together. In a February 2023 interview with Billboard, Guaynaa described what it was like to collaborate with Pons on a big project like this.
"Lele and I beat to different rhythms. In music, I can tell you that it is quite cool, because she has a different thinking and approach and drive, she has other filters in her head when she analyzes music. ... There were many disagreements for that very reason, but at the end of the day, I think we managed to develop a project, and that makes us very happy," he stated.
"Capitulaciones" was released on April 20, 2023, and featured 10 upbeat Latin tracks. There have been talks of the couple embarking on a world tour to promote and celebrate the release of their labor of love, so perhaps Pons and Guaynaa will get to travel to Paris together, after all.