What Does New House Speaker Mike Johnson's 'Covenant Marriage' With His Wife Kelly Mean?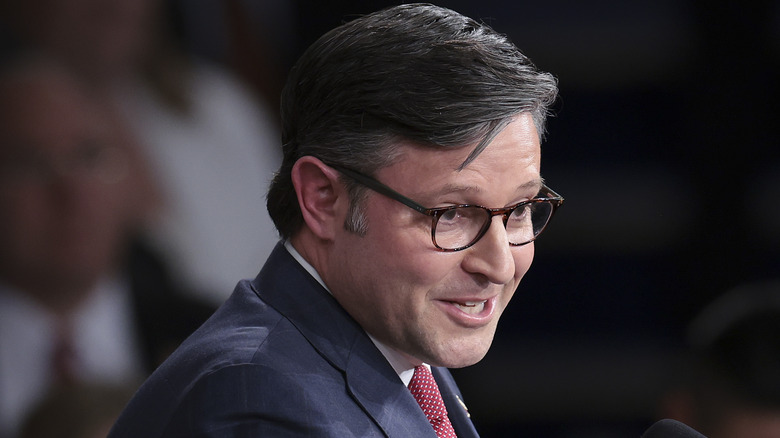 Win Mcnamee/Getty Images
After a tumultuous and contentious few weeks since the ousting of Kevin McCarthy as House Speaker, the Republican majority voted to elect Mike Johnson, a representative from Louisiana, to the position. Until now, Johnson hasn't been on the national news radar much, particularly in comparison to some of his more outspoken colleagues, like Lauren Boebert, who's been involved in a number of controversies since being elected to office.
Johnson is a conservative Christian, and his faith is important to him. It played a role in his marriage to his wife Kelly — in 1999, the two made their relationship official with a "covenant marriage." While those entering into a covenant marriage don't have to be religious, they often are. According to the Louisiana State Legislature, a "covenant marriage is a marriage entered into by one male and one female who understand and agree that the marriage between them is a lifelong relationship." Couples are required to go through counseling, and divorce can only happen under certain extenuating circumstances.
If you're not from Louisiana, Arizona, or Arkansas, you're likely not familiar with what a covenant marriage is — those are the only states where it's recognized. And even if you are from those states, you may not know what it is since fewer than 5% of marriages there have been covenant marriages.
Mike Johnson wants to avoid the stress of divorce on his family
When asked about choosing a covenant marriage, Mike Johnson said: "My wife and I both come from traditional Christian households. My own parents are divorced. As anyone who goes through that knows, that was a traumatic thing for our whole family," via ABC News. It was important for Kelly Johnson as well, and she saw it as a definite plus that Mike wanted to make their marriage a covenant one. The couple have four children together, and in a recent Facebook post in honor of Kelly's birthday, Mike wrote: "Her confidence and counsel are invaluable to me and to so many others, and she is the muse and the great joy of my life."
So Johnson's relationship with his wife seems on a solid footing. But we'll have to wait and see if his relationship with the House of Representatives stays as strong. It could help that he currently has the support of Donald Trump, the presumptive Republican nominee for president, in contrast to the last speaker Kevin McCarthy, who had a complex relationship with Trump. During his six years as a representative, Johnson has voted against same-sex marriage and abortion legislation, and he actively worked to overturn the 2020 presidential election.