How Lost's Josh Holloway Met His Wife Yessica Kumala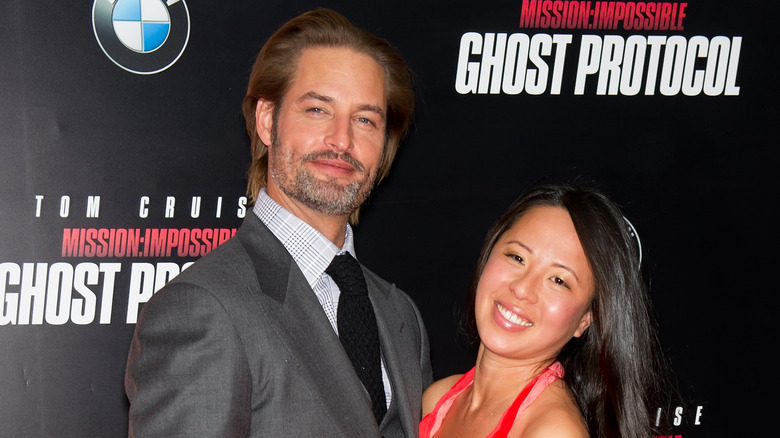 Gilbert Carrasquillo/Getty Images
We hate to be the bearer of bad news, but if you haven't heard it already, yes, Josh Holloway is married.
The actor and former model stole the hearts of viewers everywhere with his performance as James "Sawyer" Ford, the castaway bad boy and prolific nicknamer who "Lost" fans loved to hate. While ABC's iconic TV series put his name on the map, 'Lost' wasn't Holloway's only work in front of the camera. He's become a star of the small screen since his career-making turn in the show about plane crash survivors on a mysterious island, with prominent roles in shows like "Intelligence," "Colony," and "Yellowstone" — Holloway even made an appearance in NCIS.
The lucky lady who had a hold on Holloway's heart even before the first episode of "Lost" aired is Yessica Kumala. The gorgeous couple have been happily married since 2004. In 2009, they welcomed their first child, Java, to the world, and five years later, they gave birth to their son, Hunter Lee.
Now, we've all been curious as to how Holloway and Kumala originally met. While Kumala tends to keep her personal life to herself, Holloway has opened up about how they became romantically involved. You might be surprised to learn who made the first move.
Josh Holloway and Yessica Kumala met at a bar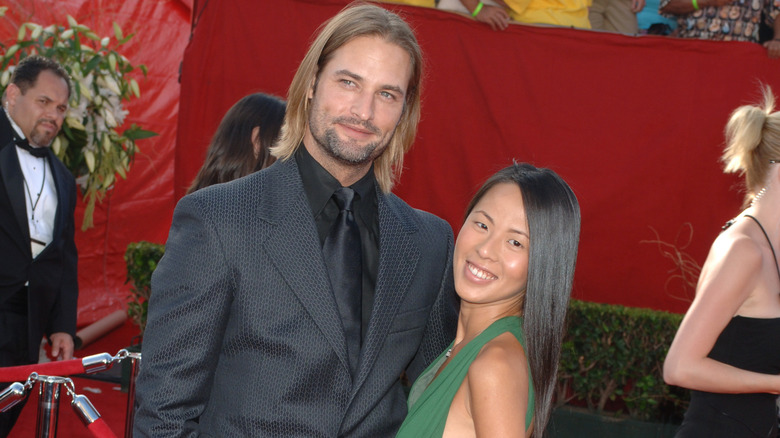 Frank Trapper/Getty Images
Josh Holloway and his wife Yessica Kumala definitely have a funny "how-I-met-your-mother/father" story to tell their two children in the future. During an interview with Harry Connick Jr., Holloway explained that he first met his wife while flirting with a bunch of her friends at a bar.
Holloway was out with the guys and feeling bold, so he decided to approach Kumala's friends and do a little flirting. At the time, he hadn't noticed his future wife was part of the group because her back was turned to him.
As he was getting ready to return to his own table, he felt someone slap his shoulder to get his attention. He turned around and saw that it was Kumala who had tapped him. "She looked me up and down and said, 'Give me your number before you leave,' and then left with her martini," he recalled. "And I was like, 'Who was that?" Later in the night, Kumala would be the one to approach Holloway. She cheekily reminded him to hand over his number. The awestruck actor was more than happy to oblige, though when he asked for her digits in return, "She said, 'Oh, I don't give it out,'" he recalled.
Kumala's confidence left a lasting impression on him. "I stood no chance from the beginning," he confessed with a laugh.
They married on the cusp of Holloway's 'Lost' success
After a meet-cute like that, it's no wonder Josh Holloway and Yessica Kumala fell for each other. They continued to date for a while before they decided to take the next big step in their relationship.
It seems Kumala might have felt a little apprehension about marrying an actor. Celebrity couples have a bad rap when it comes to commitment, a point that Kumala brought up in an interview with People. "You see it a lot in Hollywood: Somebody makes it [big] and drops their partner," she said. But Holloway and Kumala shut that stereotype down. The lovebirds knew from the start, come fame or anonymity, they wanted to live the rest of their lives together. Holloway proposed to Kumala in March 2004, around the same time he filmed the pilot episode for "Lost."
On October 1, 2004, the two were married in a beautiful beach wedding in Kauai. Days later, the newlywed couple received some more good news — ABC gave the green light to "Lost" and the first season was ready to go into production.