How Taylor Swift And Travis Kelce Changed Drew Barrymore's Opinion On Dating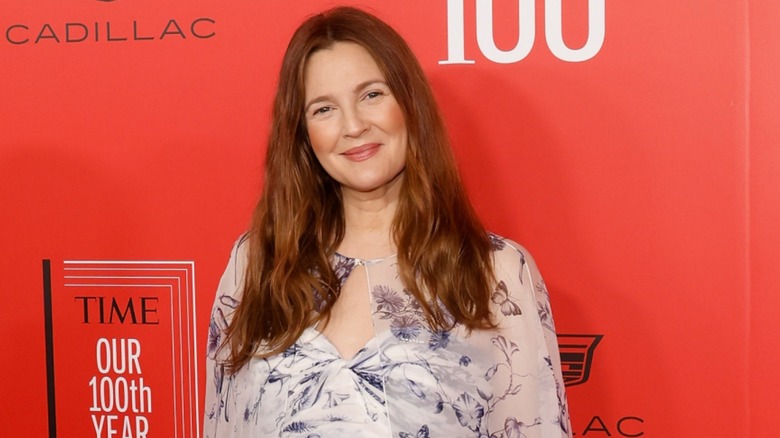 Taylor Hill/Getty
Taylor Swift and Travis Kelce's relationship seems to be developing, as the duo have been spotted out and about together many times. Swift was seen giving Kelce a sweet kiss on the cheek in this Instagram photo from Chariah Gordon. The budding relationship between the two has everyone talking, including Drew Barrymore, who discussed her evolving feelings on dating thanks to Swift and Kelce.
In an episode of her talk show "The Drew Barrymore Show," Barrymore spoke with Ross Matthews during the "Drew's News" portion of the episode about the couple. The "Santa Clarita Diet" actor went to see the Eras Tour movie with her daughter and was astounded by Swift's performance. However, she's also loved how Swift has navigated her reported dating life with Kelce. Barrymore mentioned how she's been single for a while, and how watching Swift and Kelce's rumored romance blossom made her realize dating is something she could do as well. Swift and Kelce haven't tried to hide their time together — they're hanging out like anyone in the dating world does.
"This was evidence of not being affected by what other people think, or having herself stop herself," Barrymore said (via TikTok). "I don't know, it was so calm and confident and normal that it just made me think, 'I should do this too.' And I thank her for that."
Another singer gave Barrymore some advice on dating and boundaries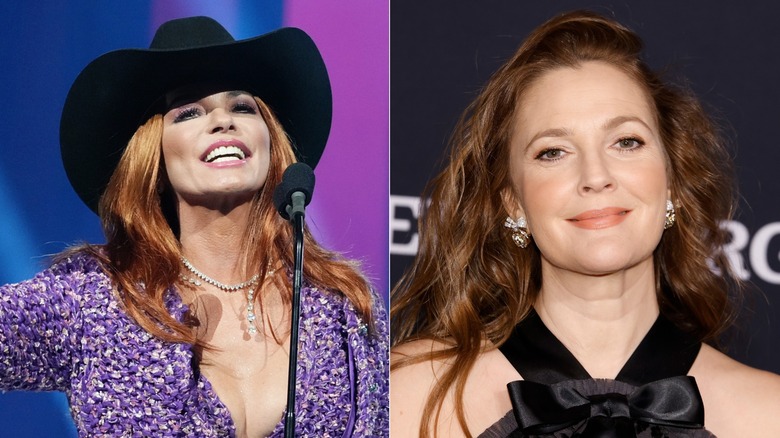 Kevin Mazur & Taylor Hill/Getty
Her dating life is a subject Drew Barrymore is not shy about broaching. For example, Barrymore opened up about dating in an interview with Bobby Berk, but that's certainly not the only time she's spoken about it. While interviewing Shania Twain on "The Drew Barrymore Show," the "Firestarter" actor expressed one major hurdle that has stopped her from dating. "Trust," Barrymore said, adding that the fear of getting hurt contributes to trust issues. She's guarded and, despite enjoying her single life as it is, Barrymore felt afraid she was keeping herself from her full potential.
Twain said she's the opposite and trusts too easily, adding, "I still get burned. All the time. But I'd rather that than not trust." When Barrymore expressed that's how she wished to be, Twain discussed how there's a difference between not dating because you actually aren't ready and not dating because fear is controlling you. Then, the women talked about separating their family lives from their dating lives, along with other boundaries.
"We have to set our own boundaries ... our personal boundaries are us," Twain said. She pointed out that some guys may not like those boundaries, but that's fine — that will keep Barrymore from ending up with someone who isn't a good match. The conversation seemed eye-opening for Barrymore.
Swift has also had an effect on Travis' football career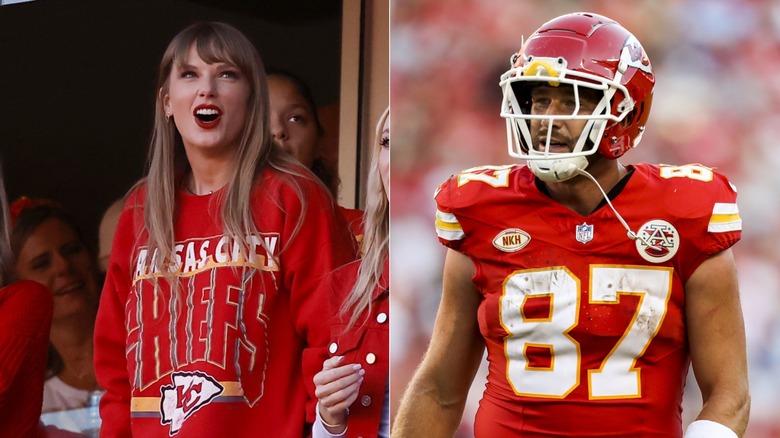 David Eulitt & Kara Durrette/Getty
Drew Barrymore mentioned Taylor Swift again on her show when interviewing Gwyneth Paltrow. Barrymore said she invited a guy she'd been kind of seeing for a few years to a wedding and reiterated that seeing Swift dating Travis Kelce was what inspired her to take that step.
The rumored romance between Swift and Travis has not only had an effect on Barrymore's thoughts on dating — it's also potentially had a positive effect on Travis' football career. On the Kelce brothers' podcast "New Heights," Jason Kelce told Travis that when Swift is at the Kansas City Chiefs games, his stats are higher. "I don't know if you're aware of this," Jason said, "but when T. Swift is at the game, you are averaging 99 yards, and when you are left with only your friends and remaining family there, you are at 46.5 yards a game."
Jason also read a quote from the Chiefs coach Andy Reid. Reid praised Travis' playing abilities and added, "Taylor can stay around all she wants." (via X formerly known as Twitter) The brothers laughed and Travis said, "What a guy. Listen, when you're getting Big Red's approval or blessings, you know you're doing something right."