Lawyer Tells Us What Trump's Explosive Courtroom Walk-Out Means For Fraud Trial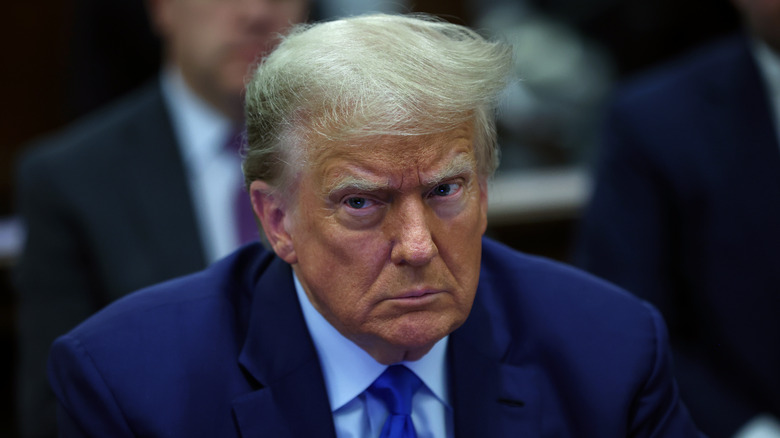 Pool/Getty Images
Things got more than a little heated in the courtroom during Wednesday's continuation of Donald Trump's New York civil fraud trial. Per CNN, the former president was slapped with a hefty $10,000 fine for violating a gag order. After Trump appeared to make disparaging comments about a clerk outside the courtroom, Judge Arthur Engoron gave Trump 30 days to pay the fine. Afterward, former Trump attorney Michael Cohen made the jaw-dropping admittance that Trump never directly asked him to inflate numbers on his financial statement, which sent the politician over the edge. After exclaiming, "I'm leaving," Trump shot to his feet and stormed out of the room.
We reached out to Los Angeles civil rights attorney Bernard Alexander of Alexander Morrison & Fehr, LLP to get insight on what happens next. Alexander exclusively tells the List that Trump's dramatic walk-out will have a distinctive impact on the trial. It may be lucky that Trump is on a bench trial, as Alexander thinks it would be nearly impossible for anyone on a jury to not have an established opinion of him. His behavior, divisive as usual, has the potential to elicit either a positive or negative response, as "observations of his behavior will either fuel those who are already his supporters or will serve as another indication of how out of control he is to his non-supporters," the lawyer stated.
More dramatic behavior should be expected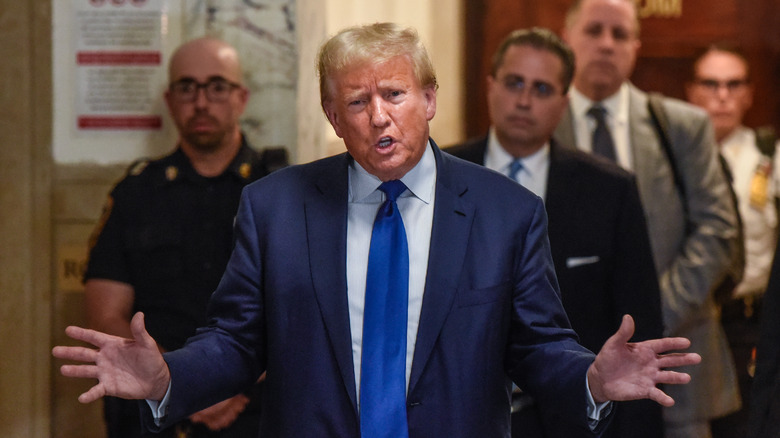 Bloomberg/Getty Images
Donald Trump's unprecedented walk-out has placed those involved in the civil fraud trial in a precarious position. Stunned onlookers are wondering if there are any consequences for him leaving the courtroom. According to Attorney Bernard Alexander, who is ranked among the Top 100 Southern California Super Lawyers, the court can either choose to ignore Trump's actions or take action. "My assumption is that the court will reinforce to him his obligation to comply," Alexander surmised. "If he does not, the court can find him in contempt, or could fine him, and this is up to the judge." He continued, "If he interprets his storming out of the room as being upset by the circumstances as a whole, that is one thing, but if he interprets it as a direct affront to the court, that's something else."
This isn't the first time the world has seen Trump's bombastic behavior on display during his civil fraud trial. Trump lashed out at Judge Arthur Engoron after the New York official found him liable for fraud and has made his feelings known during his many chats with the press. Attorney Alexander calls Trump's actions an attempt to influence his supporters. "Even in violating the court order, he is appealing to his base and his defiance fuels them. He is constantly making choices to inflame his base and ignore decorum," he stated, before concluding, "Maybe he's decided he can't win in court but he can use this opportunity to pander to [his] base — or maybe he believes he can influence the jury."