Ivanka Trump's Angry Reaction To The Idea Of Money Buying Happiness Will Surprise You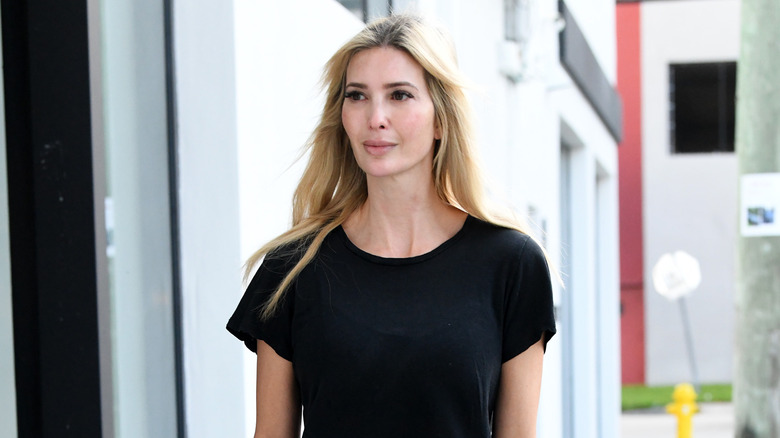 Mega/Getty Images
Ivanka Trump is one of the fortunate few in the world who has never had a serious worry about money. Growing up as the older daughter of a real estate billionaire, she always had food on the table, clothes on her back, and an (opulent) roof over her head. It's a safe bet Trump never had to dig between the sofa cushions to find change for the bus — or even commuted to work on a bus, for that matter. 
Speaking of work, the former first daughter also had opportunities the average job hunter doesn't enjoy. Trump was a successful model when other girls her age were busy with finals and junior proms. She later became a business grad and worked her way up to an executive position in her father's company. Trump moved on to create her own fashion brand, which she shuttered in 2017 after then-President Donald Trump tapped her to become one of his senior advisers. 
Now a private citizen again, Trump is focusing on raising her three children with husband Jared Kushner. Still, she has plenty of leisure time for travels to London, Morocco,  Greece, and other locales, and trying new hobbies like helicopter flying. As part of Kim Kardashian's inner circle, Ivanka Trump recently partied down at the reality star's 43rd birthday party.
Trump doesn't deny she's had it better than most. However, she takes offense at the idea that more money means fewer problems. 
People who think the rich have it easy are 'stupid,' says Ivanka Trump
True, Ivanka Trump has a hefty bank account and a healthy investment portfolio. She may never need to work another day in her life (though it's hard to imagine she would retire this early). However, she rejects the notion that the wealthy are happier than the rest of us. 
Back in 2003, Trump appeared in a documentary titled "Born Rich," which profiled a number of young heirs regarding their money. The former first daughter recalled an incident in which her father, Donald Trump, pointed out a homeless man and mused that the man was millions of dollars richer than he was because he was in debt over his divorce from Ivana Trump (via Salon). 
But it was another encounter that really set the Trump daughter's teeth on edge. The documentary shows her recalling a time after a modeling gig in which an unfamiliar man asked her two questions: "What does it feel like to be wealthy?" and "What does it feel like to never know any pain?" (per Salon). This surely wasn't the first time Trump had been asked the same things by nosy folks, but this time it really got to her. "That really upset me," she said in the film. "I was bothered by the fact that he could be so ignorant. And like, that there are people out there who could say such a blanketed thing and just be so downright stupid."
The Trumps are proof money isn't everything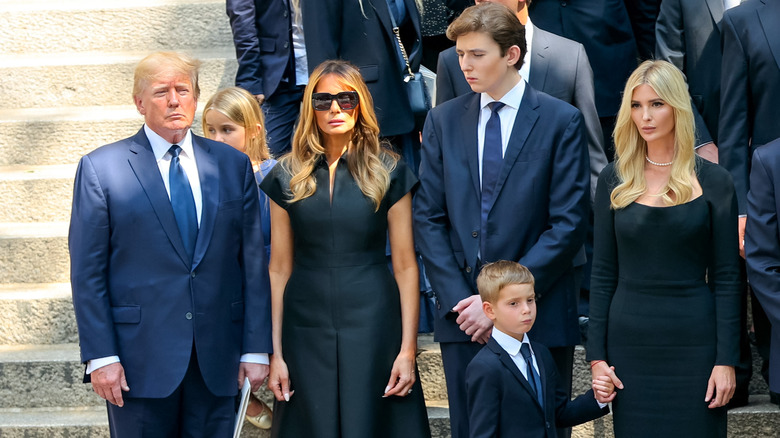 Jose Perez/bauer-griffin/Getty Images
In the documentary "Rich Kids," former first daughter Ivanka Trump emphasized that she wasn't personally offended by a stranger's assumption she'd never been unhappy a day in her life because of her wealth. What did hurt, though, was "just the fact that there are really people out there who think ... that with money comes happiness," she said.
That gentleman might think differently now. In the 20 years since the film was released, the Trumps have seen their share of headaches and heartaches that money couldn't prevent. On a personal level, Ivanka Trump and her family grieved the death of her mother, Ivana Trump, in July 2022. On the first anniversary of her passing, Trump posted a tribute on Instagram writing, in part, "Miss you more than you know Mama." 
Having millions in the bank also hasn't done anything to heal the cracks in the relationship between Donald and Ivanka Trump in recent months. The 2020 presidential election set into motion events that could land the former POTUS in jail. Unlike her dad and brothers, Ivanka has gone on record as denying the election was rigged. More recently, Ivanka is likely to be made to testify against her father in his ongoing New York fraud trial, to determine what she knows about his alleged fudging of documents related to his personal assets. Unhappy tidings indeed. Yet while Ivanka's riches can't keep her from an awkward father-daughter situation, at least she can do her worrying in a luxe South Florida home.