Cracks In Donald And Ivanka Trump's Relationship Are Clear In New Witness Testimony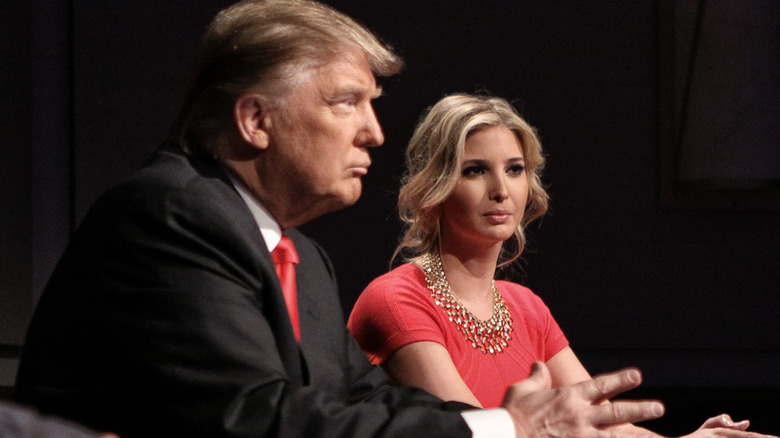 Bill Tompkins/Getty Images
After former President Donald Trump's 2020 election loss, the world watched as his eldest daughter and former White House advisor, Ivanka Trump, began distancing herself from her dad with seemingly no concrete explanation. But October 2023 findings in a London courtroom have offered a plausible cause of their growing apart: Ivanka's long-time friendship with former MI6 agent and the man behind the salacious 2016 Trump dossier, Christopher Steele.
In 2017, BuzzFeed News reported the findings of Steele's 35-page dossier, which boasted scandalous allegations about Trump's relationship with and decorum in Russia, including political collusion and perverse sexual behavior that would put Trump at risk of being blackmailed. The "Apprentice" star long claimed the dossier was a "political witch hunt" on X, formerly known as Twitter. Seven years after its compilation, Trump sued Steele and his intelligence firm, Orbis Business Intelligence, over the dossier, per AP News.
Officially, Trump sued Steele and Orbis over alleged breaches in British data privacy laws that caused Trump to suffer "personal and reputational damage and distress." Unofficially, Steele's witness statement suggests that his trouble with Trump began after the former president discovered Steele and Ivanka had a close relationship dating as far back as 2007, as reported by ABC News.
Christopher Steele painted a picture of a fractured father-daughter relationship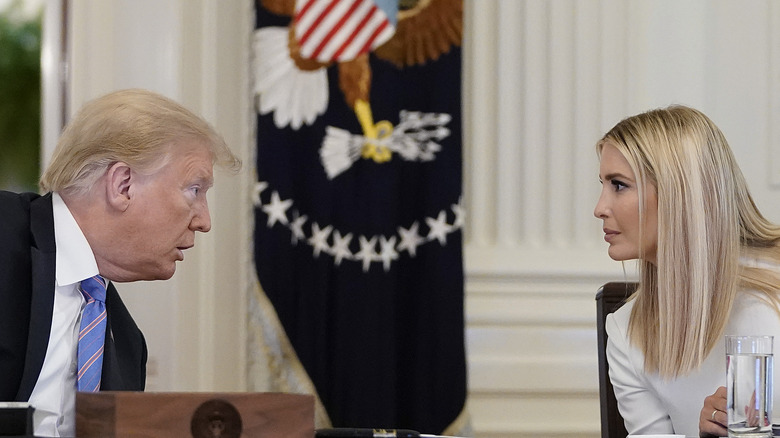 Drew Angerer/Getty Images
Ex-British spy Christopher Steele pushed back against Donald Trump's lawsuit, suggesting in his witness statement that the former president was "motivated by a personal vendetta against me and Orbis and a desire for revenge" (via Reuters). Steele continued that his long-standing friendship with Ivanka Trump "deepened his animus towards me and is one of the reasons for his vindictive and vexatious conduct towards me and Orbis."
Ivanka's connection to Steele might have felt like an unexpected detail at the October 2023 court proceedings, but the pair's relationship has been public information since US Department of Justice Inspector General Michael Horowitz released a report in 2019 that claimed Steele had a "personal" relationship with Ivanka and had gifted her a Scottish family tartan (via The Guardian). Ivanka even reportedly floated the idea of Orbis working with the Trump Organization, although it's unclear whether her father was aware of this at the time. 
Steele's claims and Ivanka's noticeable space from Trump have caused many to speculate about her relationship with her father, with some suggesting she may have waited too long to distance herself from the lawsuit-ridden former president. However, Trump's witness statement (via Reuters) said that Steele's relationship with Ivanka was "completely irrelevant to this claim" and that "any inference or allegation that Mr. Steele makes about my relationship with my daughter is untrue and disgraceful."